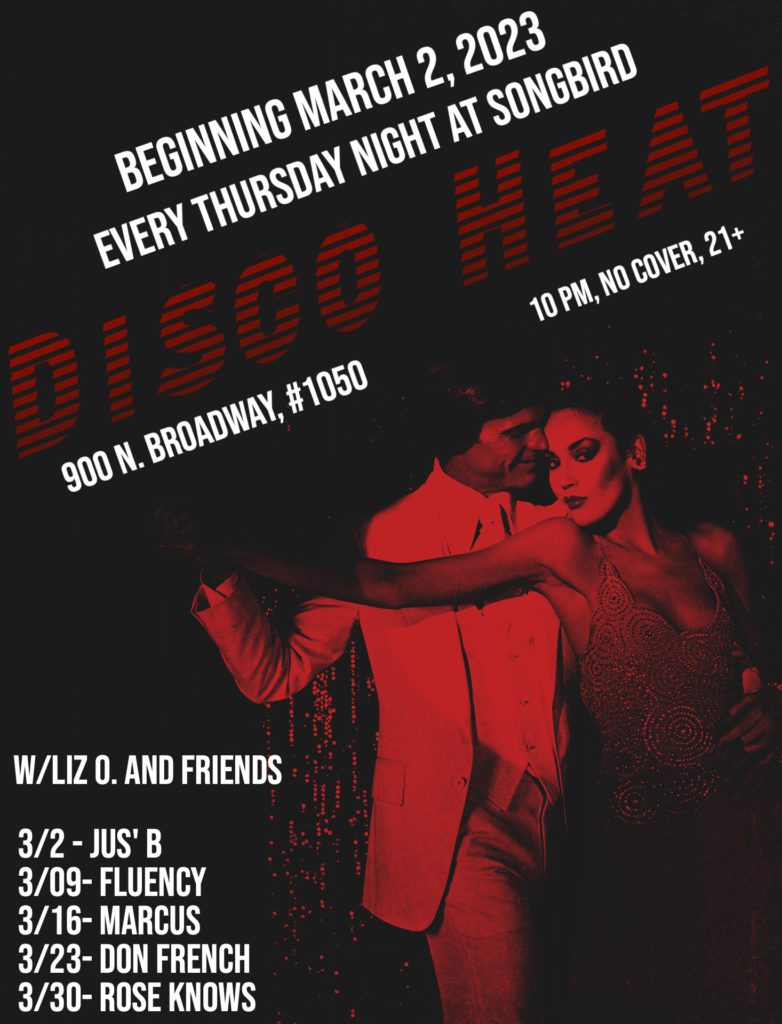 Disco Heat is rising, friends. Beginning March 2, I'll be dropping classic and modern disco alongside some of my favorite L.A. DJs every Thursday night at Songbird in Chinatown. The party will now start at 10 p.m. and go until last call. There's still no cover. RSVPs are recommended, just head over to Eventbrite and click on the date that you want to attend.
Jus' B, who has been playing with me at Songbird since Disco Heat launched in December, will be back monthly, and you can catch him next on March 2. For the rest of the month, we have an eclectic mix of top notch DJs. Each has a distinct style, so you'll hear something different every week. I'm excited to play with Fluency, Marcus, Don French and Rose Knows.
Check out the schedule and DJ bios below.
3/02
Jus' B is an L.A. native who has spent his life hanging around DJs of all genres and finally decided to hit the decks himself. Now, he plays house, disco, techno, electro and more. Follow him on Mixcloud and Instagram.
3/09
Fluency (Foreign Familiar) is a producer, DJ, wannabe chef, full-time nerd, and more. He is a Los Angeles native and has curated sets at various bars, including Apotheke, The Friend, and Semi Tropic. Fluency makes and plays music that is a medley of funk, disco, soul, house, electronic, and the feeling of traveling on a road through space. Follow him on Bandcamp, Soundcloud and Instagram.
3/16
A DJ and MC, Marcus is the show runner for Tune in Tokyo, the DJ collective behind Japanese pop events such as Plastic City and Heisei Nights. Marcus also spins K-Pop for QT Nightlife at Micky's in West Hollywood monthly. Follow Tune in Tokyo on Instagram and elsewhere.
3/23
DJ Don French is an educator by day, DJ by night. He founded Club Surge and loves curating dance nites spanning multiple genres, including but not limited to disco, post-punk, house, synth pop and salsa. Follow Don French on Instagram and Facebook and Club Surge on Instagram.
3/30
There's always some Rose, somewhere, with a big nose who Knows.
Rose Knows is a native Los Angelina, poly-genre DJ, writer, true crime trivia maitresse, reiki healer, podcaster, provocateur, and Jill-of-all-trades. She enjoys dark films in sunny places, creating magick, contemplating the absurdity of reality and the desperate need for art that provokes. You can follow her musings on Instagram at @rose.knows
March 30 will also be the return of the Giorgio Moroder tribute night that Rose and I started at The Lash back in 2018 and haven't done since the pandemic. Stay tuned for more details.
There's no cover for Disco Heat, but we do recommend that you RSVP.
Songbird is located at 900 N. Broadway, #1050, Los Angeles 90012. You'll find it in the courtyard of Blossom Plaza on the corner of Broadway and College in Chinatown. There's lots of street parking available in the neighborhood. If you're taking Metro, note that Songbird is right outside the L (Gold) Line stop in Chinatown.
Get ready for March with my Disco Heat Spotify playlist. It will be updated regularly, so save it.