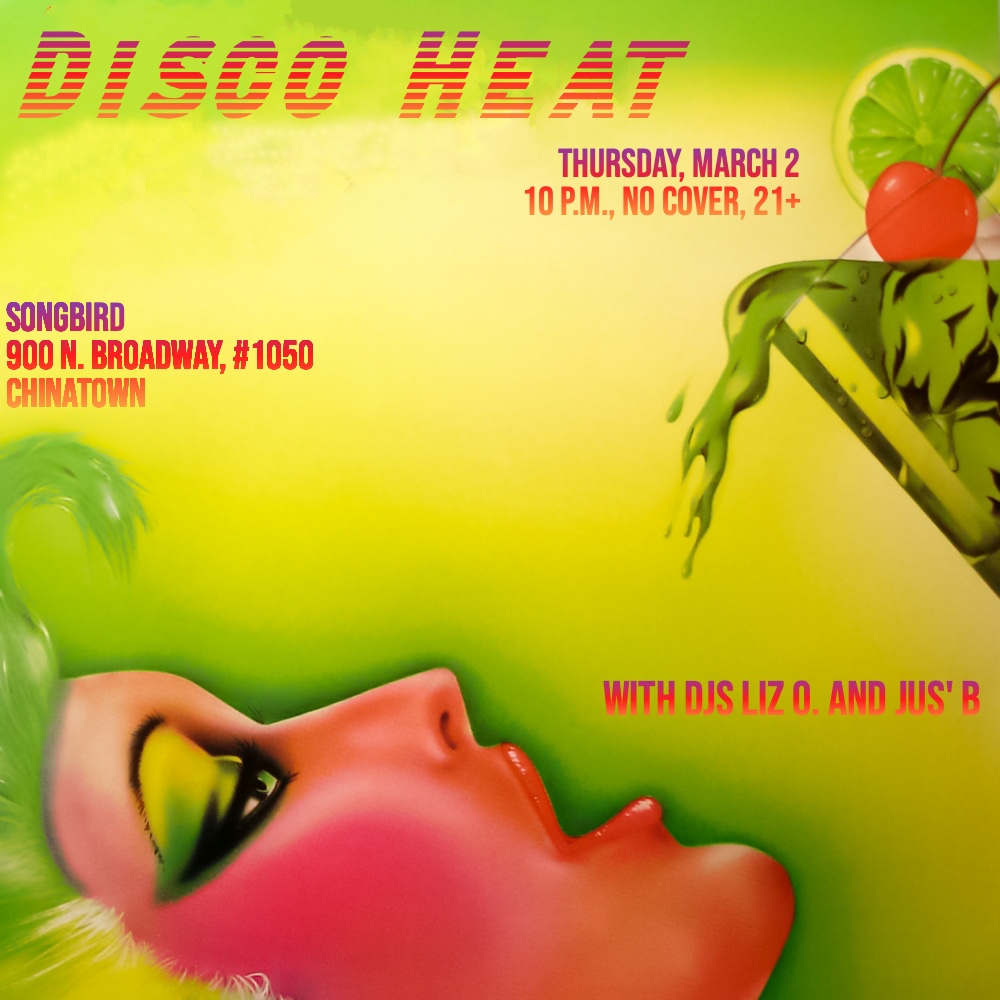 Want to catch me in the DJ booth this week? Here's where you can do just that.
Thursday, March 2, 2023
Disco Heat @ Songbird
900 N. Broadway, #1050, Chinatown 90012
10 p.m., No Cover, 21+
This Thursday night, Disco Heat launches its now-weekly residency at Songbird. Joining me this week is Jus' B, who you may have caught at the past three installments of Disco Heat at Songbird. We have a broad mix of what's considered disco in the queue for you, from classic '70s jams to '80s Italo to '90s disco-influenced house to 21st century nu-disco. Jus' B and I both made Spotify playlists of what has been in our sets, so check those out and get ready to hit the dance floor on March 2 and 10 p.m.
Friday, March 3, 2023
Taleen Kali Afterparty @ The Monty
1222 W. 7th Street, DTLA 90017
9:30 p.m., No Cover w/RSVP, 21+
Taleen Kali's new album, Flower of Life, is out this Friday, March 3 and there's going to be a big party to celebrate. To start, Taleen and band are playing at The Moroccan Lounge with Tremours, Warsaw Pact and Livingmore. Then there's the afterparty at The Monty, which is where you'll find me on the decks alongside Polartropica, Drew Trap Girl, Clifton and Julez and the Rollerz. The afterparty is free, but make sure you RSVP. Listen to "Only Lovers Left Alive" from Taleen Kali's album Flower of Life on my latest Beatique mix and get the album on Friday.
Flower of Life by Taleen Kali on Bandcamp
Hope to see you on the dance floor this week.
Catch Los Angeles-based DJ Liz O. at one of her upcoming gigs.