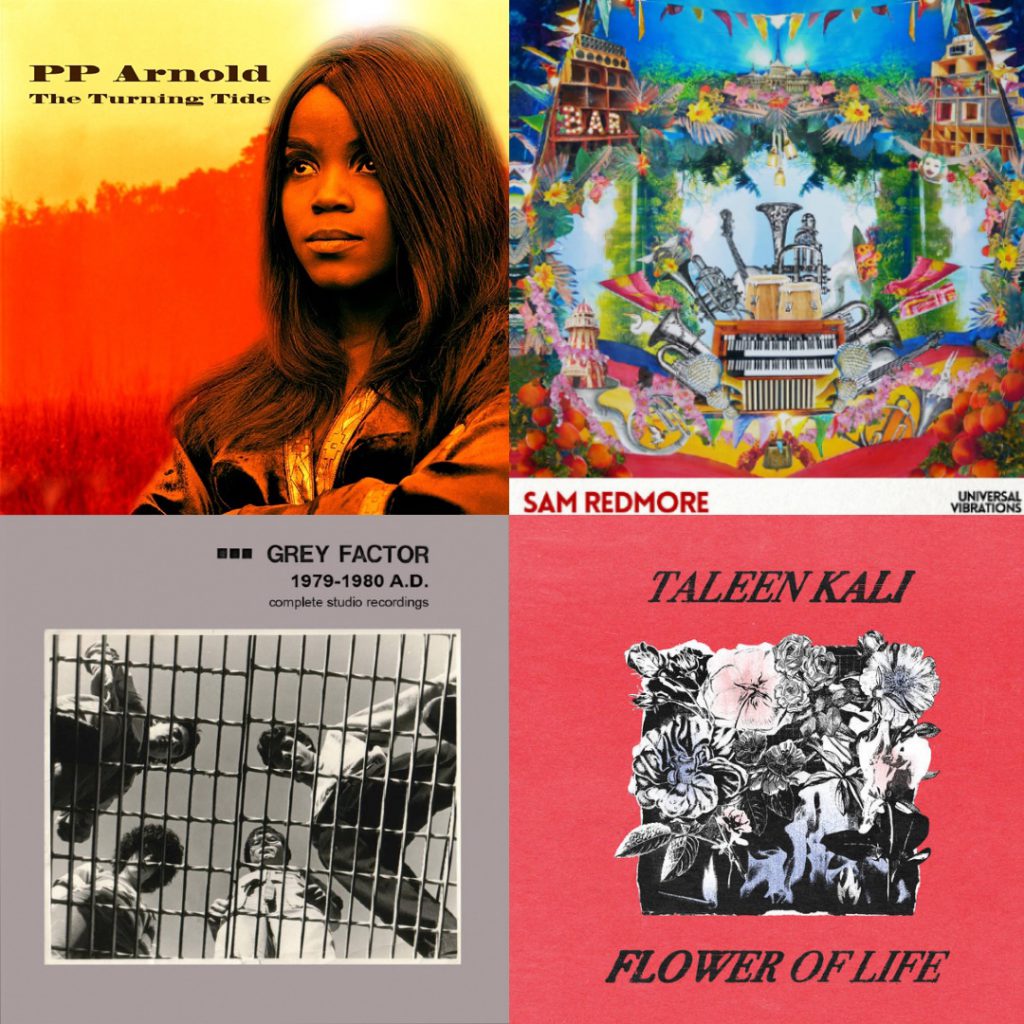 I just posted this month's Beatique mix, which you can listen to either on Mixcloud or on this page. It's composed of two eclectic sets, with the second set being a club-style mix, that includes indie dance, disco, soul, psychedelic and weird electronic tunes. Give it a listen and check out the full track list below.
Burt Bacharach "Italian Fuzz"
I had wanted to start off the show with Burt Bacharach, who died on February 8 at the age of 94, and found "Italian Fuzz" in one of my virtual DJ crates. It was originally recorded for After the Fox, a 1966 heist comedy starring Peter Sellers and Britt Ekland, and also appears on the compilation Psych, Crackle & Pop Vol. 6.
Sheila "Bang Bang"
I'm a fan of Sheila and B. Devotion's Chic-written and produced disco jam "Spacer" and recently starting digging back into the French singer's 1960s output. "Bang Bang" is a cover of the song written by Sonny Bono and made famous by Cher, which has also been performed by Nancy Sinatra, Dalida and others. You can find Sheila's version on the compilation Les années 60, Vol. 2.
P.P. Arnold "Spinning Wheel"
An Instagram clip of P.P. Arnold performing on Beat Club recently prompted me to learn more about the singer. Arnold had been an Ikette, the backup singers for the Ike :& Tina Turner Revue, before embarking on a solo career that took off in the U.K. In addition to her solo work, she has collaborated with a wide range of artists, including The Small Faces, Nick Drake, Peter Gabriel and Primal Scream.
In the late 1960s, Arnold had recorded several songs with Barry Gibb handling production, amongst them was this cover of "Spinning Wheel." However, the songs weren't released until her 2017 album, The Turning Tide, which also includes her recordings with Eric Clapton.
Izo FitzRoy "Say Something"
Izo FitzRoy is a London-based singer, songwriter and pianist with an old school soul sound. Her next full-length, A Good Woman, is set for release in April. In the meantime, I pulled this track, "Say Something," from the compilation We Love Jalapeño! Vol. 3, which you can find on Bandcamp.
Taleen Kali "Only Lovers Left Alive"
Released last September, "Only Lovers Left Alive" is the second single from Taleen Kali's forthcoming album, Flowers of Life. The full-length is out on March 3 and you can check out Taleen Kali live that night at The Moroccan Lounge in downtown Los Angeles. Following the record release show, head to The Monty for the afterparty, where I will be one of the DJs.
The United States of America "Garden of Earthly Delights"
The United States of America was a short-lived L.A.-based 1960s psychedelic band noted for its use of electronic instruments. Their influence manifested decades later, notably in the sound of British band Broadcast. I pulled "Garden of Earthly Delights" from the compilation Psych, Crackle & Pop, Vol. 2.
Broadcast "Goodbye Girls"
Broadcast's 2005 album, Tender Buttons, is part of my permanent playlist. I still listen to it often, usually when I'm working at the computer.
Grey Factor "You're So Cool"
Grey Factor was an electronic outfit from Los Angeles that existed at the intersection of the 1970s and 1980s whose music was only recently officially released on the 10-track compilation Grey Factor: 1979-1980 AD— Complete Studio Recordings. I just happened to come across the album via Bandcamp earlier in February and it's been in my regular rotation since then.
Working Men's Club "Ploy"
Fear Fear from Working Men's Club was one of my favorite albums of 2022. If you don't already have it, you need it.
Mount Kismet, C.A.R. "Teenage Fantasy"
Multiple tracks from C.A.R. have been a part of my sets for years, but "Teenage Fantasy," which came out in 2019, is more in line with what I listen to at home than what I play at clubs.
Dance Mix
Smoove & Turrell "I Just Want More"
Since Disco Heat is expanding in March, I wanted to open the dance portion with something very disco and "I Just Want More" fit that criteria. It's on We Love Jalapeño! Vol. 3, a 2022 compilation from Jalapeño Records, which I've been listening to a lot this month.
Los Charly's Orchestra, Juan Laya & Jorge Montiel "Nuyorican Disco"
"Nuyorican Disco" is another one of those tracks that's been sitting around in my virtual crates waiting to be played. Now is the time for that. Los Charly's Orchestra is London-based Venezuelan production duo Juan Laya and Jorge Montiel. I found this on Traxsource.
Monsieur Van Pratt "Hagámoslo Juntos"
I'm a big fan of Monsieur Van Pratt's edits. If you've been to any of my DJ gigs since the clubs reopened, you've probably heard at least one of them in the sets. "Hagámoslo Juntos" is a song from Spanish singer and actress Susana Estrada.
Teena Marie "Lovergirl (M+M Mix)"
I've been on a Teena Marie kick lately and this M+M Mix of "Lovergirl" is perfect for disco nights. It's on John Morales Presents the M+M Mixes Vol. 4, which is filled with jams.
Moniquea "Get It Together"
I'm so excited that L.A.-based DJ and artist Moniquea will be playing the all-vinyl edition of Disco Heat with me on March 12 at Lost But Found. In the meantime, pick up her great tune "Get It Together" over on Bandcamp.
Delmar Xavier VII "Joy Ryde (feat. XL Middleton)
I really love the future funk vibe of "Joy Ryde" from Delmar Xavier VII featuring XL Middleton and you'll probably be hearing it a lot in my sets soon. Get yourself a copy via L.A.'s MoFunk Records on Bandcamp.
Honey Dijon, Eve "In the Club"
To be honest, I almost missed out on Honey Dijon's late 2022 album, Black Girl Magic, until a friend messaged me and was like, "Have you gotten it yet?" I'm grateful for that, because there's heat all over the album. I'm particularly fond of "In the Club," which features Eve on vocals.
Channel Tres "6 a.m."
What a banger! I really love playing "6 a.m." from Channel Tres.
Babert and Mell Hall "Can't Stop Now"
It will take you no time at all to recognize the '80s jam within "Can't Stop Now" from Babert and Mell Hall. In fact, the title might give it away if you're the sort of person who has memorized all the big synthpop club hits.
Trashcan Sinatras "Lay of the Land (Bessa Extended Mix)"
I've loved Trashcan Sinatras since I was a young teenager and follow the Scottish indie band on socials, which is where I saw a mention of the his remix of "Lay of the Land" from DJ Sam Bessa that's available on their website. It's beautiful. Get it.
Talking Heads "This Must Be the Place" (Psychemagik edit)
Psychemagik Archive 2009-2017 is a behemoth collection of edits from the U.K. duo. I'm not even sure if I've listened to all of the 98 tracks on it yet, but one that really resonated with me is this take on "This Must Be the Place."
Sam Redmore "Tears"
Initially, I picked up Sam Redmore's 2022 album, Universal Vibrations, on Bandcamp because I dug the opening track, a disco number "Just Can't Wait." Then I noticed the second-to-last song on the album was called "Tears," and wondered, "As in Moroder?" So, I clicked on the track and, lo and behold, it is a wild take on the 1972 Giorgio Moroder psychedelic jam that was famously sampled by DJ Shadow in "Organ Donor." I have not had the chance to play this in my sets yet, but you know it has to happen because I love it so much.
The background music in this episode is from Piero Umiliani. "Chaser" plays under the first air break and "Hard Times" plays under the second and third breaks. Both tracks are found on the album Il Corpo.
Catch Los Angeles-based DJ Liz O. at one of her upcoming gigs.