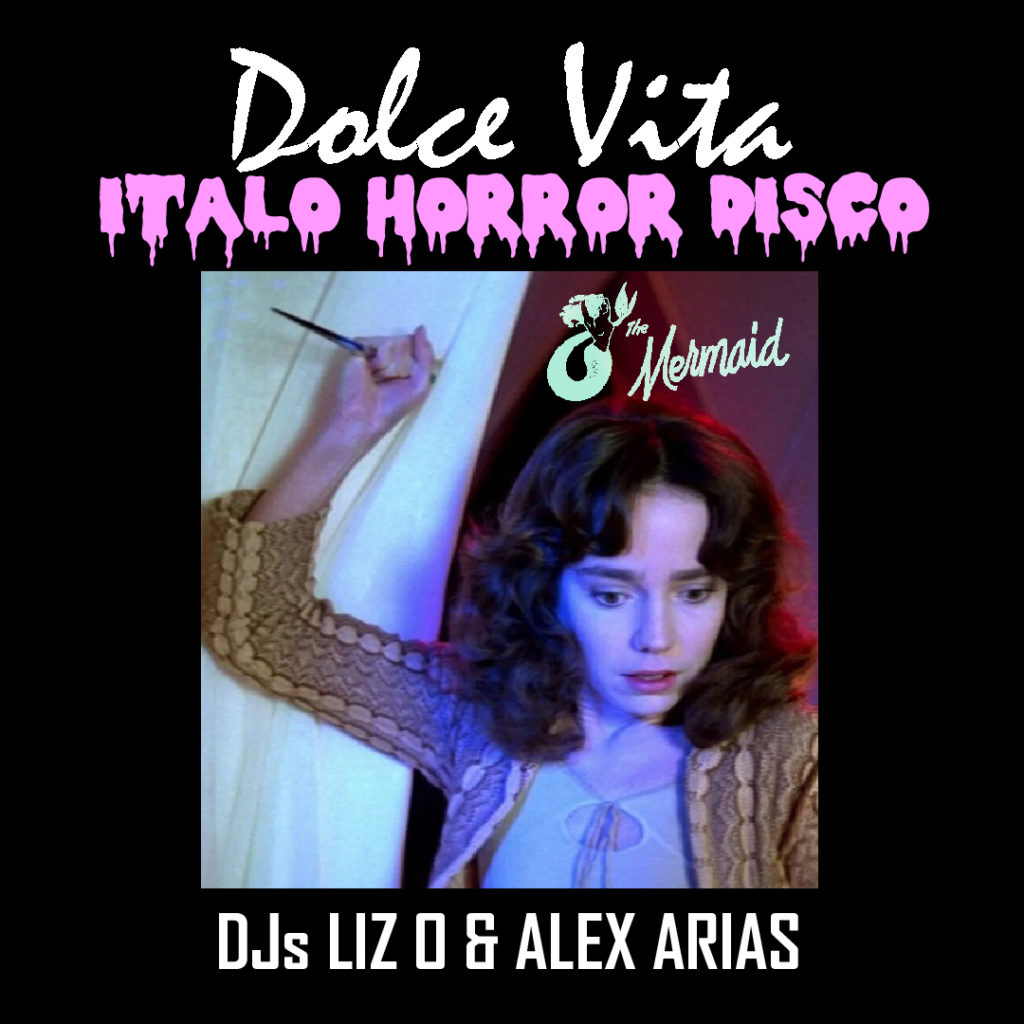 This week, you can catch me playing a few records at Vidéothèque's Opening Party on Saturday evening, sometime between 7 p.m. and 10 p.m. Plus, I'll be at The Mermaid on Tuesday, October 24 to drop an even spookier Italo Horror Disco set than the one I played earlier this month. But, there's still a lot more than that happening in the next handful of days. Keep reading to see what my L.A. music event recommendations are for this week.
10/20/23
Club Underground @ Grand Star Jazz Club
This week, Club Underground is hosting a Rolling Stones giveaway, which includes t-shirts, vinyl, CDs and more. Plus, you'll get to dance to the indie, Britpop, new wave and post-punk jams that Larry G. plays all night. Advance tickets are $8 and available now. It's $15 at the door.
(Don't forget that I'm back at Underground on October 27 for the Halloween party. Advance tickets are on sale now and they're $10.)
Grand Star Jazz Club, 943 N. Broadway, Chinatown 90012; 9:30 p.m.; $8-15; 21+
10/21/23
Vidéothèque Opening Party
A few weeks ago, Vidéothèque opened up its new shop in Highland Park and the kickoff party is Saturday night from 7-10 p.m. I'll be part of the group of DJs dropping vinyl during the soiree, so stop by and say hi, rent a movie and play a round or two of Xenon.
(Read my previous post about visiting Vidéothèque's new space here.)
Vidéothèque, 4102 N. Figueroa Avenue, Highland Park 90065; 7-10 p.m.; no cover
Micah Preite @ Silverlake Lounge
I caught Micah Preite play at Bar Henry during Echo Park Rising and he was fantastic. In particular, I was really impressed by the way he melds jazz style guitars with a vibe that's very late '90s/early '00s indie pop. This is an early show— doors are at 6:30 p.m.— and tickets are available via Dice.
Silverlake Lounge, 2906 Sunset Blvd., Silver Lake 90026; 6:30 p.m.; $11.33; 21+
Decisive Pink @ 2220 Arts + Archives
Ticket to Fame, the debut album from duo Decisive Pink, has been in constant rotation on my laptop since it came out last June. If you're the sort of club kid who shows up early and listens carefully, you've probably also heard "Haffmilch Holiday" in some of my DJ sets as well. The whole album is killer, probably one of my favorites of the year, and if your tastes lean towards bands like Ladytron and the Human League and music from movies like Liquid Sky and Der Fan, you should check them out either on album or live. Tickets are available on Dice.
2220 Arts + Archives, 2220 Beverly Blvd., Historic Filipinotown 90057; 8 p.m.; $22.66; 21+
Shibuya Starlight @ Grand Star Jazz Club
My pals from Tune in Tokyo are back at the Grand Star on Saturday night for another installment of Shibuya Starlight. Expect a mix of city pop, future funk, deep house and more with DJs Leonardo Flores, Dave Tada, Marcus Chavez and Jovan Curry. Set times have already been announced and advance tickets are available now.
Grand Star Jazz Club, 943 N. Broadway, Chinatown 90012; 9 p.m.; $10-15; 21+
10/22/23
Cover Night with Teenage Goo Goo Muck, Slayd and TV Eyes @ Alex's Bar
If you haven't already started your Halloween shenanigans, Sunday might be a good night to get going with that because Teenage Goo Goo Muck is playing Alex's Bar in Long Beach. Joining the popular tribute to The Cramps are fellow tribute bands Slayed (Slade) and TV Eyes (Iggy and the Stooges). Tickets are available on Dice.
Alex's Bar, 2913 Anaheim St., Long Beach 90804; 8 p.m.; $12.88; 21+
10/24/23
Dolce Vita's Italo Horror Disco @ The Mermaid
Dolce Vita's Italo Horror Disco continues this week and I'll be DJing alongside Alex Arias. I've got more Halloween jams to drop into the mix this time around, but check out my set list from October 3 for a sneak preview.
The Mermaid, 428 E. 2nd Street, Little Tokyo, 90012; 9 p.m.; no cover; 21+
10/26/23
Twin Oaks, Asi Fui, Lauren Lakis, Daydream Twins@ Alex's Bar
I recently got to see Asi Fui live for the first time when we were both booked alongside Oasus at Harvard and Stone. They are a fantastic band, definitely in the alternative rock vein, but with some dub-heavy moments. Be sure to check them out if you're in Long Beach on Thursday night. Tickets are available on Dice.
Alex's Bar, 2913 Anaheim St., Long Beach 90804; 8 p.m.; $12.88; 21+
N.E.O.C.O.N.S. vs Dildox, ACIDTRAIN, DJ Robert Lane @ The Smell
I haven't been to The Smell since before the pandemic, but that might change this week because Thursday night's lineup is stacked with a N.E.O.C.O.N.S. vs. Dildox performance, plus ACIDTRAIN on as a special guest and Robert Lane DJing. If you like electronic music that's dark and loud, this is the show to hit up.
The Smell, 247 S. Main St., DTLA 90012; $10; all ages
Liz O. is an L.A.-based writer and DJ. Read her recently published work and check out her upcoming gigs.