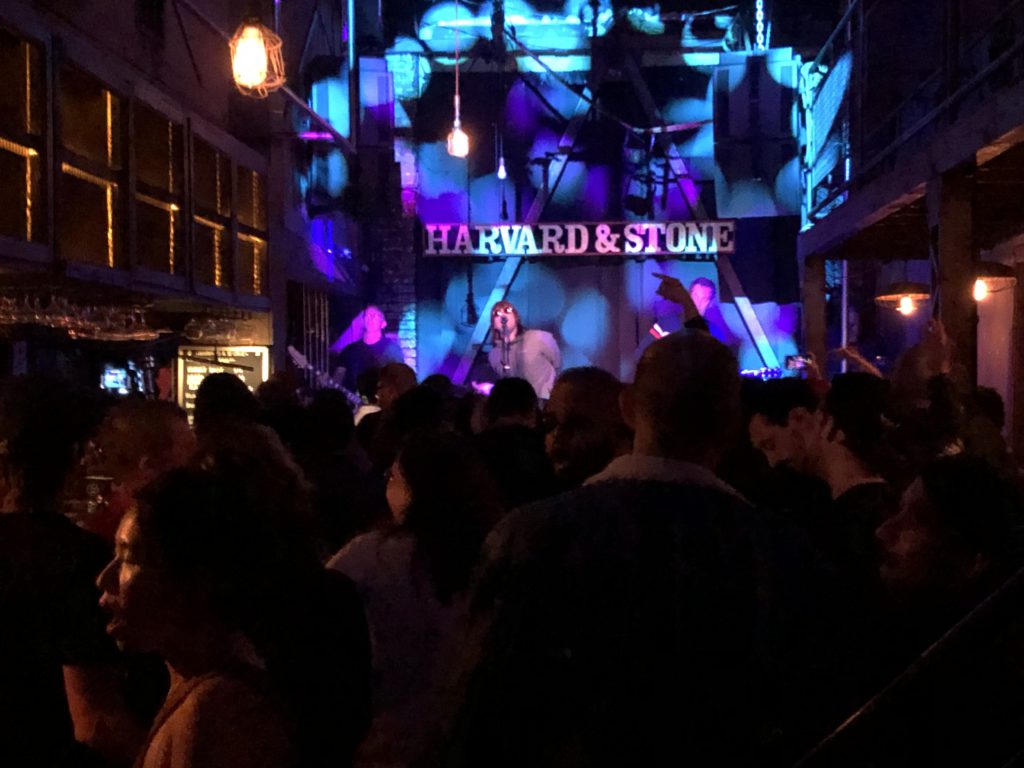 On Friday the 13th, I DJed at Harvard and Stone in East Hollywood for a night that included live sets from Asi Fui and Oasis tribute band Oasus, plus a couple burlesque performances. Long Beach-based Asi Fui is a terrific band with a '90s alternative vibe. I wish I knew the name of the dubby song with the melodica that they played early in the set. They closed with a cover of Blur's hit "Song 2," which was a perfect good-natured troll for anyone who remembers the Blur vs. Oasis battles of the 1990s.
Having never seen Oasus, or Oasis, live, last night was a real treat. Oasus pays a spot-on tribute to the Manchester band. They sounded so close to the albums I played over and over again at the end of high school and beginning of college, which is probably better than I could expect from seeing the original band play live.
Sometime after Oasus played, I started looking through my laptop for the Walker Brothers, which I could have sworn I dropped into Rekordbox while I was prepping for the gig. Of course it wasn't there. So, I pulled out my phone, figuring that I could jump onto my hotspot and download it. That's when I saw the message that my phone is now running iOS 16.7 whatever and that my battery had dropped down to 30%. How the hell did that happen? When did my phone decide to update itself without being plugged in anywhere? I've still got more than an hour until I can get an Uber and head home. Why didn't I bring a charger?
In the end, everything worked out. People liked the sets. I'm okay with not getting "The Sun Ain't Gonna Shine Anymore" in there. My phone didn't die while I was refreshing Uber and waiting for the surge to drop. Plus, one of the bartenders had a great charger, which gave my phone some much-needed juice in the five minute wait for the driver to arrive. It was, overall, a really good night, but the moral of the story is always carry a phone charger, espcially if you have an iPhone. Apple is going to do what Apple wants to do.
Anyhow, you can catch me next in Highland Park at The Offbeat for No Controles! on October 19, where I'll be playing alongside a live performance from INXS'D, the INXS experience. 
Here's what I played at Harvard and Stone on October 13, 2023.
Set One:
Primal Scream – Come Together
Happy Mondays – Loose Fit
Saint Etienne – Spring
?tella – Charmed
Suede – Beautiful Ones
Chapterhouse – Pearl
Trashcan Sinatras – Obscurity Knocks
The Magnetic Fields – Long-Forgotten Fairytale
The Cardigans – Carnival
Pixies – Gigantic
Set Two:
The Charlatans – The Only One I Know
The Smiths – Boy with the Thorn In His Side
Edwyn Collins – A Girl Like You
Belle and Sebastian – Legal Man
The Beatles – It's All Too Much
Lynn Collins – Think (About It)
Freda Payne – Band of Gold
Gloria Jones – Tainted Love
The Jam – Down at the Tube Station at Midnight
Tijuana No! – Spanish Bombs
Count Five – Psychotic Reaction
The Status Quo- Pictures of Matchstick Men
Love – Alone Again Or
The Primitives – Crash
Set Three:
Franz Ferdinand – Take Me Out
Chumbawamba – Tubthumping
Blur – Girls and Boys
The Rapture – House of Jealous Lovers
Confidence Man -Angry Girl
Wet Leg – Chaise Longue
Nancy Sinatra – These Boots Are Made for Walking
Frankie Valli and the Four Seasons – Beggin'
The Style Council – My Ever Changing Mood
Set Four:
The Smiths – There Is a Light that Never Goes Out
Future Islands – For Sure
Phoenix – 1901 (Mike Balance ReRub)
Sonic Youth – Bull in the Heather
Pixies – Where Is My Mind
Arctic Monkeys – Do I Wanna Know?
Gorillaz – Clint Eastwood
King Gizzard and the Lizard Wizard — Magenta Mountain
Animal Collective – My Girls
The Dynamics – Seven Nation Army (Patchworks Holiday Inn Remix)
Bon Entendeur vs Françoise Hardy – Le temps de l'amour
Belle and Sebastian – Lazy Line Painter Jane
The Beatles – Here Comes the Sun
Bee-Gees – To Love Somebody
Stone Roses – I Wanna Be Adored
Catherine Wheel – I Want to Touch You
Jesus and Mary Chain – Just Like Honey
Mazzy Star – Fade into You
Dawn Penn – You Don't Love Me (No, No, No) (Extended Mix)
Liz O. is an L.A.-based writer and DJ. Read her recently published work and check out her upcoming gigs.