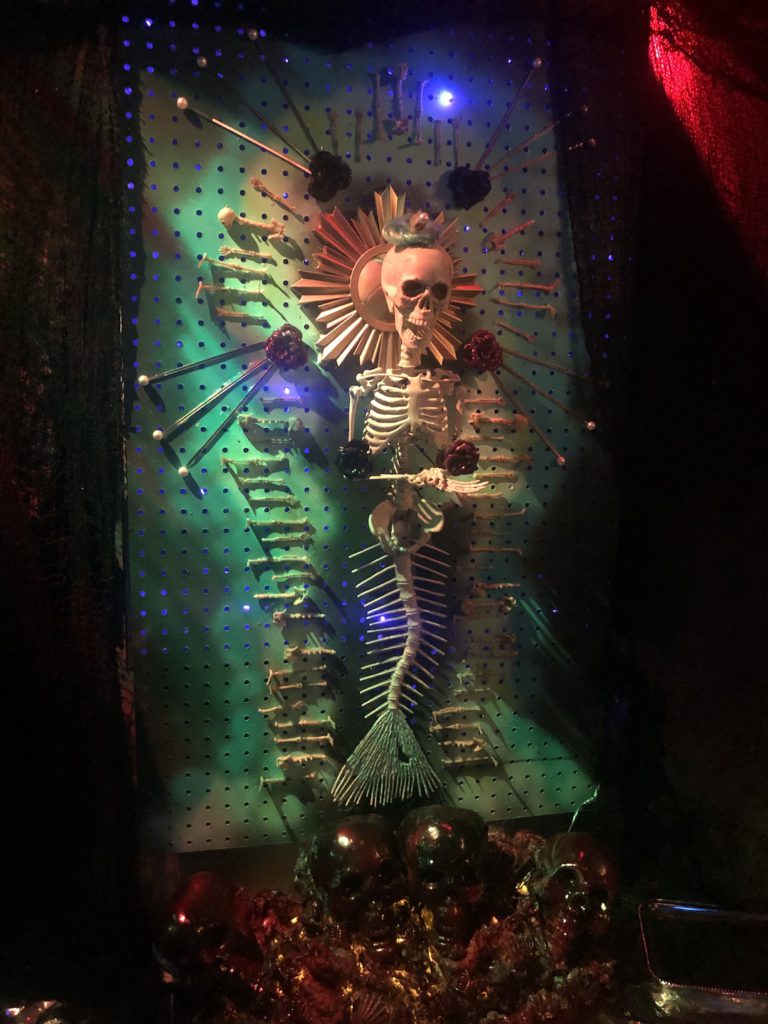 Every Tuesday night at The Mermaid this October is Italo Horror Disco, the Halloween-friendly edition of L.A. Industrial's Italo disco party Dolce Vita. DJ Manuelito and I had the chance to kick off the spooky festivities last night to a killer crowd at the Little Tokyo bar.
I had a blast playing with Manuelito, who is such an amazing DJ, and catching up with the pals who dropped by the party last night. It pumped me up for this weekend's gigs. You can catch me on Friday night at Club Underground for Depeche Mode x New Order night and then on Sunday afternoon for Disco Matinee. Both parties are at Grand Star Jazz Club in Chinatown.
Here's my set list for Dolce Vita's Italo Horror Disco at The Mermaid on October 3, 2023. 
(Want some of this music? Some of these tracks link to their corresponding listings on Amazon. As an Amazon Associate, I earn a commission from qualifying purchases made from the links in this set list.)
Set One:
Azul Y Negro – The Night (WLDV Edit)
Ken Laszlo -Tonight (1985 Special extended version)
Lorella Cuccarini – La Notte Vola (Fabrizio Mammarella Lullabye Edit)
Max Him- No Escape
Patrick Cowley – They Came At Night
Book of Love – Tubulur Bells
Fun Fun – Color My Love (Rivaz '80 Extended Remix)
Nuovo Testamento – Heartbeat (Curses Remix – Edit)
Plustwo – Melody
Silent Circle – Touch in the Night 3000 (Extended Version)
Giorgio Moroder – Chase – 1985 Remix by Brian Reeves – Remastered
Alaska y Dinarama – Mi Novio Es Un Zombi
Set Two:
Goblin – Tenebre
Koto – Jabdah
Ministry – Every Day Is Halloween (Dirt Dub)
Terrez – Seduced (Long Version)
Ladies on Mars — Park on Cowley
La Bionda – I Wanna Be Your Lover (WLDV Edit)
Kano – IT'S A WAR (Purple Disco Machine & Lorenz Rhode Remix)
Bobby O. – Frankenstein
Divine — You Think You're a Man (12" mix)
Ken Laszlo – Hey Hey Guy
Set Three:
Nina Pée – You're The Sun Of My Life
Monsieur Goraguer – Sexy Dracula (Instrumental)
Skatt Brothers — Walk the Night
PDA – ma quale idea (mikeandtess quick edit)
Modern Talking -You're My Heart, You're My Soul
Clio — Faces
Ivan — Fotonovela
Fancy – Slice Me Nice (12" Mix)
Cyber People — Void Vision
Sabrina – Boys
Chromatics — Famous Monsters
Goblin – Suspiria
Liz O. is an L.A.-based writer and DJ. Read her recently published work and check out her upcoming gigs.