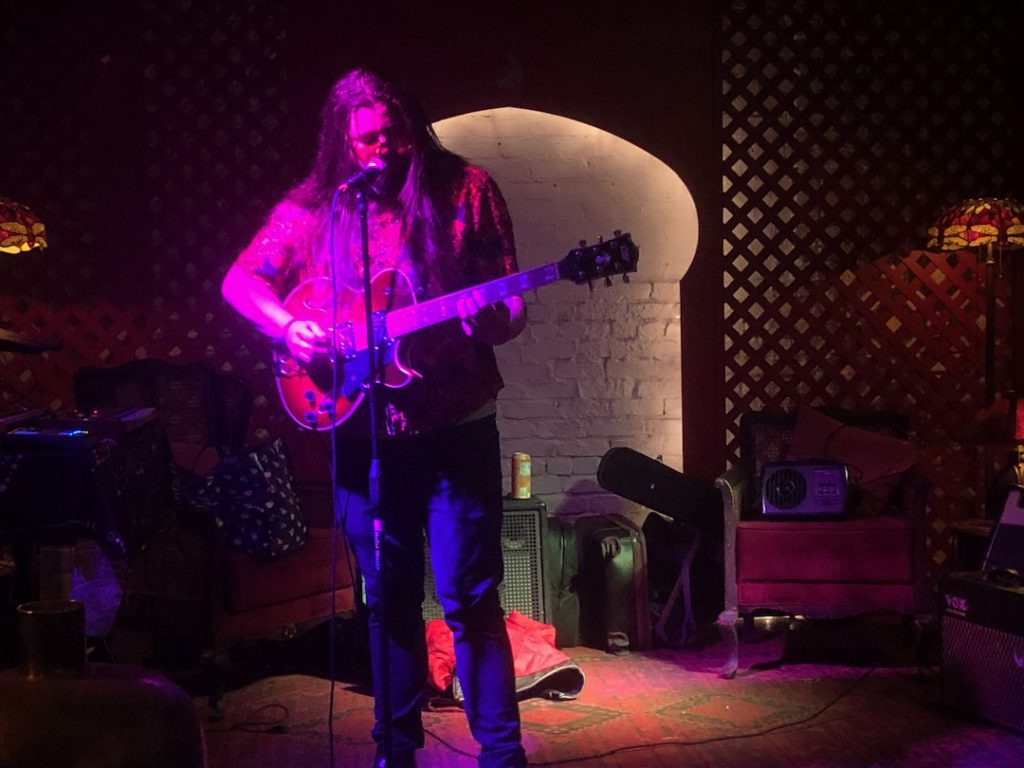 I hate to break it to you in the midst of this "indie sleaze" moment, but the late '00s weren't that cool. It was the era when poseurs and paparazzi flocked to Hollywood and West Hollywood to catch a glimpse of the misadventures of Lindsay Lohan. Bottle service was on the rise, as were the profiles of well-connected, but barely competent DJs. People started dressing up for Coachella, a baffling development to anyone who ever stepped near a porta potty on the final evening of the festival. This was also the time when it was obvious that we were in an endless war and the divide between the haves and have-nots was just going to get bigger. The late '00s foreshadowed all of today's bullshit, but people were too entranced by gossip blogs to notice. 
Lest I ruin your enjoyment of early 21st century nostalgia, I'll let you in on one really cool thing that happened in the midst of '00s L.A. That was Sean Carnage's Monday Nights. Between the mid-'00s and mid-'10s, Sean put together weekly showcases of local and touring underground artists first at Il Corral in East Hollywood and then at Pehrspace in Historic Filipinotown.  Over 1100 bands played the events. Some became well-known, at least in indie circles. Most were just really cool.
I don't remember how I ended up going to Sean's nights. It's probably because one of my friend's bands (most likely Anavan) was playing. But, I kept going to them (and even covered a few of the events for L.A. Weekly) because they were so much fun. The line-ups were cross-genre, so there was always something a bit unexpected about the nights, and the crowd was a great mix of people. You might see folks who had been around the L.A. underground scenes for decades alongside young people who drove out from the suburbs to begin their own adventures in nightlife.
Thanks to Sean's Monday Night shows, which were really more like parties, I heard a lot of bands for the first time and met and befriended some really awesome people. When Sean started throwing monthly, Friday night events at Oracle Tavern last year, I made a point to start going to those for my local band fix whenever possible. So, instead of watching Coachella on YouTube on Friday night, I headed to Oracle Tavern to see local bands play IRL.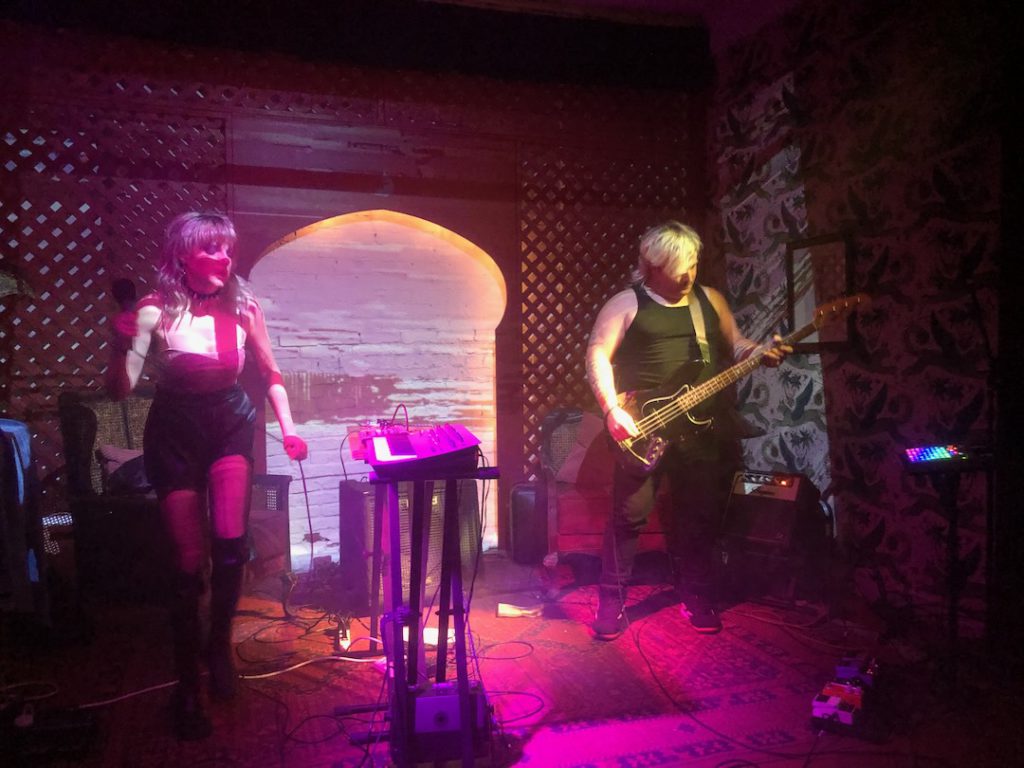 Since it's Coachella weekend, the streets of Chinatown were eerily quiet on Friday night. Save for a few people dressed in Dodger blue, there was virtually no foot traffic. Post-pandemic, I almost forgot how L.A. empties when Coachella lures half the nightlife population to the desert. The festival came up in conversation outside of Oracle Tavern when someone wondered who goes there now. "Rich people," I answered. I mean, why else would you stick a sushi speakeasy that costs $375 per person in the middle of a music festival that already costs a small fortune to attend unless your target audience is rich people? 
But, back to the show at Oracle Tavern. 
I missed Two Crones, who played the opening slot, but caught Acidtrain and Dildox, neither of whom I had seen before. Acidtrain, the solo project of Ryein Evan, played an energetic set of what I would describe as psychedelic industrial. Dildox is a rambunctious synthpunk duo who had most of the crowd dancing by the end of their set. Acidtrain and Dildox are set to release a split cassette at the end of May, which I'm now excited to hear.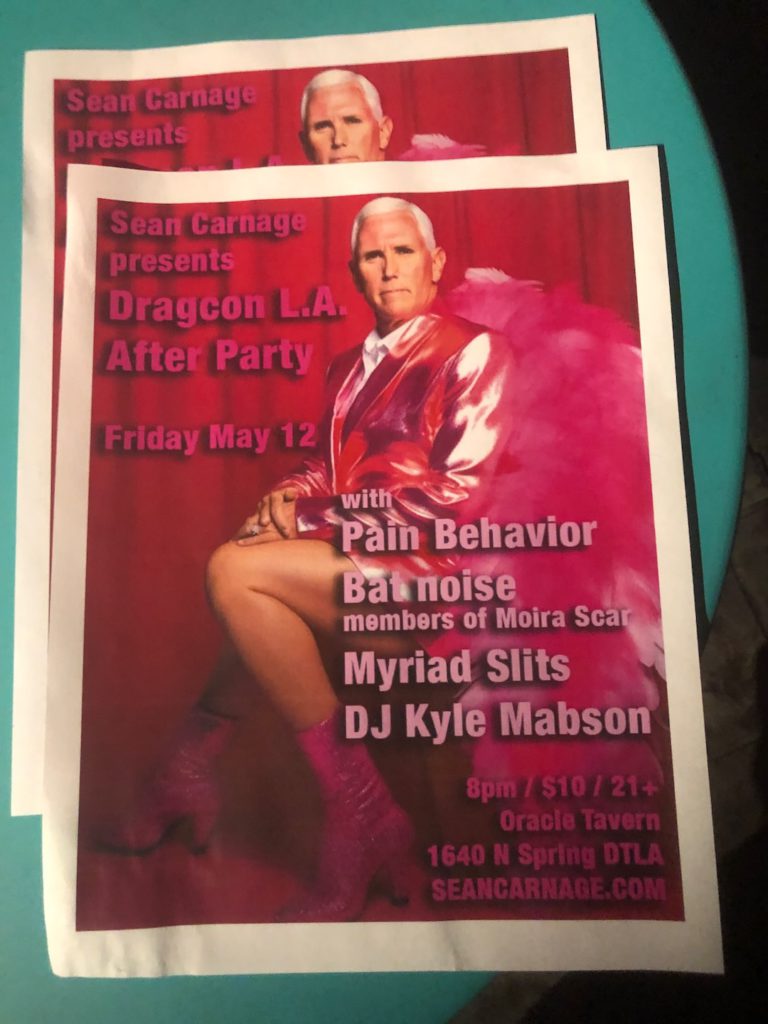 In between the sets, DJ Erin Eyesore dug into the vaults of the weird '80s and Sean MC'd with ChatGPT poetry. It was a really fun night and one that came with a $10 cover, a real deal for live music in L.A. right now. Check out Sean's next event, which is a Dragcon L.A. afterparty on May 12 with Pain Behavior, Bat Noise, Myriad Slits and DJ Kyle Mabson at Oracle Tavern.
After the show, I popped into Underground, where I'll be DJing on April 28, but didn't stay long. To be honest, I was pretty beat after Disco Heat on Thursday night and an unusually long Friday workday. But, I was also grateful to have the chance to go out for a bit because there are still bands, promoters and venues making live music happen with covers that are actually reasonable. It's easy to take that for granted, especially when our feeds are dominated by "aspirational" content that makes us think we need to spend our entire concert budget (and then some) on festivals or shows with dynamic pricing. The local bands, indie promoters and small venues get lost in the algorithm and they're the ones who are taking chances and will push culture forward.
Catch Los Angeles-based DJ Liz O. at one of her upcoming gigs.