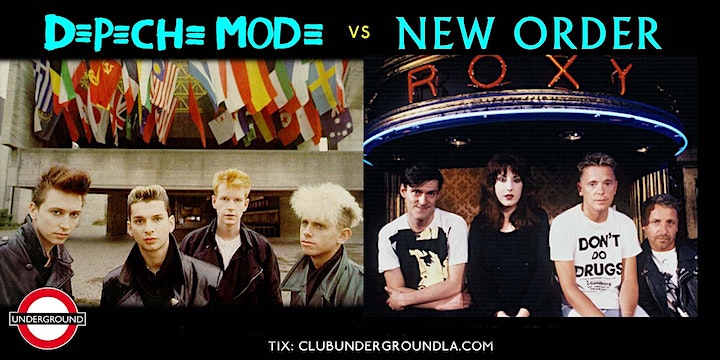 This weekend, you can find me at the Grand Star in Chinatown, where I'll be playing on Friday night and Sunday afternoon. Aside from that, there are some very cool events happening around town, amongst them, you'll find techno at the Lodge Room, Italo at Moroccan Lounge, Japanese pop at High Tide and more. Check out the list of L.A. music events below for information on my own gigs, plus my recommendations for this week. 
October 6
Depeche Mode x New Order Night @ Club Underground
The first of my two gigs at Club Underground this month is Friday, October 6, and it's Depeche Mode x New Order Night. Both rooms of the Grand Star will be open. Larry G. will be downstairs all night and I'm playing open-to-close upstairs. In addition to all the fan favorite tracks from Depeche Mode and New Order, expect to hear a mix of post-punk, indie, darkwave and more. Advance tickets are available online for $8.
Grand Star Jazz Club, 943 N. Broadway, Chinatown, 90012; $8-15; 9:30 p.m.; 21+
October 7
Rival Consoles, Hagop Tchaparian, Jon Charnis @ Lodge Room
While I do dig Rival Consoles recently released track, "Coda," my main reason for recommending the show on October 7 at Lodge Room is Hagop Tchaparian, whose 2022 debut album, Bolts, is incredible. He incorporated field recordings into the techno productions that reflect his family's journey from Musa Dagh, in Turkey, to Anjar, Lebanon, which is also pretty significant part of Armenian history and quite relevant today if you've been following along with recent events in Nagorno-Karabakh and Armenia. Anyhow, all that's probably too heavy for a blurb about a show. I probably should have just used some trite adjectives to describe techno with a Middle Eastern music influence.
Lodge Room, N. Ave. 56, 2nd Floor, Highland Park, 90042; $22; 8 p.m.; all ages
Playback Fantasy @ Moroccan Lounge
For the goths who love disco, Playback Fantasy is happening on Saturday night downtown at Moroccan Lounge. Mr. Michel (who is also playing Disco Matinee on Sunday), Jinx and Voz Propia will be spinning a mix of Italo disco, darkwave, post-punk, new wave and more. Party starts at 9:30 p.m. Advance tickets are available for $10 and it's $15 at the door.
Moroccan Lounge, 901 E. 1st St., DTLA 90012; $10-15; 9:30 p.m.; 21+
October 8
Disco Matinee @ Grand Star Jazz Club
It's day party time! Join Jus' B, Mr. Michel and me at Grand Star Jazz Club on Sunday from 3-7 p.m. for another installment of Disco Matinee. We'll be playing a mix of disco classics, Italo, hiNRG, freestyle, a little house and plenty of nu-disco too. If you're down to dance to everything from Donna Summer to Lime to Daft Punk to Purple Disco Machine, then head down to the Grand Star on Sunday. Cover is $5 cash or Venmo at the door.
Grand Star Jazz Club, 943 N. Broadway, Chinatown, 90012; $5; 3 p.m.; 21+
October 9
Stop Making Sense @ Alamo Drafthouse
If you've never seen Stop Making Sense, the Talking Heads concert film by Jonathan Demme, you should. It's one of the two best concert films I've ever seen. The 4K restoration is at Alamo Drafthouse right now and, while you have your pick of dates to go see it, tickets are only $9 on Tuesdays. Take my advice, though, if you're going on Tuesday, even if it's an afternoon screening, buy your tickets as soon as possible, unless you like sitting in the front row. Learn from my mistakes, friends.
Alamo Drafthouse 700 W. 7th Street, Suite U240, DTLA 90017; $9 (Tuesday screenings only); multiple screenings
October 12
Hisei Night @ High Tide
Tune in Tokyo's newest party series, Hisei Night, focuses on Japanese pop, rock and hip-hop that came out between 1989 and 2019. Marcus Chavez and DJ Curry, who you might recognize from Shibuya Starlight at the Grand Star, are the residents. Joining them are guest DJs Kaistar, of the fantastic city pop night Tokyo Love Song, and Daisanime. Early bird tickets are $10 on Restless Nites.
High Tide, 605 E. 4th Street, Little Tokyo 90013; $10-15; 9 p.m.; 21+
Igorr, Melt-Banana, Otto Von Schirach @ The Regent
One of the first shows I saw at Silverlake Lounge once I was old enough to actually get into the club was Melt-Banana. Out of the many, many concerts I've seen, that remains one of the most memorable because the place was so packed that, if you went out for a smoke, you had to wait in line to get back inside the sauna. I ended up pressed back against a wall, half-standing on a barstool to see over the heads of the really tall dudes in the crowd. The barstool might have been shaking too because it was so incredibly loud. That wasn't the only time I've seen Melt-Banana, but it was the best and it's the reason why I'm recommending this show at The Regent with the Japanese punk noise outfit sandwiched between Igorr and Otto Von Schirach on the bill. Maybe keep a pair of earplugs in your pocket.
The Regent, 448 S. Main Street, DTLA, 90013; $25; 6:30 p.m.; all ages