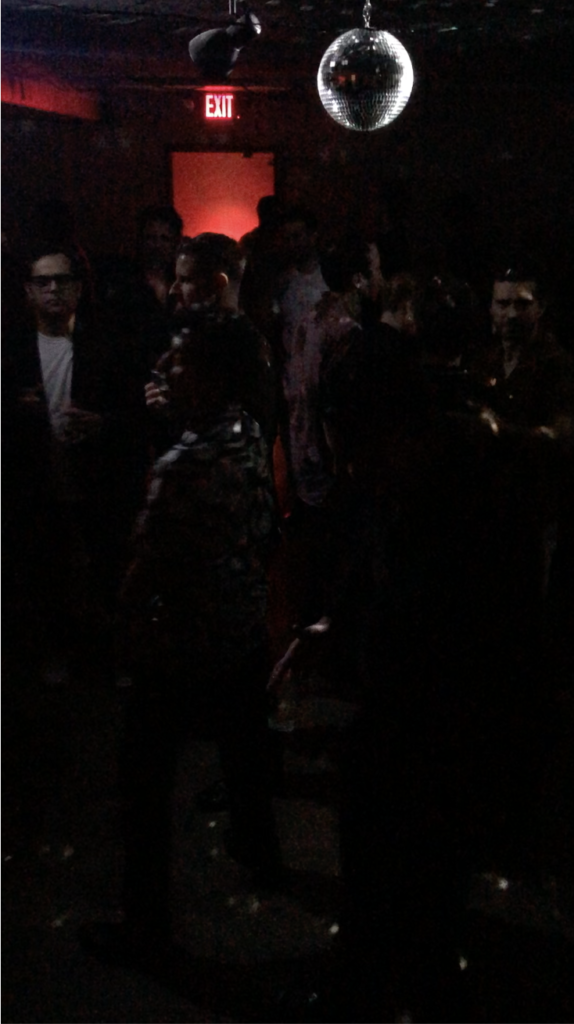 On Thursday, I bought a pair of Sambas and then I broke them in that night on the dance floor at 96 Tears and, let me tell you, that was the best decision I've made in months. It meant that I could DJ from 9:30 until 1:30 upstairs at the Grand Star for Club Underground without my back killing me well before midnight. And I could actually dance while I was DJing too, which probably looks stupid, but it's how I keep time, so whatever.
Anyhow, you're all awesome. As always, thanks for dancing and I'll see you at Underground again for the Halloween party on October 27. You can catch me next this Sunday afternoon for Disco Matinee at The Grand Star. Here's what you heard on Friday, October 6, 2023 at Club Underground. 
Set List:
(Some of these tracks link to their corresponding listings on Amazon. As an Amazon Associate, I earn a commission from qualifying purchases made from the links in this set list.)
Depeche Mode – Nothing to Fear
Ladytron – Paco
Royksopp – The Girl and the Robot
Visage – Pleasure Boys
Japan – Life in Tokyo
Duran Duran – New Moon on Monday
Felix da Housecat – What Does it Feel Like (Royksopp Return To The Sun Remix)
Lou Hayter – Time Out of Mind (The Reflex Revision)
New Order – Fine Time
Optometry – Chameleon
Depeche Mode – Fools (Bigger)
Pulp – Countdown
Human League – The Things That Dreams Are Made Of
Talking Heads – Life During Wartime
Caifanes – Viento (request)
The Smiths- Barbarism Begins at Home
Interpol -PDA
Joy Division -She's Lost Control
Siouxsie and the Banshees- Christine
Bloc Party – Banquet
The Strokes – Juiceboxx
Franz Ferdinand – Michael
The Cure – Primary
Vampire Weekend— A-Punk
MGMT – Electric Feel
Daft Punk – Da Funk
Hercules and Love Affair – Blind
Blur – Girls and Boys
The Human League – Don't You Want Me (Purple Disco Machine Remix)
The Bucketheads – The Bomb! (These Sounds Fall Into My Mind) (Armand Van Helden Re-edit)
The Rapture – House of Jealous Lovers
Confidence Man – Angry Girl
Le Tigre – Deceptacon
Wet Leg- Chaise Longue
Postal Service – Such Great Heights
Los Prisioneros – Tren al Sur (Basic Remix)
Gorillaz – Clint Eastwood
M.I.A. – Paper Planes
Arctic Monkeys – Do I Wanna Know?
The Smiths – Bigmouth Strikes Again
Depeche Mode – But Not Tonight
The Killers – Mr. Brightside (remix)
Future Islands – For Sure
Phoenix – 1901 (Mike Balance ReRub)
School of Seven Bells – Low Times
New Order – Blue Monday
LCD Soundsystem – Beat Connection (Disco Dub Version)
Chemical Brothers – Out of Control
Underworld – Born Slippy (Nuxx)
Soft Cell – Tainted Dub
White Town – Your Woman
Tom Tom Club – Genius of Love
Jean Jacques Perrey – E.V. A. (Fatboy Slim Remix)
Depeche Mode – Everything Counts
Talking Heads – Girlfriend Is Better
Tame Impala – Is It True (Twin Sun Edit)
The Dynamics – Seven Nation Army (Patchworks Holiday Inn Remix)
Steve Monite – Only You (Monsieur Van Pratt Boosted Edit
Animal Collective – My Girls
The Cure – Close to Me (request)
Jeanette – Por Que Te Vas (David Kust Remix)
Pixies – Wave of Mutilation (U.K. Surf)
Siouxsie and the Banshees – Face to Face
Dawn Penn – You Don't Love Me (No, No, No) (Extended Mix)
Liz O. is an L.A.-based writer and DJ. Read her recently published work and check out her upcoming gigs.