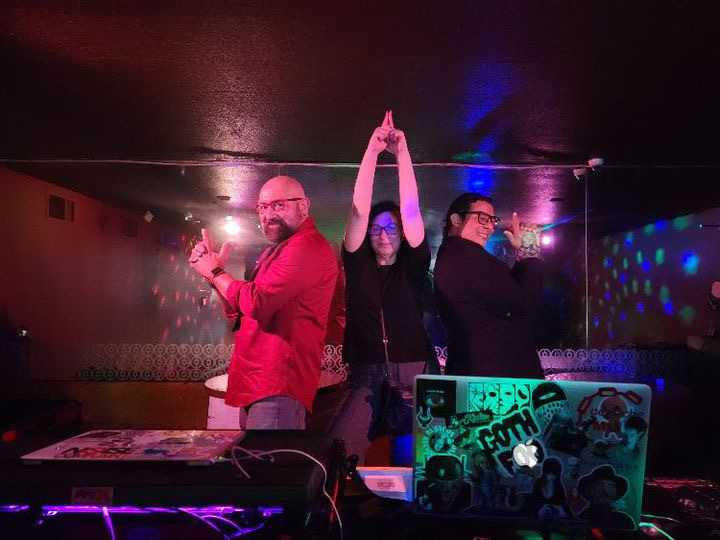 Since this past summer, my pal Jus' B and I have been throwing a monthly day party called Disco Matinee at Grand Star Jazz Club in Chinatown. We've been lucky to be able to bring in some amazing locals to guest DJ, like Mr. Michel, who played with us on October. We've also been lucky to have a good crew of regulars who have been sticking around on the dance floor until the house lights brighten and the dinner cravings get stronger.
Disco Matinee has been a blast so far and I'll keep you posted on when we do it again, but, for the time being, here's my set list from October 8, 2023. Thanks to everyone who made it out to the club this month.
(Disclosure: Some of these tracks link to their corresponding listings on Amazon. As an Amazon Associate, I earn a commission from qualifying purchases made from the links in this set list.)
Set One: 
Majestic, Boney M. – Rasputin (Extended Mix)
ABBA – Lay All Your Love on Me (Mighty Mouse Edit)
Musique – Keep on Jumpin' (Joey Harmless Disco Edit)
Asha Puthil – I Am Song (Sing Me) (Yuksek Remix)
DJ Koze – Pick Up (12″ Extended Disco Version)
Evelyn "Champagne" King- Shame (Mr. Turner's Disco Mix)
Bee Gees – Night Fever (Angus McDonald Remix)
Anita Ward – Ring My Bell (Pontchartrain Edit)
Disclosure – Expressing What Matters
Marcos Valles, Monsieur Van Pratt – Estrelar (Monsieur Van Pratt Re Groove)
Natasha Kitty Katt- Cissy
Claudja Barry, Filthy Lucre – Sweet Dynamite feat. Claudja Barry (Elektrik Disko Club Mix)
Gloria Gaynor – I Will Survive (Leon El Ray Edit)
Thelma Houston – Don't Leave Me This Way (Young Pulse remix)
Set Two:
Ken Laszlo -Tonight (1985 Special extended version) (request)
Les Claudettes -Alexandrie Alexandra (Joey Negro Club Mix)
Chemise – She Can't Love You (Purple Disco Machine Edit)
Pino D'angio – Ma Quale Idea (mikeandtess quick edit)
Andy Gibb – Shadow Dancing (Ladies on Mars edit)
Phenomenal Handclap Band- Judge Not (Ray Mang Disco Mix)
Herb Alpert – Rise (Daz Rise Up Edit)
Tom Tom Club – Genius of Love
Bee-Gees – Love You Inside Out (Antton Re Vamp'd)
Liz O. is an L.A.-based writer and DJ. Read her recently published work and check out her upcoming gigs.