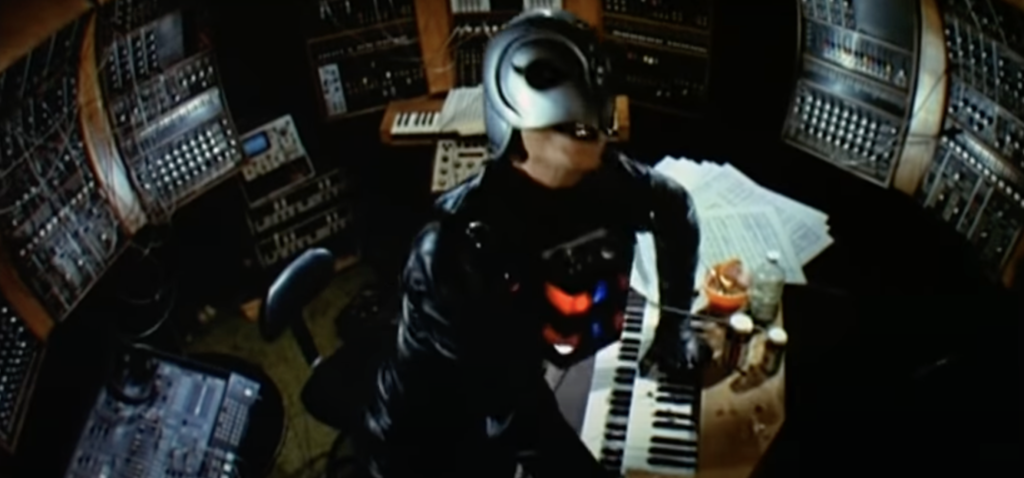 On its surface, Phantom of the Paradise, the 1974 sold-my-soul-for-rock-n-roll musical, may not seem like it's a Brian De Palma film. It's, essentially, a retelling of The Phantom of the Opera with a meta-dose of Faustian legend, along with touches of The Picture of Dorian Gray and The Count of Monte Cristo. It's campy, drawing plenty of comparisons to Rocky Horror, the film adaptation of which came out the following year. But, if you stick around to the movie's final concert scene— and you should— you might have the same reaction that I did, which is, "OMG, Carrie!"
I won't tell you exactly how the scene goes down. It's a very different scenario from Carrie, but the lighting, the camera angles and the slow motion reactions are so similar to the infamous prom night. If you're a fan of Carrie— and I'm someone who has seen that movie more times than I can count— then that scene is a key piece of insight into the horror masterpiece.
Phantom of the Paradise centers around a Winslow Leach (William Finley), a songwriter with all the dorky charm of Barry Manilow on Midnight Special. His cantata, based on the Faust legend, is stolen by unscrupulous producers who go on to set him up for a crime that lands him in prison. Like Edmond Dantès, Leach emerges from prison set on revenge and like the Phantom of the Opera, he's intent on a specific singer performing the cantata. Here, the singer is Phoenix, played by Jessica Harper, who would go on to star in Suspiria just a few years later. Her deep, smooth voice might remind you of Karen Carpenter when you realize that Paul Williams, who plays sketchy music exec Swan and wrote the film's songs, also penned "We've Only Just Begun." 
Williams, the acclaimed songwriter who has worked with everyone from Three Dog Night to Kermit the Frog to Daft Punk, draws from varied sources of inspiration throughout the movie. The 1950s revival in the 1970s is strong early in the film, think Elton John doing "Crocodile Rock" or Sha Na Na, the doo-wop group that rose to cult fame after their performance at Woodstock. In fact, according to DVD bonus feature interviews with both De Palma and Williams, She Na Na was considered for the movie. But, Williams says in his interview, "I wanted to satirize without winking at the camera."
Phantom of the Paradise is steeped in the 1970s. There's heavy glam rock and theatrical rock elements, although De Palma notes in his interview that the KISS-like makeup in one scene was actually inspired by The Cabinet of Dr. Caligari. There's also an appearance from mega-synthesizer T.O.N.T.O. 
This is a movie filled with layers of contracts signed in blood, as well as layers of movie and music references. The title sequence recalls Saul and Elaine Bass' work. You might pick up nods to Touch of Evil and, unless you aren't paying attention, you'll definitely notice the Psycho reference. It's also one that's become influential in its own right. Famous fans include Guillermo del Toro, Edgar Wright, Gerard Way and Daft Punk. 
I rented Phantom of the Paradise from Vidéothèque and suggest getting your hands on the Shout! Factory release, even if it pops up on streaming, because the bonus feature interviews with De Palma, Williams and special effects makeup artist Tom Burman lend a lot of insight into the film. 
Check out Los Angeles-based DJ Liz O. at one of her upcoming gigs.