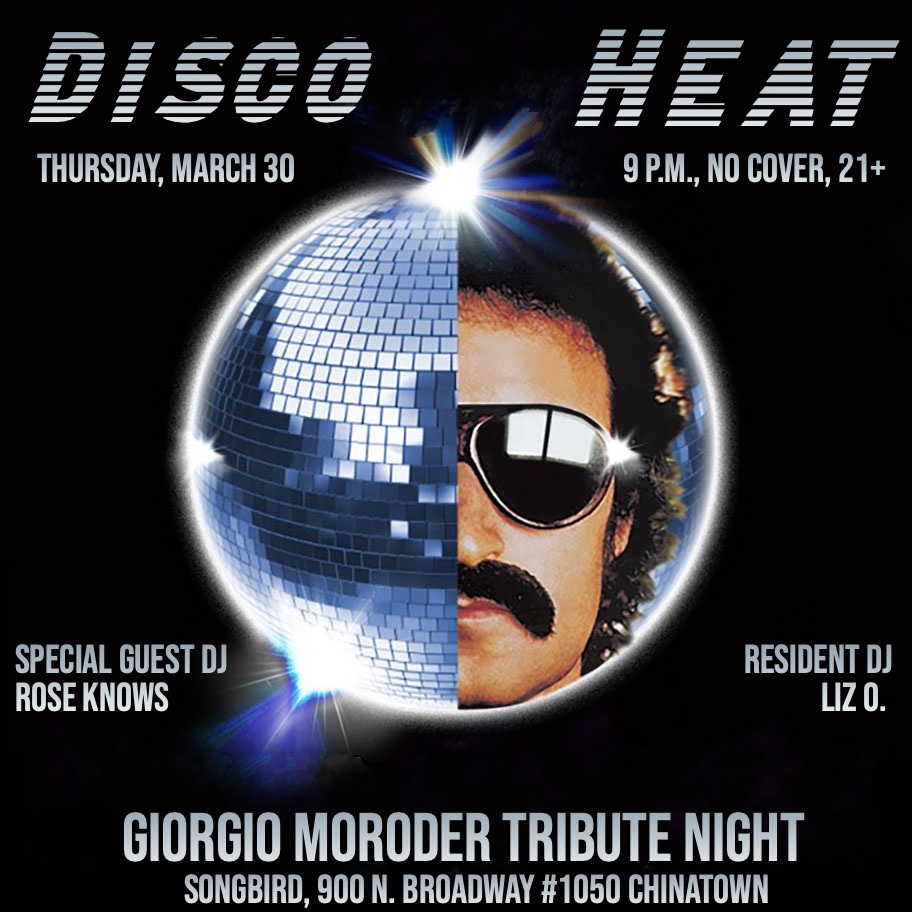 It's your resident DJ Liz O. here posting to let you know where I'll be this week in Los Angeles.
On Tuesday, March 28, I'll be playing alongside David Christian of L.A. Industrial at The Mermaid in Little Tokyo for Dolce Vita. Get your weekly dose of Italo disco and enjoy some tropical cocktails from 9 p.m. and last call. I'm opening this week, so plan to arrive early and stick around late.
The Mermaid is a 21+ venue and located at 428 E. 2nd Street in Little Tokyo.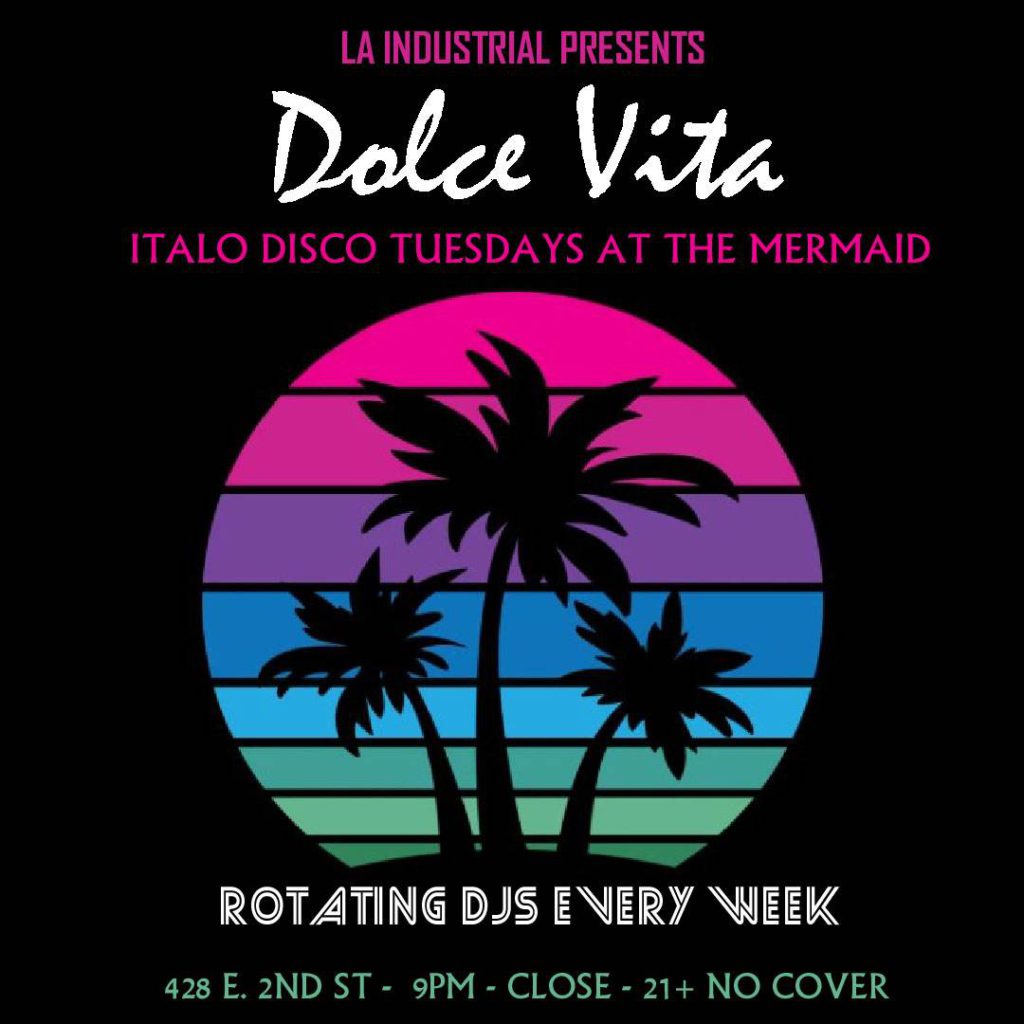 This Thursday, March 30, at Songbird is a very special Disco Heat. Rose Knows will be joining me for our tribute to Giorgio Moroder. Rose and I started doing occasional Moroder nights at The Lash several years ago, the last of which was before lockdown, and I'm really excited that we have the opportunity to do it again.
We'll be playing Moroder's famed collaborations with Donna Summer, as well as with other artists (some Sparks, perhaps?), solo tracks, film music, etc., alongside the host of musicians and producers that he's inspired. Party starts at 9 p.m. and goes until last call. Songbird is a 21+ venue and is located at 900 N. Broadway, #1050 in Chinatown.
As for set times, this is the Disco Heat deal. We go back-and-forth with 45 minute sets. This way, you'll most likely have the chance to catch both DJs at some point during the night.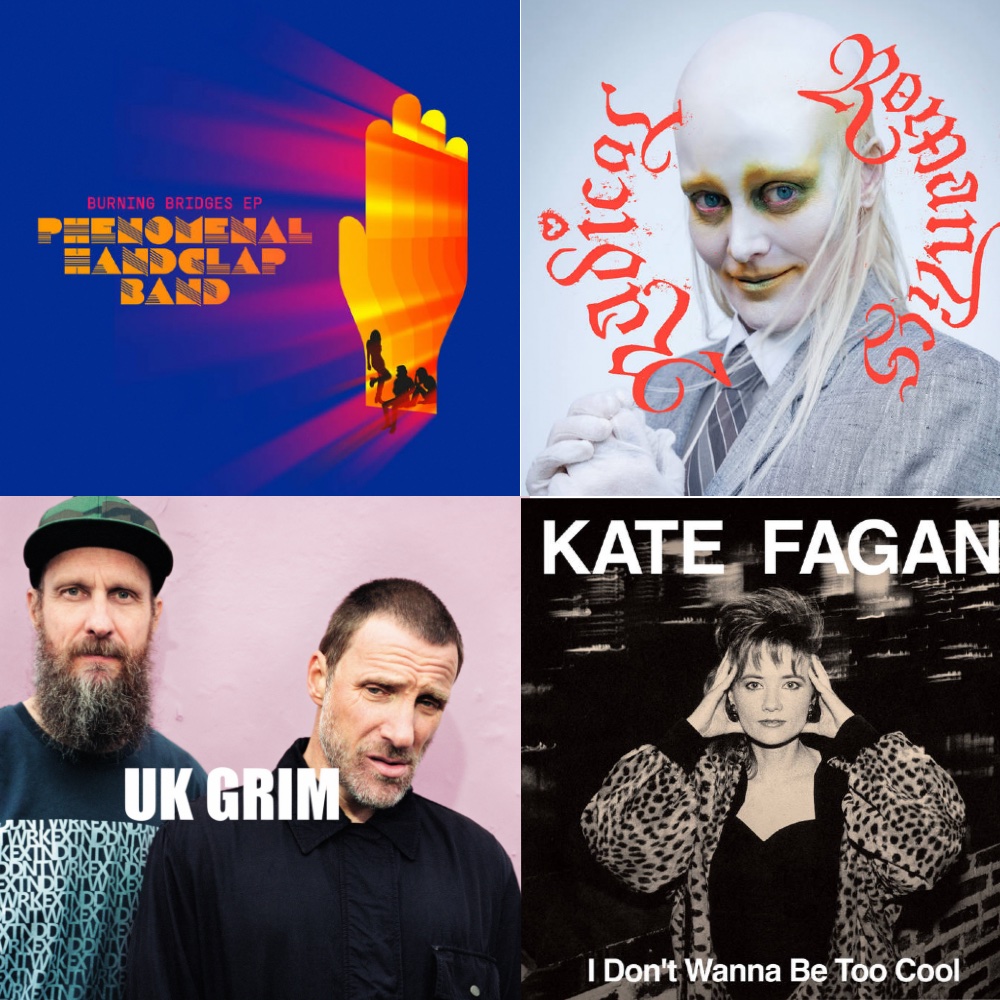 I didn't have a chance to post this earlier, but the March 2023 edition of the Beatique mix is available now. Listen to it on Mixcloud or right here:
Here's the set list with links on where you can find most of the tunes.
Maraschino "Illusions"
Fever Ray "Even It Out"
Kate Fagan "Waiting for the Crisis"
Sleaford Mods "Force 10 From Navarone"
Donna Summer "Our Love"
New Order "Blue Monday"
Ladies on Mars "Parker on Cowley"
Gorillaz (feat. Stevie Nicks) "Oil"
Giovanni Amico "Cassette Funk"
Lapsley "Operator (DJ Koze 12" Disco Mix)"
Satin Jackets "Think About It"
Phenomenal Handclap Band "Burning Bridges (Prins Thomas Diskomiks)"