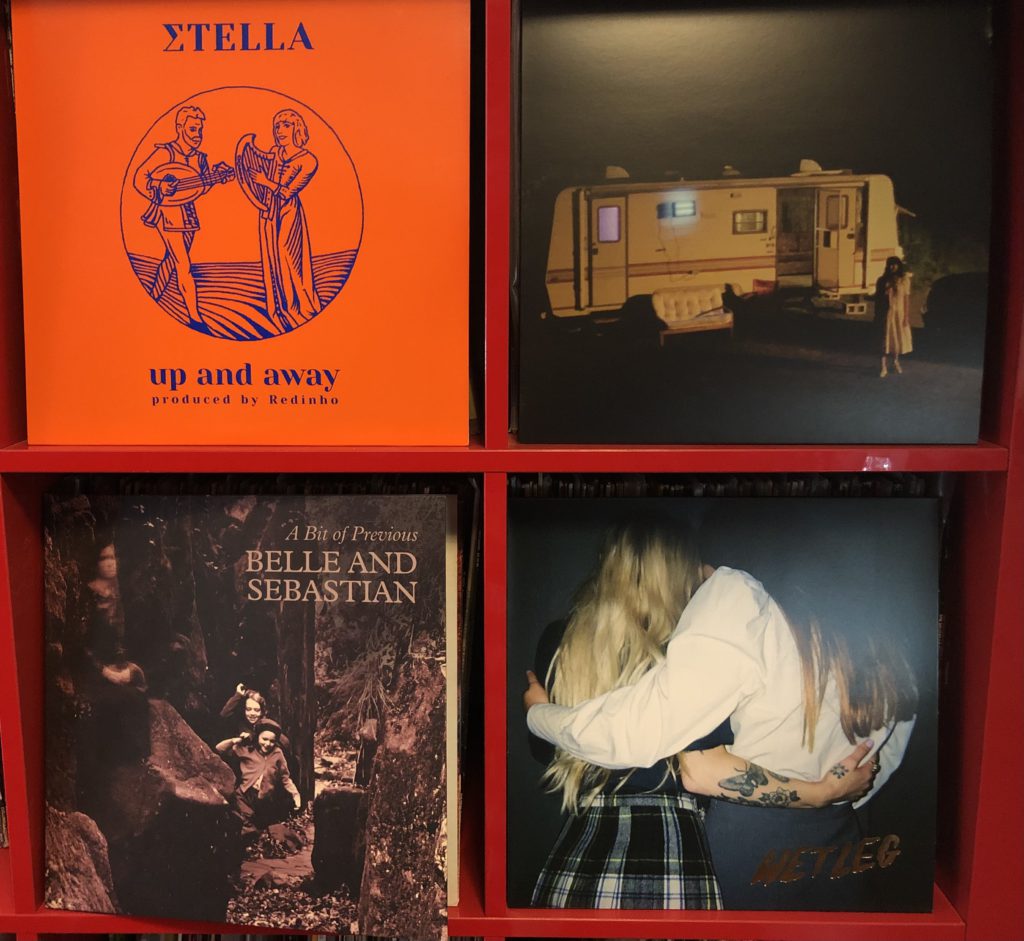 There was a lot of great music that came out this past year, so much that making a list of the best 2022 albums is a near-impossible task. Fortunately, last year, a good friend gave me a notebook designed for keeping track of music, so I was able to keep decent notes on most of the albums I heard in 2022. I followed the format of that notebook in putting together this list of albums I love and think you should hear. It's not short— there are 23 full-length albums listed below— nor is it confined to any single genre. These albums aren't ranked either. Each listing is followed by a link where you can buy the album.
The Weeknd
Dawn FM
Favorite songs: "Gasoline," "How Do I Make You Love Me?" "Sacrifice"
This first 2022 album I bought is from The Weeknd and, honestly, it's one of the albums I listened to most throughout the year. Dawn FM is a killer concept album— please listen to it from start to finish— packed with jams (My favorite for club play is "Gasoline.")
Get it on Beatport.
Boy Harsher
The Runner
Favorite songs: "Machina," "Give Me a Reason," "Autonomy"
If you've been to a dance night that falls somewhere under the "indie/alternative" banner in Los Angeles this past year, there's a very good chance you've heard "Machina." The song, which features Mariana Saldaña of BOAN on vocals, is an absolute banger, popular with both DJs and the crowds. It's my most-played track of 2022 and something I bought on vinyl as well for gigs at turntable-only venues. But, "Machina" aside, The Runner is a standout album from Boy Harsher and the corresponding film is worth your time too. Read my story about the project in Audiofemme.
Get it on Bandcamp.
Molly Nilsson
Extreme
Favorite songs: "Earth Girls," "Kids Today," "They Will Pay," "Pompeii"
In the first half of the year, Extreme, the tenth album from Berlin-based Molly Nilsson, played repeatedly while I worked on my laptop. Between the dreamy '90s indie rock-meets-electronic sound of the album and songwriting that's as infectious as an '80s pop song, there's an instant familiarity here and it's an album that sticks around in your head well after your done listening to it. Extreme also has what might be the best album-closer of the year with "Pompeii."
Get it on Bandcamp.
Quinquis
Seim
Favorite songs: "Adkrog," "Setu," "Run"
Émilie Tiersen's first album as Quinquis is a beautiful exploration of sound and language. Much of it is sung in Breton, the historic language of Brittany, and the electronic music often feels like it's reflecting nature. I interviewed Tiersen for Audiofemme, so read that to learn more about this wonderful album.
Get it on Bandcamp.
Cate Le Bon
Pompeii
Favorite songs: "Moderation," "Harbour," "French Boys," "Remembering Me"
Admittedly, I haven't followed Cate Le Bon's career over the years, but I was immediately sucked into Pompeii when it came out in early February of 2022. "Moderation" is quite the persistent earworm. If it gets stuck in your head for days on end too, well, I warned you.
Get it on Bandcamp
ADULT.
Becoming Undone
Favorite songs: "Our Bodies Weren't Wrong," "I Am Nothing," "She's Nice Looking"
ADULT. is a longtime favorite of mine, in part because their sound has taken so many different paths over the years. (Read my 2019 story for Bandcamp to find out more about that.) I also love their sly social commentary, like on "She's Nice Looking." Check out my story for Audiofemme to find out more about how the album was made.
Get it on Bandcamp
Hamid El Shaeri
The Slam! Years (1983-1988)
Favorite songs: "Ayonha," "Shantet Safar," "Dari Demou'ek"
If you follow Habibi Funk, the Berlin-based label dedicated to the funky, often synth-full sounds of the 1970s and '80s emanating from the SWANA region, then you've probably heard "Ayonha," which previously appeared on Habibi Funk 007: An eclectic selection of music from the Arab world. With The Slam! Years, the label dives deeper into the early career of famed Libyan-Egyptian singer and producer Hamid El Shaeri. The heat rises in the second half of the album with the synth-funk of "Shantet Safar" and disco groove of "Dari Demou'ek."
Get it on Bandcamp
Legendary Pink Dots
The Museum of Human Happiness
Favorite songs: "This Is the Museum," "Hands Face Space," "Coronation Street"
Back in 2018, I wrote a beginner's guide to Legendary Pink Dots' ample catalog for Bandcamp. Now, I would humbly like to add The Museum of Human Happiness to that list of essential releases. It's the band's pandemic album, written and recorded while the team, with member based in the U.K. and the Netherlands, were apart during 2020 and 2021. The Museum of Human Happiness is now my favorite Pink Dots album of the millennium. If any band can truly capture how bizarre this timeline is, it's Legendary Pink Dots.
Get it on Bandcamp
Rheinzand
Atlantis Atlantis
Favorite songs: "Faccione L'amore," "Love Games," Elefantasi"
If you're an indie disco aficionado, Rheinzand should be on your radar. The Ghent-based outfit kicked off 2022 with the single for "Elefantasi," a track that started out as a tribute to Grauzone's classic "Eisbär" and was recorded in Danish, French, Italian, Spanish and English. (Get that single too.) The full-length ranges stylistically from the dreamy Italo disco of "Faccione L'amore" to the synth-punk title track. Out at the clubs, I tend to be partial to "Love Games," which you might have heard in my early night sets.
Get it on Bandcamp.
Confidence Man
Tilt
Favorite songs: "Woman," "Angry Girl," "Push It Up"
Back in April, I picked up Confidence Man's sophomore album, Tilt, having never heard their first. Literally the only reason I bought Tilt is because of Confidence Man's turn on Yuksek's 2020 single "Gorgeous," which you would have heard in my sets a lot that year if it weren't for that whole pandemic thing.
To be honest, I don't even remember if I listened to much of Tilt before adding it to my Bandcamp cart. It was one of those moments where I handed over the money because I had a feeling that it was going to be good. Since then, it's become one of most-played albums for this year.
Confidence Man makes smart party music. Their sound is a house/indie dance hybrid topped by sassy lyrics and loads of energy. Fittingly, Tilt was mixed by Ewan Pearson, whose remixes of artists like Goldfrapp, Ladytron and The Rapture, were staples in my '00s DJ sets.
"Angry Girl" has popped up in my sets most often since last spring. It's very much in the vein of early '00s electro-weirdos like Chicks on Speed, Peaches and The Go! Team, so it works quite well at rock nights, but it can also fit in with higher energy house tracks.
Get it on Bandcamp
Wet Leg
Wet Leg
Favorite songs: "Chaise Longue," "Ur Mum," "Too Late Now"
Chances are that Wet Leg has been on your radar for a while. "Chaise Longue" went viral last year and multiple Wet Leg songs are getting play at L.A. clubs right now. My personal favorite is "Ur Mum," which contains my favorite song lyric in recent memory. ( "When I think about what you've become/I feel sorry for your mum."
Get it on Bandcamp
?tella
Up and Away
Favorite songs: "Up and Away," "Charmed," "Another Nation"
Greek singer ?tella has been a part of my DJ sets for years, thanks to her collaborations with producer NTEIBINT, "Hide In" and "A State Nearby." Up and Away is her fourth solo album, as well as her Sub Pop debut, and it's magical. Working with producer Redinho, she puts contemporary twist on vintage Greek music. Read about the album in my story for Audiofemme.
Get it on Bandcamp
!!!
Let It Be Blue
Standout tracks: "Un Puente," "Panama Canal," "Let It Be Blue," "It's Grey, It's Grey, It's Grey"
My fascination with !!! goes back to the very end of the 1990s, when the band appeared on a split 12" with Out Hud. In the years that followed, when the disco-punk vibes rose inside the clubs where I was DJing, they became one of my favorites. (It helps that they're one of the best live bands I've ever seen.) So, I look forward to every new album from !!!. The latest of those, Let It Be Blue, doesn't disappoint. It's an amalgamation of various styles of dance music with a dollop of rock thrown in. You might have heard "Panama Canal" or "It's Grey, It's Grey, It's Grey" in some of my DJ sets this year.
Get it on Bandcamp
King Gizzard and the Lizard Wizard
Omnium Gatherum
Favorite songs: "The Dripping Tap," "Magenta Mountain," "Persistence," "The Garden Goblin"
Omnium Gatherum, the 20th (!!!) album from King Gizzard and the Lizard Wizard in a little over 10 years, appeals the part of me that absolutely hates genres and wants to troll everyone who insists on adhering to them. They open with the 18+ minute psychedelic opus "The Dripping Tap," drop metal bombs like "Gaia" and play with hip-hop on "Sadie Sorceress." Then there's "The Garden Goblin," which I can't really describe, but it's weird, so I dig it.
Get it on Bandcamp
Fontaines DC
Skinty Fia
Favorite songs: "Jackie Down the Line," "Roman Holiday," "Skinty Fia"
"Jackie Down the Line" was the song that sucked me into Skinty Fia, the latest album from Irish band Fontaines D.C., but "Roman Holiday" is the one that keeps me listening. It's a song that reminds me of being a bored teenager, listening to import releases that I taped off the radio while cutting band photos out of magazines to stick up on my bedroom wall. Yeah, I know that's a totally antiquated reference, but the '90s vibes are too strong to ignore here.
Get it on Bandcamp
Desire
Escape
Favorite songs: "Liquid Dreams," "Telling Me Lies," "Zeroes"
There's a lot to love about Desire's latest album, Escape. It's one of those albums where there were too many choices for my own club sets. Ultimately, "Liquid Dreams" became my pick and it's been one of the most-played songs in my sets this year, although "Zeroes" has made an appearance in my sets recently too. Read more about the album in my story for Audiofemme.
Get it on Bandcamp
Belle & Sebastian
A Bit of Previous
Favorite songs: "Talk to Me Talk to Me," "Reclaim the Night," "Prophets on Hold"
A thing that is nearly always ignored about Belle & Sebastian is how low-key funky the band is. They play it chill, making tunes that are suitably appropriate for adults who work in offices where you have to strain your ear to hear the music under the constant purr of the AC, but also keeps your butt moving in your desk as you think about your plans for the night. Actually, Belle & Sebastian is way too cool for American office culture and I'm pretty sure the only times I ever heard them while day-jobbing was when I commandeered the radio station and turned the dial to KCRW. But, it's about the vibe. Belle and Sebastian makes music that's appropriate, but waiting to cut loose and A Bit of Previous features the band at its finest.
Get it on Bandcamp
Marxist Love Disco Ensemble
MLDE
Standout tracks: "Manifesto," "Engineers"
Admittedly, it was the band name that drove me towards Marxist Love Disco Ensemble when I saw them mentioned in an email from Mr. Bongo, but I instantly became a fan of the vintage vibe on MLDE. I've been listening to this album consistently since I bought it back in September and each time I'm struck by how the Italian outfit so perfectly maintains an easy late '70s, early '80s groove. It was incredibly tough to decide which song I would start playing in my sets. Ultimately, I dropped the whole album into my digital crate and opted to figure that out on the fly. So far, "Manifesto" has been my go-to, but, recently, I've worked in "Engineers" as well.
Get it on Bandcamp
Working Men's Club
Fear Fear
Standout tracks: "Cut," "Heart Attack," "The Last One"
The second album from British outfit Working Men's Club, Fear Fear, is a wonderful marriage of varied rock and dance styles. I'm partial to the electro-psychedelic jam "Cut" for moments when I want to lose track of time. "Heart Attack" is incredibly funky with a post-punk/post-disco Factory Records vibe, while "The Last One," is a dramatic, nearly eight-minute, rave-rock closer.
Get it on Bandcamp
Ultraflex
Infinite Wellness
Favorite songs: "Relax," "Melting Away," "Rhodos," "Under the Spell"
Sometime during 2020, I came across Icelandic-Norwegian duo Ultraflex's single "Work Out Tonight" on Bandcamp and its electro-funky '80s pulse instantly made the the time without dance clubs much more bearable. Their latest album, Infinite Wellness, ventures into different terrain, but it's equally delightful. Opening track, "Relax," plays like a trip to an Italo disco spa, a thing I wish actually existed. "Melting Away" harks back to '90s slow jams with a Pure Moods bent. Ultraflex is great at taking a lot of seemingly disparate influences and putting them together in a way that makes sense and then adding a sprinkle of cheeky lyrics on top to make an album that's as smart as it is fun.
Get it on Bandcamp
Perel
Jesus Was an Alien
Favorite songs: "Jesus Was an Alien," "Matrix," "Kill the System"
The sounds on Jesus Was an Alien will evoke images of sacred spaces, dance floors and spaceships (on occasion at the same time) as Brooklyn-based German DJ/producer Perel weaves together themes of spirituality with nightlife and space. It's a beautiful, cohesive album and, even if you've picked up the singles, you should have the full-length handy for start-to-finish listening. Bonus: Marie Davidson offers guest vocals on the title track.
Get it on Bandcamp
Maha
Orkos
Favorite songs: "Ala Shat El Nesyan," "Law Laffeina El Ard," "Ana Gaya"
Habibi Funk teamed up with digital cassette/vinyl archive Disco Arabesquo to bring this stellar 1979 album from Egyptian singer Maha to a new audience. According the Bandcamp description, Orkos, likely didn't sell much upon its initial release, something that can hopefully be corrected with this reissue. Musically, it builds from smooth, funky jazz to an all out disco party and Maha herself is a powerful and compelling vocalist.
Get it on Bandcamp
Symptom Error
Ex Crisis
Favorite Songs: "Purple Rage," "She," "Bazar," "Barbie," "Candy"
Yerevan-based Symptom Error is comprised of producer Sona Khachatryan and vocalist Amassia Niziblian, who have been honing their dark, experimental electronic sound for the past five years. Full-length album Ex Crisis, released through L.A. label Critique, reveals a myriad possible influences— techno, dark wave and a dash of traditional Armenian music amongst them— in a collection of songs that's dramatic, poetic and, occasionally, extremely creepy.
Get it on Bandcamp
Check out Los Angeles-based DJ Liz O. at one of her upcoming gigs.