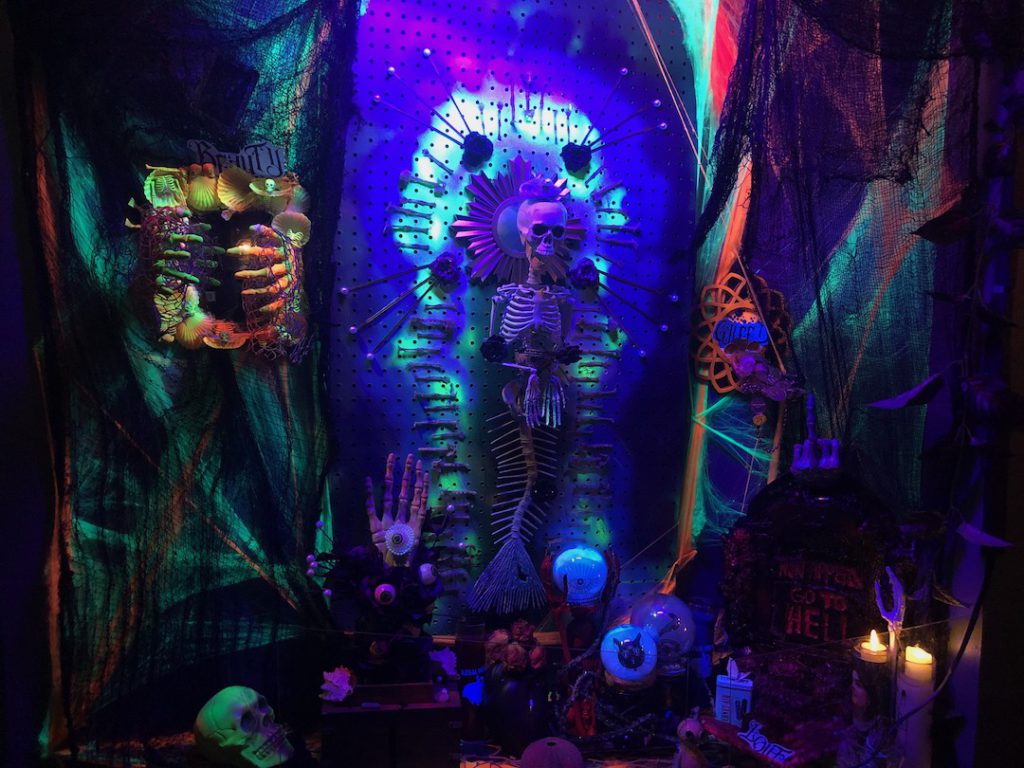 October might have been stressing me out this year, but I felt an instant sense of relief inside The Mermaid last night. I was there to DJ another week of Dolce Vita's Italo Horror Disco, this time with DJ Alex Arias. The first thing I noticed is that the Halloween display in the bar has grown larger and more detailed since I last played there earlier this month. The centerpiece is a mermaid skeleton, who is surrounded by a bounty of odds and ends, from crystal balls to eyeballs to skeleton hands. The glow-in-the-dark paints and swaths of fabric help give the impression that you stumbled upon this altar while underwater. It's super cool. Stop by The Mermaid and check it out this week if you have a chance. 
Other than that, it was great to play with Alex for the first time. I loved his set. Plus, some friends stopped by, which made the night all the better.  Here's what I played in my sets last night. Also, a reminder that I'll be playing Underground's Halloween party on Friday, October 27 and there's a low ticket alert for the party, so get yours as soon as possible.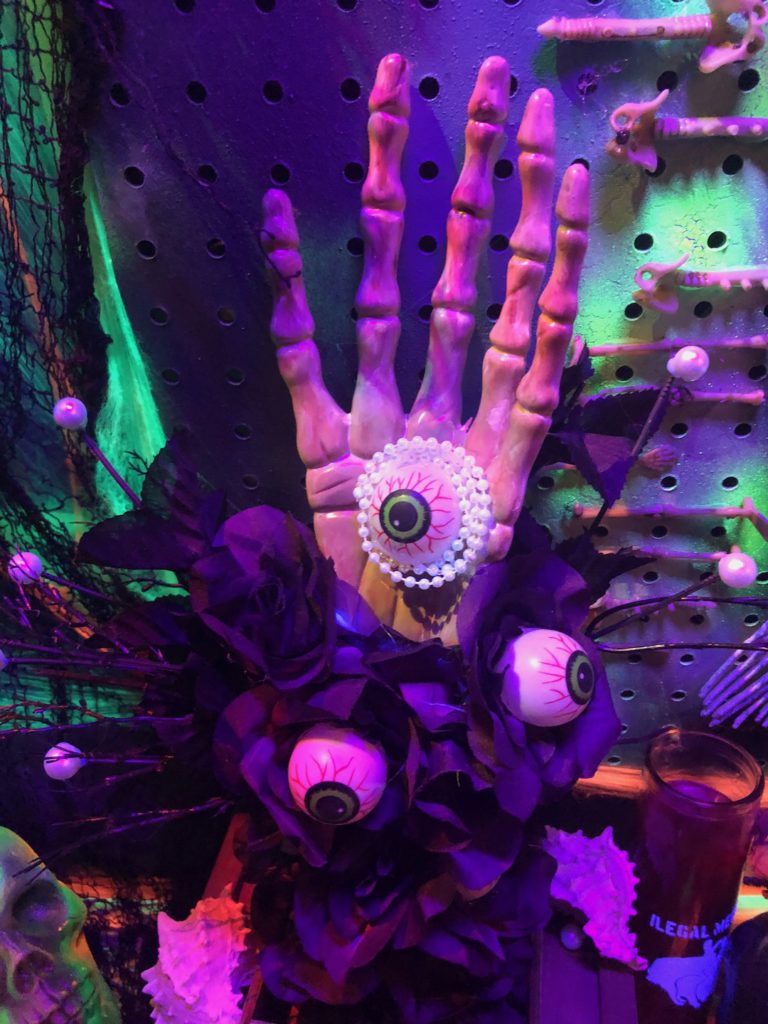 Set One:
John Carpenter – Mystery
Sarah Dash – Low Down Dirty Rhythm
Ken Laszlo – 1.2.3.4.5.6.7.8.
Scotch – Delirio Mind
Giorgio Moroder – Knights in White Satin
Valerie Dore – The Night
Franck Choppin – Pain in My Heart
N.O.I.A. – Stranger in a Strange Land
The College Boys – I Get a Rush
German Cowboys – My Lonely Heart
Modern Talking – You're My Heart, You're My Soul
Synergic Silence, Fred Ventura, Italoconnection – You're so Fine (Italoconnection Remix)
Koto – Visitors
Kano – I Need Love
Yello -Bostich
Suzy Q – Get On Up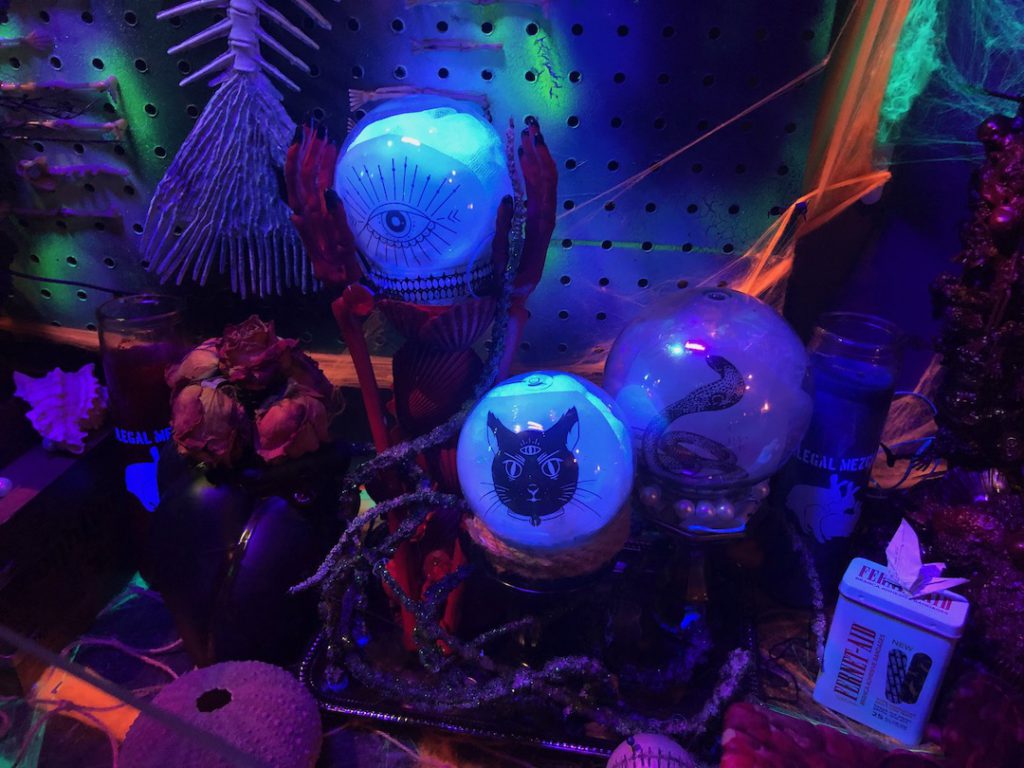 Set Two:
Book of Love – Tubular Bells
Patrick Cowley – They Came at Night
Goblin – Tenebre
Cerrone – Supernature (Ethan Wood Remix)
Ladies on Mars – Parker on Cowley ("Right on Target" edit)
Boy Harsher – Machina
Master Plan -Electric Baile (Enzo Elia Vocal Edit)
Nuovo Testamento – Heartbeat (Curses Remix – Edit)
My Mine – Hypnotic Tango
Lime – Babe, We're Gonna Love Tonight
Alaska y Dinarama – Mi Novio Es Un Zombi
Divine – Native Love (Step by Step)
Giorgio Moroder – From Here to Eternity
Tantra – The Hills Of Katmandu
Bobby O. – Frankenstein
Telex – Moskow Diskow
Tiga & Zyntherius – Sunglasses at Night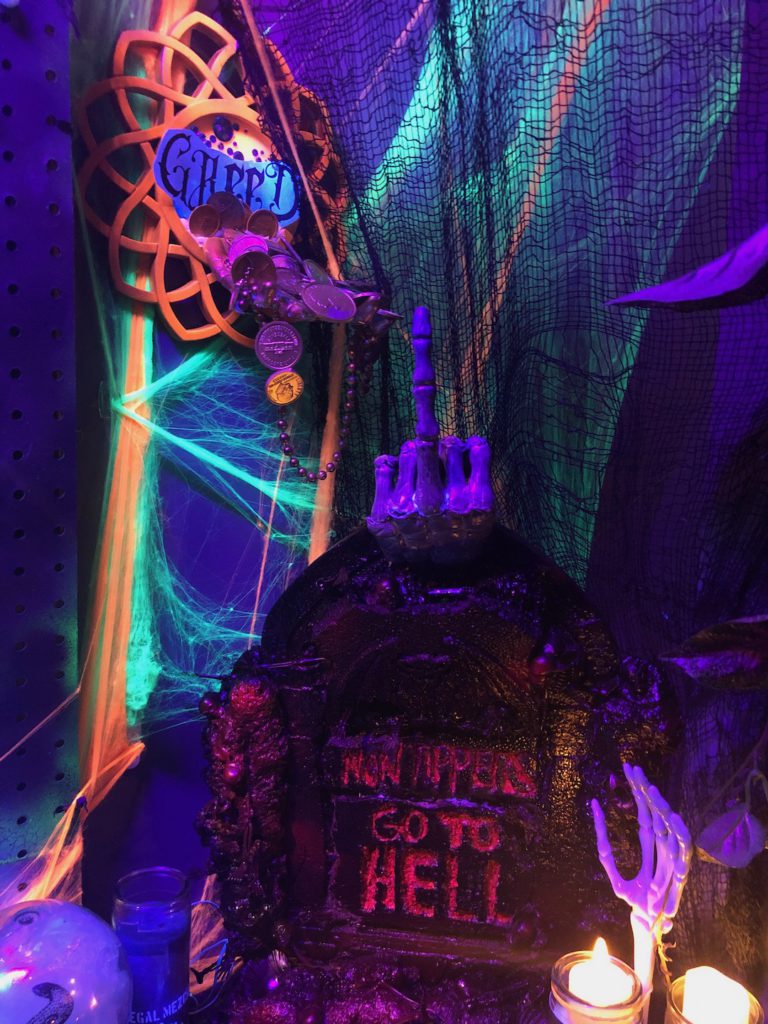 Set Three:
Q – The Voice of Q (The Reflex Revision)
Skatt Brothers – Walk the Night
Pino D'Angio – ma quale idea (mikeandtess quick edit)
Terrez – Seduced (Long Version)
Fancy – I Can't Live Without You (Lonely Nights)
Boytronic – Late Night Satellite
Raff – Self Control
Baltimora – Tarzan Boy
Sandra – Maria Magdalena
Savage- Don't Cry Tonight
Den Harrow – Don't Break My Heart
Clio – Faces
Goblin – Suspiria
Liz O. is an L.A.-based writer and DJ. Read her recently published work and check out her upcoming gigs.
Related:
HERE'S WHAT I PLAYED AT DOLCE VITA'S ITALO HORROR DISCO
MY LAST MINUTE HALLOWEEN COSTUME SHOPPING ADVENTURE AT GOODWILL