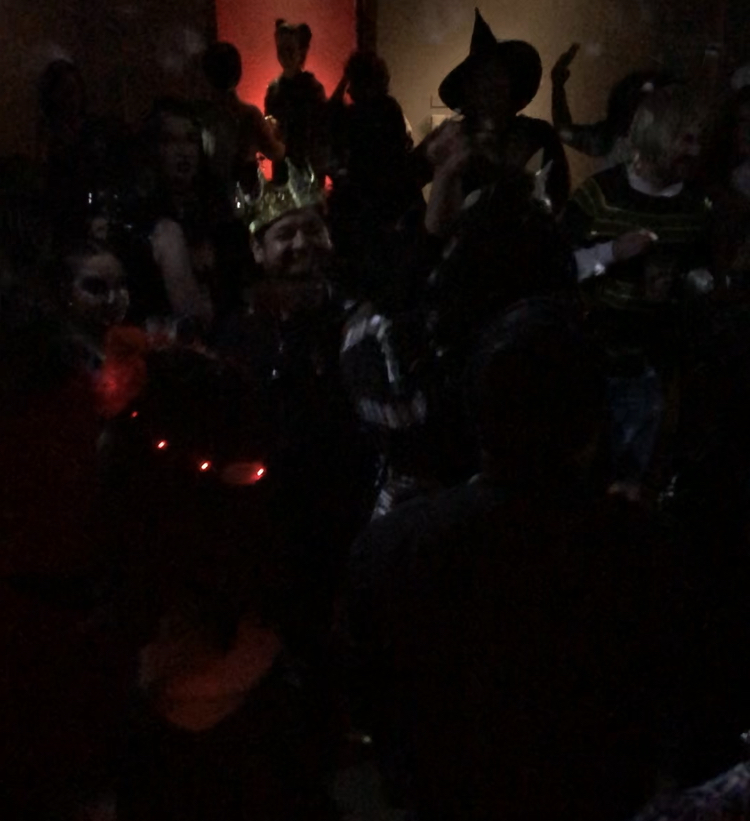 Sometime before 11 p.m. I had to take off the blazer. I had tried to hang longer in the Battle Royale costume, but the dance floor upstairs at Grand Star Jazz Club was already full and it gets pretty warm behind the DJ gear. Advanced tickets for Club Underground's Halloween party had sold out and, from what I could tell, people showed up early and ready to party. I don't even know what to say about last night except that the energy was high and people were down to dance to anything, as you can probably see from the set list below. See you back at Underground on Friday, November 3. Happy Halloween!
Set list:
(Want some of this music? Some of these tracks link to their corresponding listings on Amazon. As an Amazon Associate, I earn a commission from qualifying purchases made from the links in this set list.)
Chromatics – Famous Monsters
Fad Gadget – For Whom the Bell Tolls III
LCD Soundsystem- Someone Great
Visage- Fade to Grey (Extended Mix)
Holy Ghost!, Nancy Whang – I Wanted to Tell Her
Patrick Cowley – They Came at Night
Depeche Mode – World in My Eyes
Miss Kittin- Golden Boy- Rippin' Kittin
Ladytron – Evil (Ewen Pearson Remix)
New Order – Sub- Culture
Interpol – PDA
The Smiths – Hand in Glove
The Strokes – The End Has No End
Talking Heads- Girlfriend is Better
Skatt Brothers- Walk the Night
Hercules & Love Affair – Blind
Midnight Magic – Beam Me Up (Prins Thomas Diskomiks)
Blur – Girls and Boys
Bucketheads – The Bomb! (These Sounds Fall Into My Mind) (Armand Van Helden Re-edit)
The Rapture – House of Jealous Lovers
Peaches – Fuck the Pain Away
Eurythmics – Sweet Dreams
Chromatics – Shadow (Maceo Plex Remix)
New Order – Blue Monday
Kano – IT'S A WAR (Purple Disco Machine & Lorenz Rhode Remix)
Alaska y Dinarama – Mi Novio Es Un Zombi
Pet Shop Boys – It's a Sin (disco mix)
Franz Ferdinand – Michael
Wet Leg – Chaise Longue
B-52s- My Own Private Idaho (request)
Vampire Weekend – A- Punk
Postal Service – Such Great Heights
Los Prisioneros – Tren al Sur (Basic Remix)
The Cure -Lullaby
Ministry – Every Day Is Halloween
Michael Jackson – Thriller (Borgie Dig It Edit)
Daft Punk -Da Funk
Horse Meat Disco, Phenomenal Handclap Band -Sanctuary (Ray Mang Extended Remix)
Steve Monite – Only You (Monsieur Van Pratt Boosted Edit
Tame Impala – Is It True (Twin Sun Edit)
Depeche Mode -But Not Tonight – Extended Remix
Future Islands – For Sure
School of Seven Bells – Low Times
The Killers – Mr. Brightside (remix)
Four Seasons – Beggin'
The Smiths – Ask
Chumbawamba – Tubthumpin'
White Town – Your Woman
Jean-Jacques Perrey – EVA (Fatboy Slim Remix)
MGMT – Electric Feel
Franz Ferdinand – No You Girls
M83 – Midnight City
Dead Can Dance – Saldek (Vaughn Avakian's re-edit)
Marcos Valles – Estrelar (Monsieur Van Pratt Re Groove)
Ladies on Mars – Ma-Nah Ma-Nah (Extended Mix)
The Dynamics – Seven Nation Army (Patchworks Holiday Inn Remix)
Robyn – Dancing on My Own
The Horrors – Something to Remember Me By
Liz O. is an L.A.-based writer and DJ. Read her recently published work and check out her upcoming gigs.
Related:
MY LAST MINUTE HALLOWEEN COSTUME SHOPPING ADVENTURE AT GOODWILL
DISCO MATINEE RETURNS TO GRAND STAR JAZZ CLUB ON SUNDAY, NOVEMBER 5 WITH GUEST DJ JEN ROCK