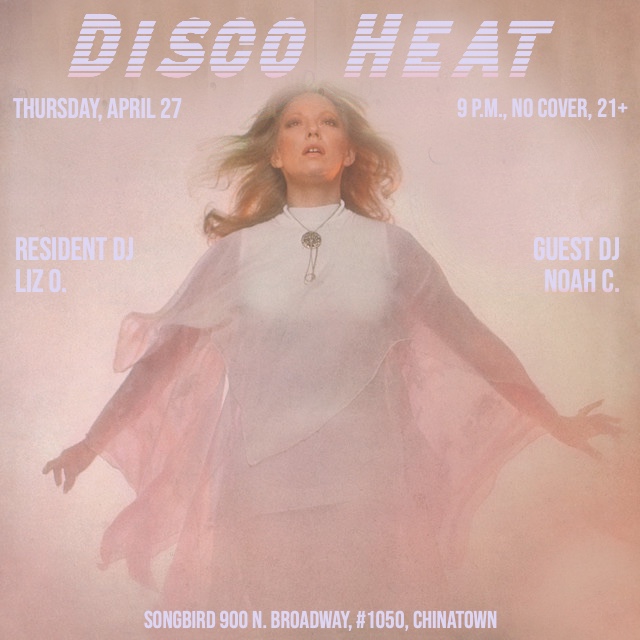 Liz O. here to tell you that you have three chances to catch me in the DJ booth this week. Here's what's coming up.
Tuesday, April 25, Dolce Vita @ The Mermaid
On Tuesday night, I'll be playing solo at Dolce Vita at The Mermaid. Stop by anytime between 9 p.m. and last call for cocktails and Italo disco. There's no cover. 21+
The Mermaid is located at 428 E. 2nd Street in Little Tokyo. Follow L.A. Industrial for more info.
Thursday, April 27, Disco Heat @ Songbird
Turn up the Disco Heat on Thursday, April 27, at Songbird , where guest DJ Noah C. will be joining me for a night of classic, Italo and nu disco. Party starts at 9 p.m. and there's no cover. Let us know you're going on Eventbrite, Facebook or Instagram.
 Songbird is located at 900 N. Broadway, #1050 in Chinatown. It's on the corner of Broadway and College on the courtyard level of the Blossom building. It's that walkway that leads from Broadway to the Gold Line station. You'll see birds on the windows of what looks like a coffee place. That's Songbird. Come inside, then go through the fake refrigerator door and you'll find the bar.
Friday, April 28, Underground @ Grand Star Jazz Club
This Friday, April 28, is '80s night at Underground and I'll be dropping the classic alternative, post-punk and indie jams alongside Larry G. throughout the night. Get tickets in advance on Eventbrite for $8. Cover is $15 at the door.
Grand Star Jazz Club is located at 943 N. Broadway inside Chinatown's Central Plaza, next to the Bruce Lee statue.
Check out Los Angeles-based DJ Liz O. at one of her upcoming gigs.