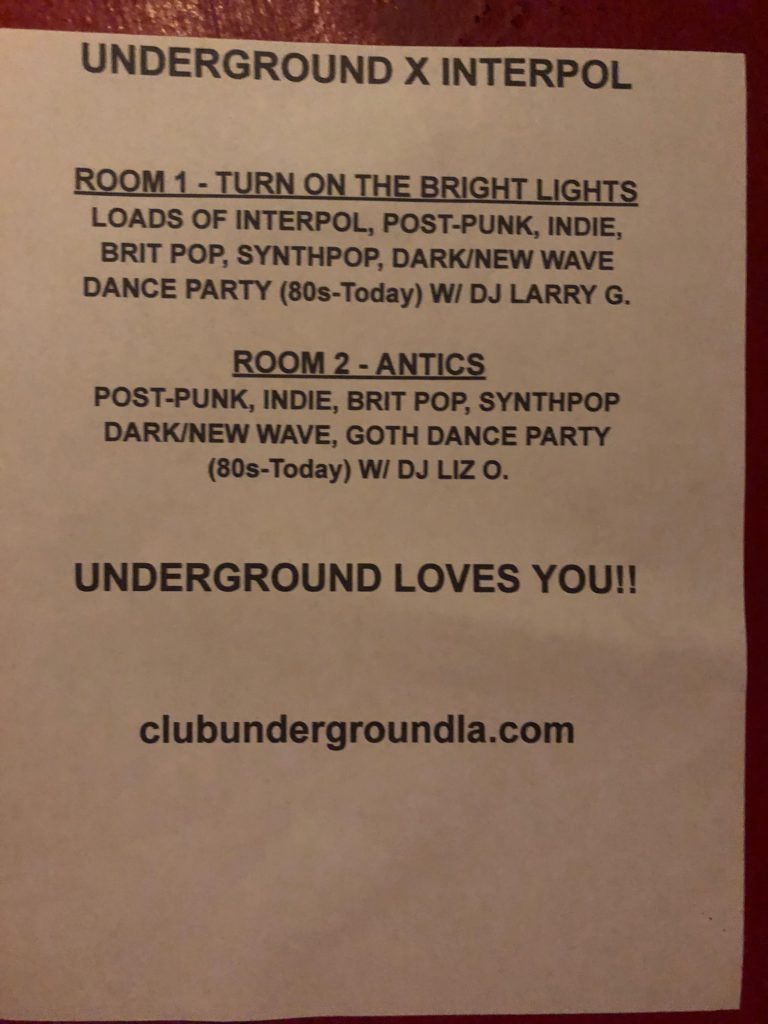 I don't know what I'm most grateful for tonight. Was it the people at Club Underground who danced to the brand new Confidence Man tune? Was it the person who admitted listening to Confidence Man, who released one of my favorite albums of 2022, because of my sets? (BTW, Confidence Man is at the Echoplex on December 2.) Or, was it the trio who listened to my rant about how Chumbawamba were the working class heroes we needed, but we didn't deserve them and now we're stuck with capitalist icon Taylor Swift? Maybe it's all that.
I'm also grateful for a good amount of people who stayed on the dance floor for a new song from Spiritual Cramp, a band I had previously ignored because the name is such an obvious Christian Death reference and I figured they would be a really cheesy, overly dramatic goth band. However, Spiritual Cramp's new self-titled album, which is actually the San Francisco band's full-length debut, is great. It doesn't sound at all like I thought it would. Hey, I can admit when I'm wrong.
Anyhow, life is weird, you guys, but thanks for dancing. I'll be at Underground next on December 8, which is my birthday. (My real, actual birthday, btw.) You should go. Anyhow, this is the set list from the second floor at Underground for Interpol Nite on November 11, 2023.
Set List.
(Some of these tracks link to their corresponding listings on Amazon. As an Amazon Associate, I earn a commission from qualifying purchases made from the links in this set list.)
Ultraflex – Under the Spell
The Knife.- Marble House (Rex the Dog Remix)
Decisive Pink – Haffmilch Holiday
Pulp – Party Hard
Kraftwerk – Das Model
Depeche Mode – Fools (Bigger)
Optometry – Chameleon
The Human League – Seconds
Gary Numan – Down in the Park
Suede – Filmstar
Pixies – Dig for Fire
The Sundays- Here's Where the Story Ends
Japanese Breakfast – Be Sweet
Visage – Fade to Grey
LCD Soundsystem – Someone Great
The Horrors – Something to Remember Me By
Chromatics – Shadow (Maceo Plex Remix) (Original Mix)
Interpol Cmere Josh Patrick Remix
The Sisters Of Mercy Lucretia My Reflection ExtendedRemastered
Marc Almond – Tears Run Rings (The La Magia Dance Mix)
Siouxsie and the Banshees – Dazzle (Glamour Mix)
OMD – Tesla Girls
Joy Division – Transmission
The Strokes -Reptilia
Martin Dupont – Inside Out
Spiritual Cramp – Talkin' on the Internet
Interpol – The Heinrich Maneuver
Morrissey – First of the Gang to Die
Teenage Fanclub – Here Comes Your Man
Depeche Mode – Policy of Truth (request)
Daft Punk – Da Funk
New Order – Bizarre Love Triangle (Shep Pettibone Mix)
Pet Shop Boys – West End Girls (Original Bobby Orlando Mix)
The Human League – Don't You Want Me (Purple Disco Machine Extended Mix)
Bucketheads – The Bomb! (These Sounds Fall Into My Mind) (Armand Van Helden Re-edit)
Basement Jaxx – Where's Your Head At?
Ladytron – Destroy Everything You Touch (request)
Postal Service – Such Great Heights
The Cure – Close to Me
Yeah Yeah Yeahs – Y Control
The Killers – Mr. Brightside
Phoenix -1901 (Mike Balance ReRub)
Future Islands – For Sure
The Strokes – 12:51
Le Tigre – Deceptacon
Molchat Doma – sudno (Boris Ryzhy)
The Rapture – House of Jealous Lovers
New Order – Blue Monday
Confidence Man – Firebreak
Scissor Sisters vs. Mylo – Comfortably Numb Drop the Pressure
Blur – Girls and Boys
Tame Impala – Is It True (Twin Sun Edit)
Asha Puthli – I Am Song (Sing Me) (Yuksek Remix)
Liz O. is an L.A.-based writer and DJ. Read her recently published work and check out her upcoming gigs.
Related:
I LOVE THESE 2022 ALBUMS FROM BOY HARSHER, THE WEEKND, WET LEG AND LOTS MORE
HERE'S WHAT I PLAYED AT CLUB UNDERGROUND ON NOVEMBER 3, 2023