Sitting on the corner of Main and Cesar Chavez is the Italian Hall, a squat, two-story brick building that dates back to 1908. In the early 20th century, it welcomed guest speakers like Emma Goldman and Ricardo and Enrique Flores Magón. During Prohibition, it hid a speakeasy. Today, it's part of El Pueblo de Los Angeles, the historic district that include's some of the oldest remaining buildings in the city, and is home to the Italian American Museum of Los Angeles.
It had been a good while since I last visited IAMLA, so long that I had yet to see "A Real Boy: The Many Lives of Pinocchio," which opened last November and is set to close on October 15.The exhibition had been on my list of things-I-need-to-see for so long that, last Sunday afternoon, I figured that I might as well just walk there and check it out, despite another summer heat wave. Fortunately, the museum was so cool that I forgot about that walk as soon as I entered the building.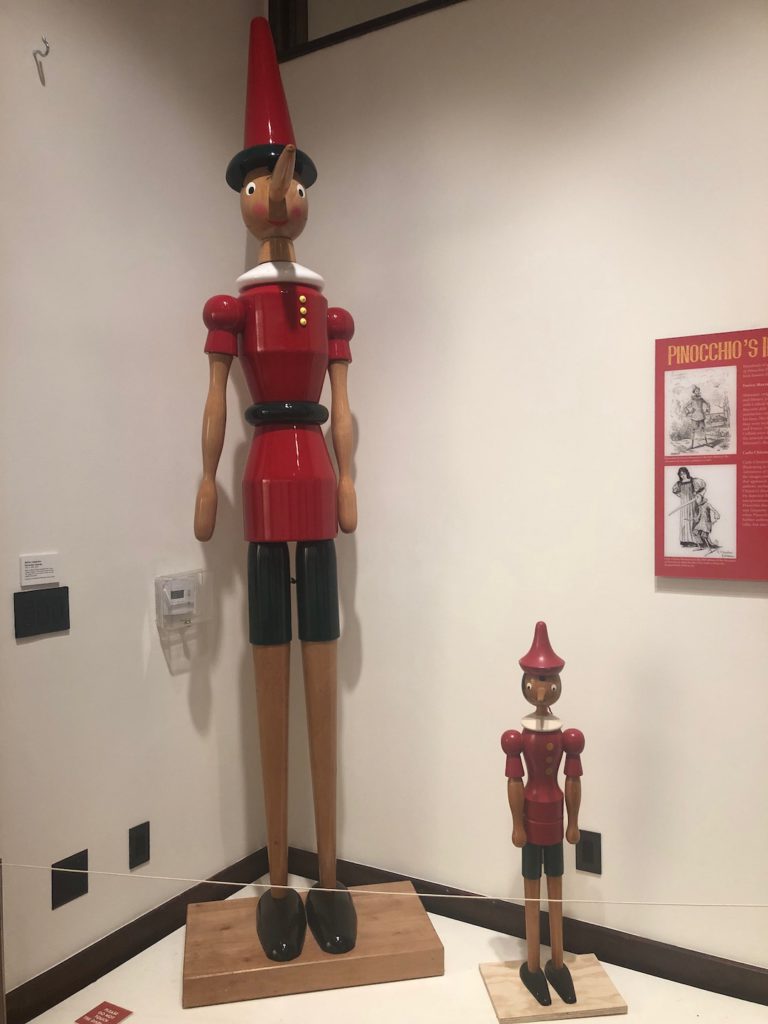 IAMLA, which opened in 2016, occupies a 5000 square foot space in the Italian Hall. You enter on Main street, where the building's name is spelled out in tile at the entrance. The exhibits are located on the second floor, which is accessible by either stairs or an elevator.
The museum is divided into the permanent and temporary exhibits. The permanent collection, which is in the room you'll enter if you take the stairs to the second floor, is organized as an interactive timeline of local Italian American history. If this is your first time visiting IAMLA, start there. If you've been here before, definitely come back to this section for a refresher before you leave because there's a lot of interesting information to digest and, certainly, you'll learn a few things that you don't recall from previous trips.
I went directly to the temporary exhibit, "A Real Boy," to start my self-guided tour. Written in 1883 by Italian author Carlo Collodi, The Adventures of Pinocchio (Le avventure di Pinocchio in Italian) has been published in 260 different languages. A handful of those are represented in "A Real Boy" along with a first edition in its original language and an English first edition, but of which come courtesy of the Library Special Collections at UCLA.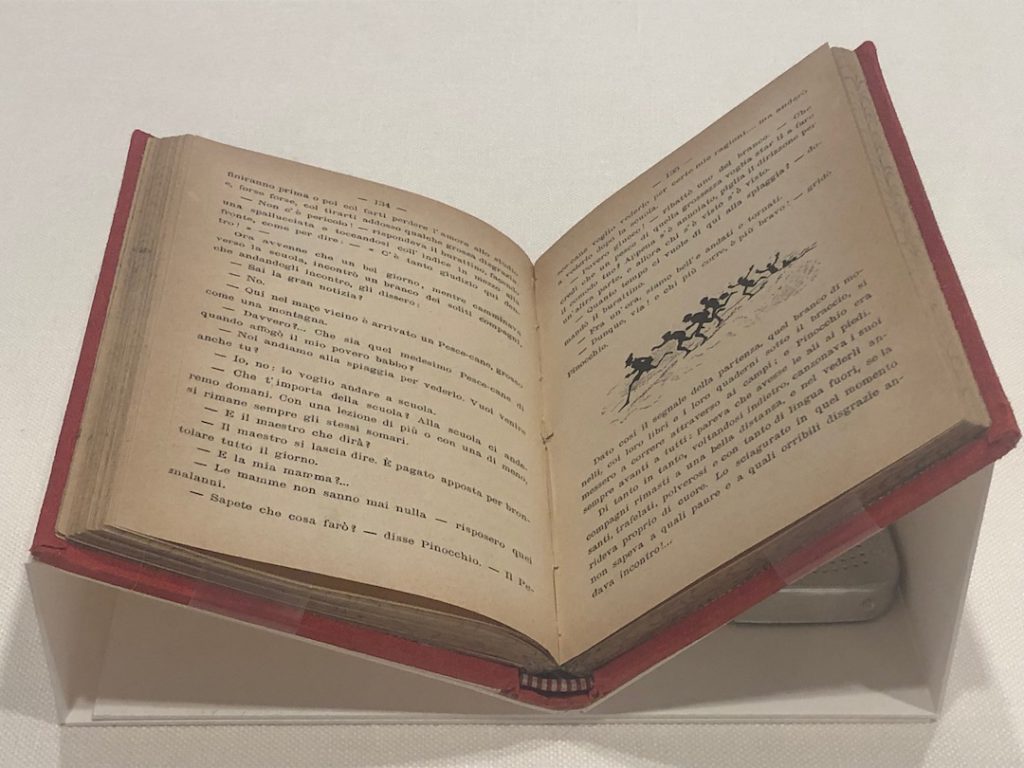 To be honest, I don't think I've ever read Collodi's novel. I've seen plenty of adaptations and I'm certain that I read a Disneyfied storybook or two in my own childhood, but The Adventures of Pinocchio never made it onto my bookshelf. That's something I'll have to change soon, though, because I do love a good, traumatizing children's story.
Much of the exhibit is dedicated to art and products inspired by Pinocchio, from small, wooden toys to a lunchbox made in the Soviet Union to the packaging of Haribo's Pepito candy. There's also a handful of marionettes, including a Disney version of the character made by late L.A. puppeteer Bob Baker. The Disney adaptation gets a good amount of space in the show, but there are nods to other film versions of the story in here as well.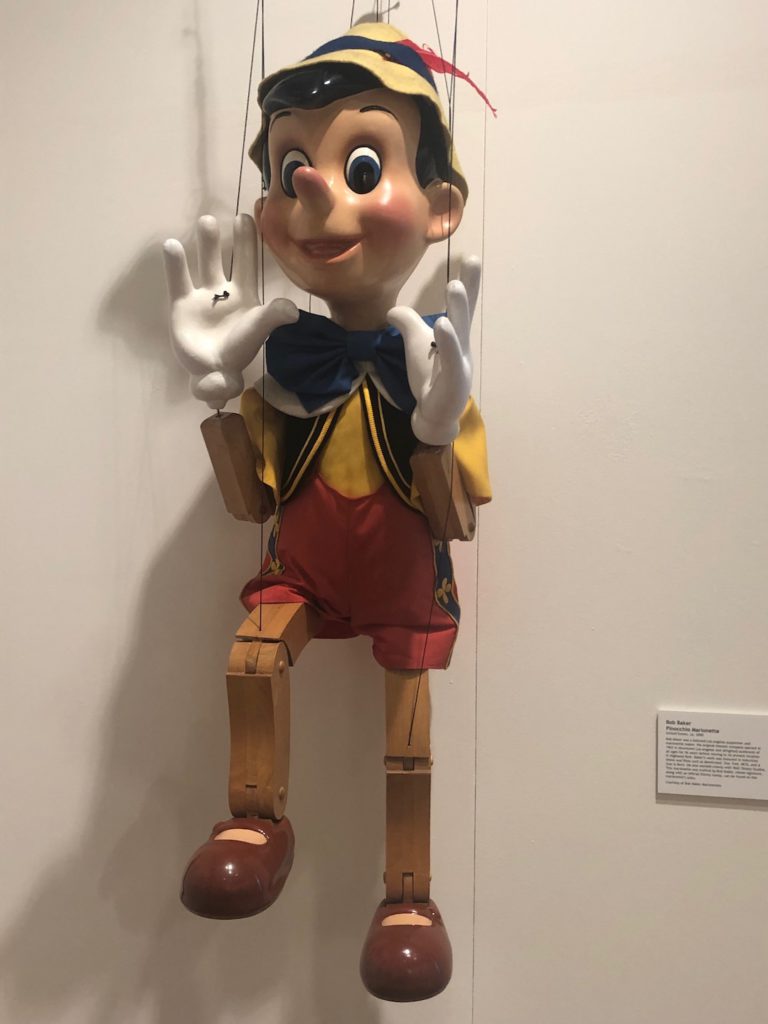 IAMLA is a fairly small museum and you can get through both "A Real Boy" and the permanent exhibition in less than an hour. Plus, admission is free. This makes it a convenient way to get a little art and culture fix if you're in the neighborhood and your time is limited.
If you don't live or work in the immediate area, it's best to make IAMLA part of a bigger day trip. There are several museums and historic sites, as well as Olvera Street, located within El Pueblo. Chinatown is located right across Cesar Chavez from here. If you're okay with longer walks, Little Tokyo is also accessible, although it's also only one stop away on the Metro A line.
There are public parking lots in the area. However, since El Pueblo is right across Alameda from Union Station, you might want to consider using L.A. Metro, Metrolink or Amtrak to get here. (Bonus for people with children: Metrolink has a Kids Ride Free program on the weekends.)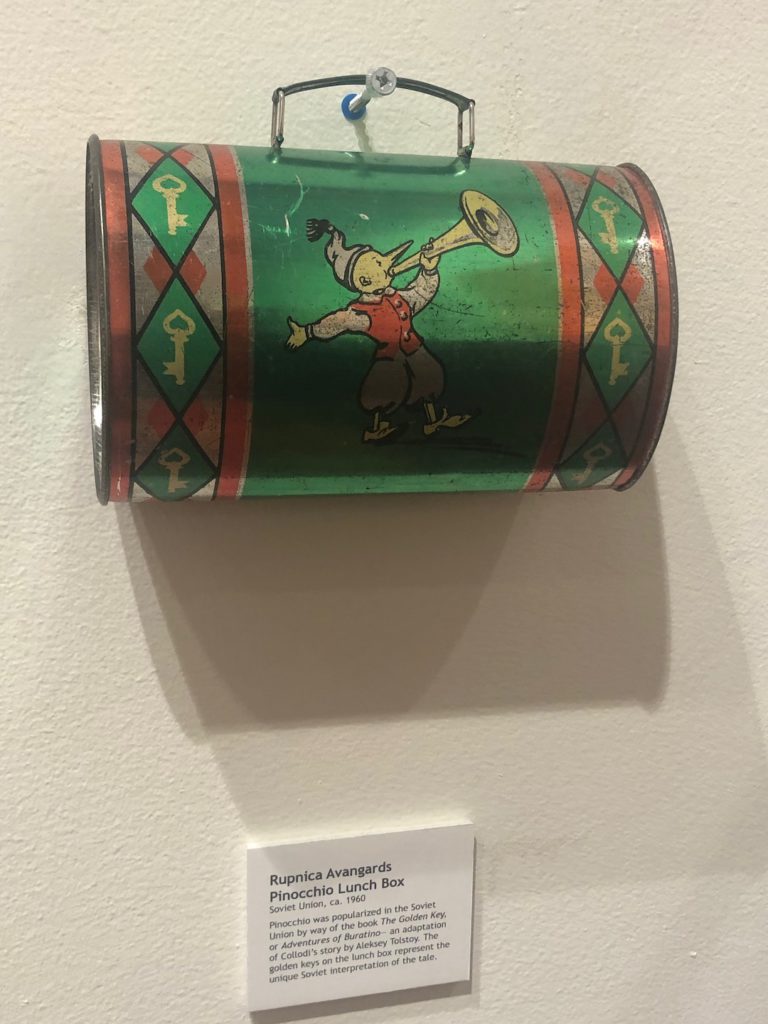 Italian American Museum of Los Angeles
644 N. Main Street
Los Angeles, CA 90012
213-485-8432
Admission: Free
Hours: Tuesday- Sunday, 10 a.m. – 3 p.m.