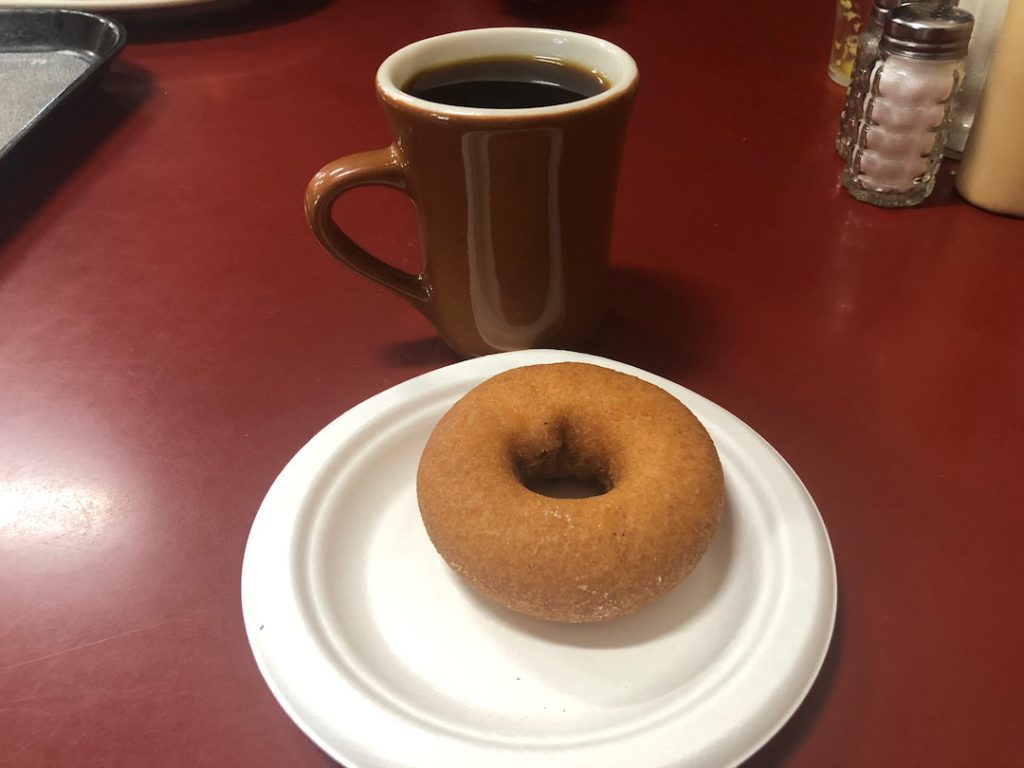 I grew up in a family full of staunch Angelenos who love to dispense advice on crucial subjects like rush hour short cuts and where to get a good meal. When it comes to the latter, one of the best pieces of advice I heard from multiple family members was, "Get breakfast at Philippe's."
Philippe the Original, which everyone simply calls Philippe's, is an L.A. institution. It's been around since 1908 and has stood in the same spot on the corner of Alameda and College since 1951, where it remains a living artifact of 20th century Los Angeles. You order at the counter, the menu posted above and a variety of items (everything from pickled pig's feet to lemon merengue pie) displayed below. You hang out for a few minutes, maybe staring at the neon Spud MacKenzie or Dodgers signs on the wall, until your cashier, who is dressed in a very mid-20th century blue uniform, brings your tray of food. Then you go and find a seat, perhaps next to old telephone booths or in the back room by the clown and train memorabilia.
Philippe's is a go-to destination if you're traveling to or from Dodger Stadium, or if you happen to be in the vicinity of Union Station. However, it's not actually known for breakfast. The French dip sandwiches, which are served all day, are the restaurant's claim to fame. If you've never been to Philippe's before, you probably should go with the sandwich. The breakfast menu is best for those who already have strong opinions on how to order your French dip.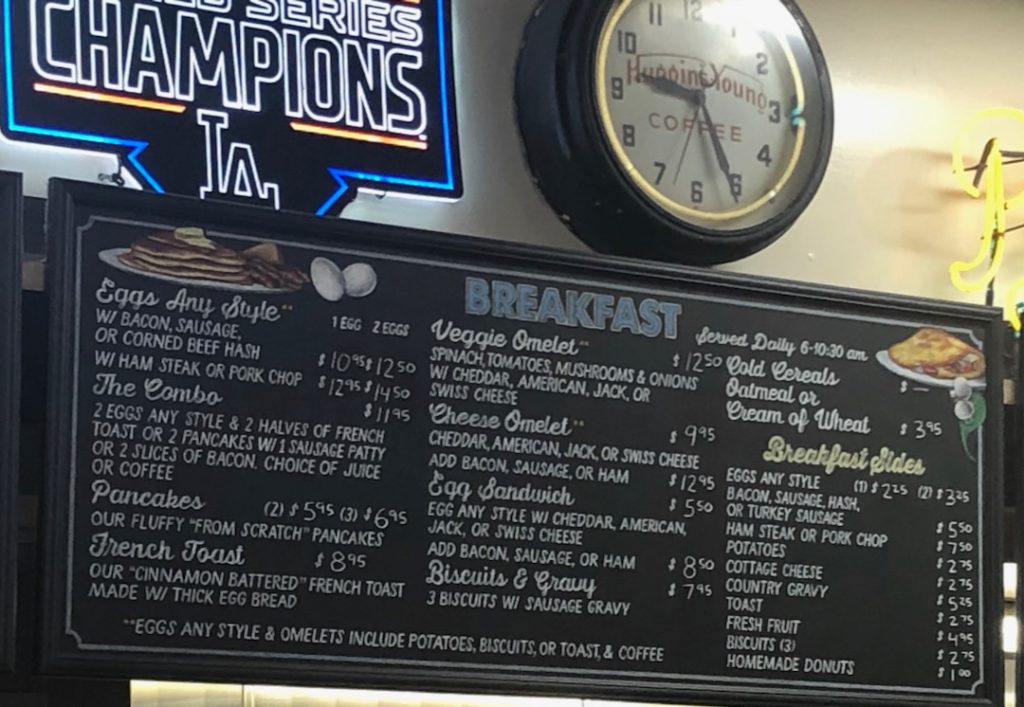 The breakfast menu* at Philippe's, which is available from 6 a.m. until 10:30 a.m., is filled with a variety of morning classics and is very reasonably priced. In fact, some of the items are a downright bargain.
The combo, which is $11.95, a perfect option if you're looking for a meal that will keep you going for most of the day. You get your choice of pancakes or French toast. Both are excellent. The pancakes are light and fluffy. The French toast has a mild cinnamon flavor. Your sides include eggs cooked any style and either bacon or sausage. It also comes with coffee or juice.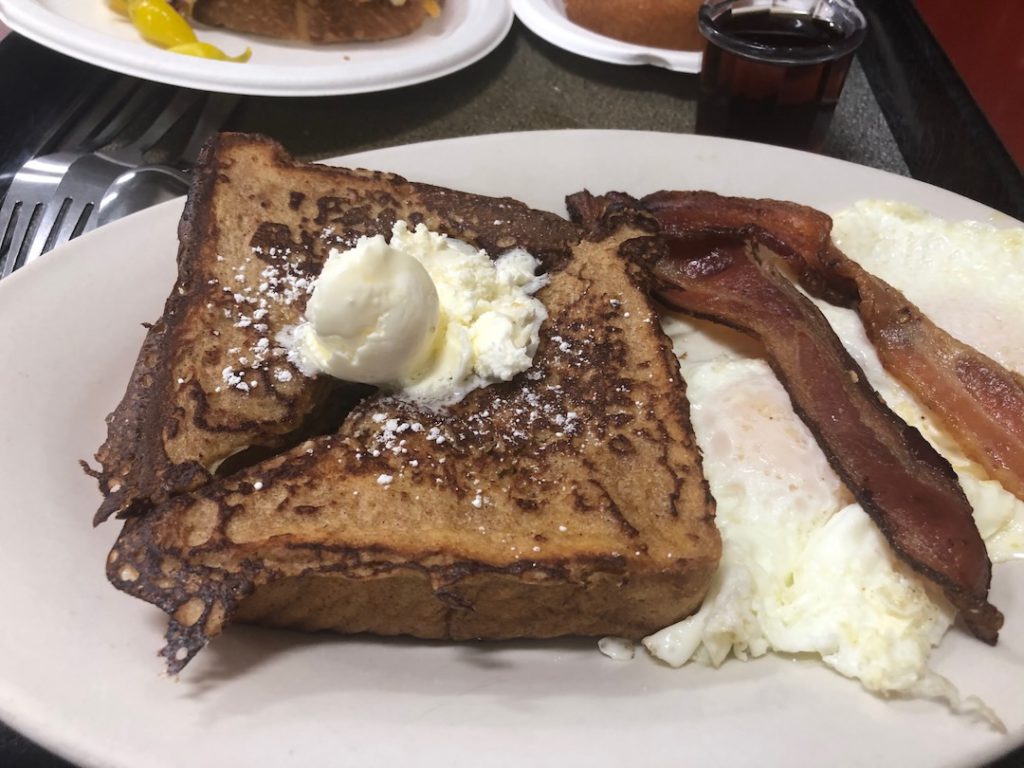 If you're eating breakfast on the go, try the egg sandwich. It's made with your choice of bread and cheese, plus eggs cooked any style, and will only set you back $5.50. If you want to add bacon, sausage or ham, the price goes up to $8.50. Don't forget the peppers served on the side.
The best deal, though, is coffee and a donut, which you can get for under $2. Yes, you read that right.
One of the best things about Philippe's is that there are a handful of items on the menu at prices lower than you'll see anywhere else in the city. Coffee is amongst those. You can get a cup for 46 cents at anytime of the day. As for the donuts, those are only $1. You can actually start your day with a brew and a bite that costs less than a one-way Metro trip. 
My dad always swore that Philippe's served the best cake donuts in L.A. and he definitely had a point. These small, yet filling, treats are neither too sweet nor too dense. Plus, you can easily take one home to eat late in the afternoon without the fear of snacking on a stale donut. The catch, though, is that they can sell out fairly quickly. Typically, when I stop by for breakfast, somewhere between 9:30 and 10: 30 a.m., there are plain donuts left and, perhaps, a few sugar or powder sugar ones. The plain donuts, however, are incredibly satisfying.
The one drawback for breakfast at Philippe's is that it's only served until 10:30 a.m. Sometimes, you'll see a couple donuts or other breakfast sweets hanging around later in the day, but that's not a given. Because I don't like to emerge from my cave before noon, I've never been able to make breakfast at Philippe's a regular thing. But, the few times a year that I'm able to drag myself out of the apartment early enough to catch breakfast are always worth it.
Philippe the Original
1001 N. Alameda St., Los Angeles 90012
213-628-3781
Daily 6 a.m. – 10 p.m. (breakfast is available from 6 a.m. until 10:30 a.m.)
* all prices mentioned were taken off the menu inside Philippe's in September of 2023. If there are changes, I'll update when notified of them.
Liz O. is an L.A.-based writer and DJ. Read her recently published work and check out her upcoming gigs.