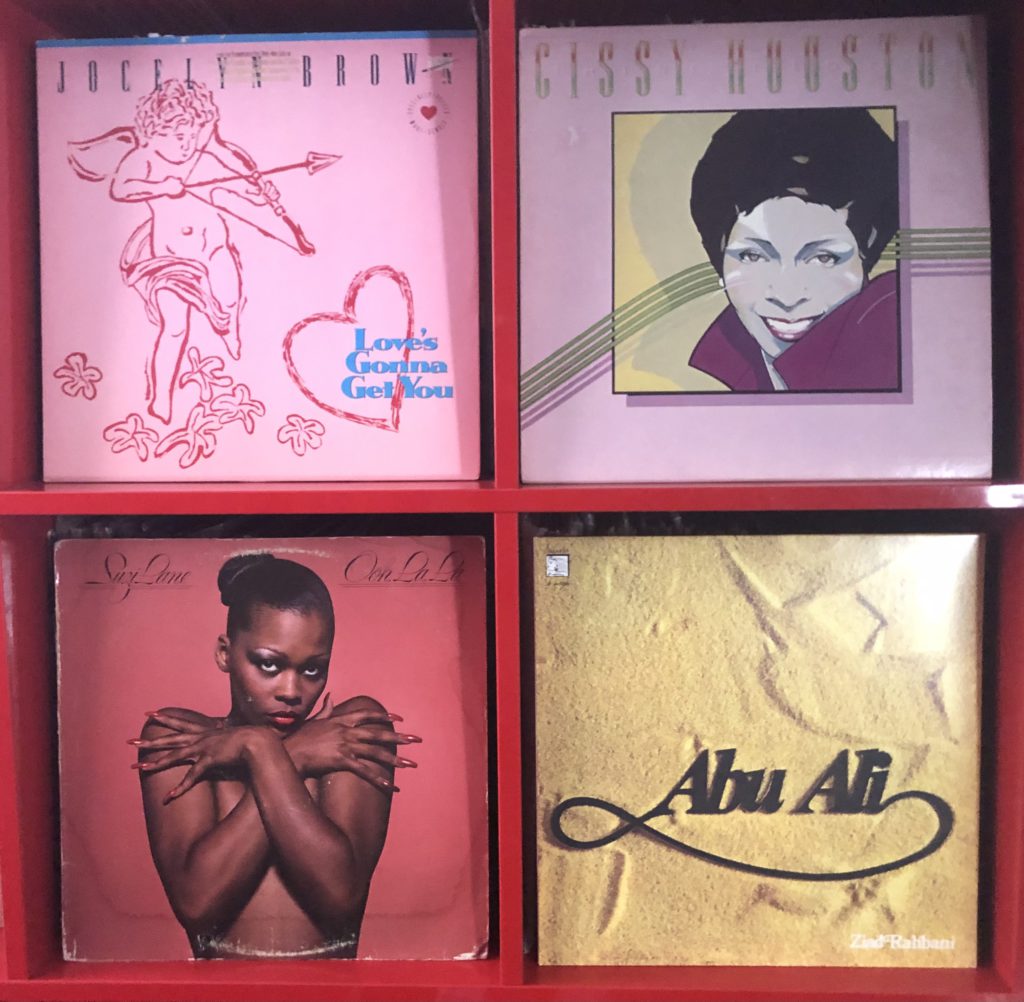 On January 12, I'm playing vinyl for Disco Heat at Lost But Found here in downtown Los Angeles. Our guest DJ for the night is my pal Clifton, who is one of L.A.'s best and busiest DJs and always plays amazing sets. This night will be a real treat. 
Since I don't play vinyl that often these days, preparing for this gig is a fun opportunity to go through my collection. I pulled some of my favorite disco tracks and found a few tunes I haven't played out before. Here's a sneak peek into my crate. 
Ziad Rahbani "Abu Ali"
I started drooling when I I caught sight of this We Want Sounds reissue of Ziad Rahbani's 1978 disco track "Abu Ali" while flipping through the crates at Estuario's pop-up shop at Tomorrow Today. Rahbani is a Lebanese musician and composer and part of a very musical family. (His mom is the famed singer Fairuz. His dad is the late composer Assi Rahbani, who along with his brothers Mansour and Elias, contributed a lot to Lebanese music.) 
Then, I noticed that the track was produced by Khatchik Mardirian, a name that immediately set off my hyedar. (That's hye, the Armenian word for Armenian, and radar. It's when I recognize another Armenian on the credits of something.) There's not a ton of info about him online, but in addition to producing music, Mardirian owned Chico Records in Beirut, which still exists, and there's a great Red Bull documentary about that shop.  
As for "Abu Ali," it's an epic psychedelic disco number and I have to play it. It feels more like early evening heat, so if you want to hear it, get to the party early. 
Cissy Houston, Think It Over
If you follow me on Instagram, you've probably seen this Cissy Houston album pop up on my feed a few times because I love that Patrick Nagel cover. But, this third album from Houston— yes, Whitney's mom— has earned its way to a near permanent spot in my disco crate for another reason.
During lockdown, I was obsessed with a Natasha Kitty Katt track called "Cissy," which you also hear a lot in my sets, and that led me to the title track from Think It Over. Produced by Michael Zager, it's a dramatic disco number led by Houston's powerful voice and augmented by strings and big gospel-style backing vocals. It's intense. I love ever second of it. 
Fun fact: Whitney Houston, who was just a teen at the time "Think It Over" was made, is one of the backup singers on this track. 
Suzi Lane, Ooh La La
Suzi Lane's debut, and only, full-length, Ooh La La is a sorely underrated Giorgio Moroder production. "Harmony," the song that I usually play, was a dance chart hit in its time, but I suspect that, over the years, it got lost amidst the glut of Moroder-produced jams from the late '70s and early '80s. That's a shame because the song's a vibe, bridging together the funky American disco of the '70s with the electronic, Italo sound that would rise in popularity over the next decade. 
Check out this fun French TV clip to get yourself in a disco mood.
Jackie Moore "Holding Back"
I came across Jackie Moore's 1983 single, "Holding Back," at Rubycon Records last week and had to get it, despite being unfamiliar with the song. The reason I needed it is because Moore's version of "This Time Baby" is one of my all-time disco faves. So, I figured "Holding Back" would be good. In fact, it's sublime. I can't wait to play it. 
Jocelyn Brown "Love's Gonna Get You"
I stumbled across the 12" of "Love's Gonna Get You" at Rubycon Records the other day and snapped it up because I didn't have it on vinyl. That's a somewhat embarrassing thing to admit. 
Jocelyn Brown is so important to the development of dance music and people need to namedrop her more often. She sang with a number of different groups, including Musique, Inner Life and Salsoul Orchestra, before going solo in the 1980s.
She released some great tunes as a solo artist, but "Love's Gonna Get You," produced by Jellybean Benitez, is crucial. In fact, this song was sampled so many times during the 1990s that I don't know if the decade would have sounded the same without it. The best known sample is Snap!'s hit "The Power." Moreover, the hook from Bizarre Inc's jam "I'm Gonna Get You," was appropriated from "Love's Gonna Get You." 
Playgroup S/T
Back in the early '00s, Playgroup's self-titled album was a favorite of mine. The project was helmed by Trevor Jackson, the British DJ/producer who also founded Output Recordings, a now-defunct record label that released music from artists like Black Strobe and Four Tet. Jackson brought in collaborators like Edwyn Collins, who had an indie club/radio hit here with "A Girl Like You" in the '90s and was in the post-punk band Orange Juice before that. Dick Cuthell of The Specials, Peaches, Kathleen Hanna and a number of other fantastic musicians also appear on the album.
It's a very eclectic album, filled with everything from disco to dance rock to dub. In the old days, I was particularly fond of "Bring It On," the track with Kathleen Hanna on vocals, and "Make It Happen," but I mostly played the remixes of those songs in my DJ sets.
After re-listening to this album, "Make It Happen" is still my favorite, but I'm thinking that either "Number One" or "Fatal" will sound great in a disco set. (You can get the album digitally over on Bandcamp. )
If you want to hear what makes it into my set, head down to Lost But Found at 656 S. Main Street DTLA, 90014 on January 12. Disco Heat rises at 9:30 p.m. and goes until last call. There's no cover and this is a 21+ venue.
Catch Los Angeles-based DJ Liz O. at one of her upcoming gigs.