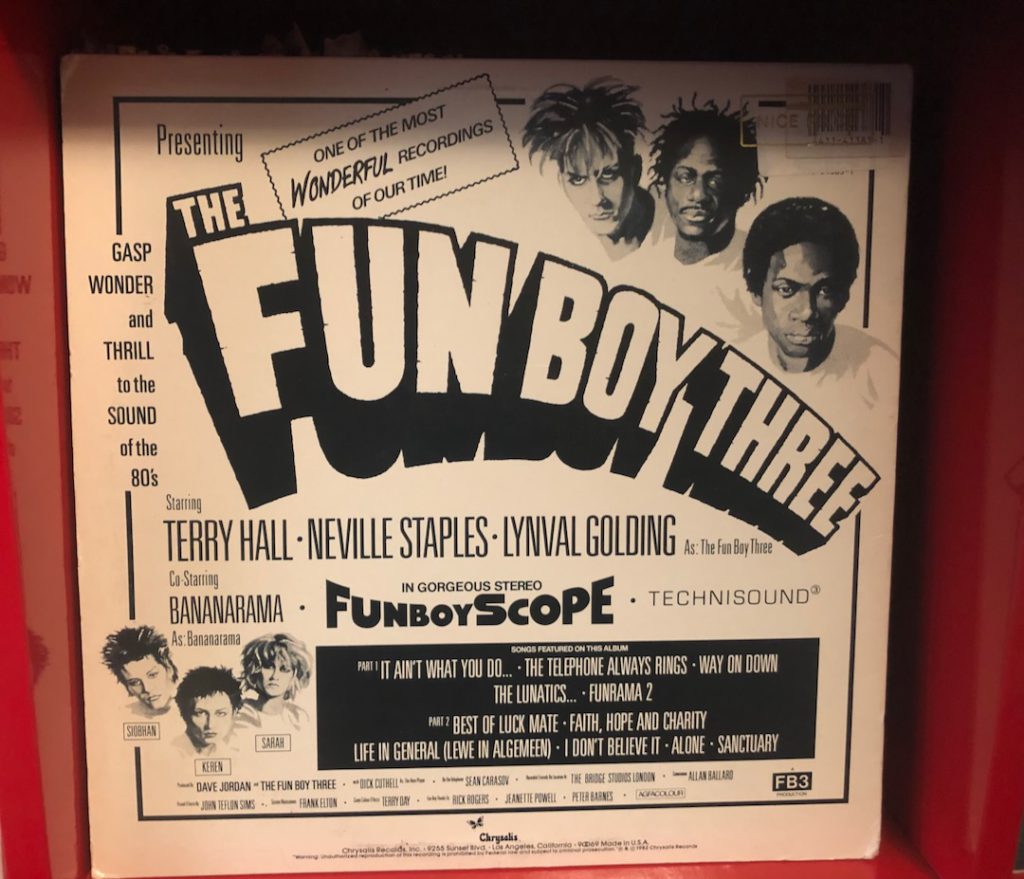 If you have some time, check out the first installment of my Beatique Mix series. These monthly shows will be about an hour long and divided into two sets. The first set is more like a regular radio segment and the second is a club mix. It's not tied to any genre or era of music. It's just good music that has been in my personal rotation lately. Hope you enjoy it.
Set One:
Fun Boy Three and Bananarama "It Ain't What You Do, It's the Way That You Do It"
As a tribute to Terry Hall, the iconic British singer who passed on December 18, we open the show with "It Ain't What You Do, It's the Way That You Do It." Fun Boy Three, my favorite of Hall's bands, was his project with Neville Staple and Lynval Golding, all of whom previously played together in The Specials. They only made two full-length albums, but both are weird pop masterpieces that pay no mind to genre or the conventions of the time. "It Ain't What You Do, It's the Way That You Do It" was the first of two collaborations with Bananarama. You'll find it on Fun Boy Three's self-titled debut album. 
Scream + Dance "In Rhythm" (12″ Mix)
Originally released in 1982, this 12" mix of "In Rhythm" from Scream + Dance can be found on Get It Right— Afro, Dub, Funk & Punk on Recreational Records, 81-82, which was released last September via British reissue label Emotional Records. You can find it on Bandcamp.
Chavo "Greek Disco"
I didn't come across this 2015 single from Balkan-influenced, London-based band Chavo until the 2020 lockdown. When I did, though, the "Greek Disco" bounce perked up seemingly endless days at home. Find it on Bandcamp and check out the remixes too.
Les Calamities "Le garçon de New-York"
Late last year, French label Born Bad Records released Encore! 1983-1987, a terrific collection of work from the post-punk group Les Calamities where you'll find "Le garçon de New-York." Get it on Bandcamp.
Iceage "Dear Saint Cecilia"
You'll find "Dear Saint Cecilia" on Seek Shelter, the fifth full-length album from Danish band Iceage, released in 2021.
jrimurmur ";)"
All I know about Jrimurmur is that they're a duo from Armenia and released a fantastic album in 2021 called Lur Mur.If you're into post-punk and/or darkwave, you should get this.
Medio Mutante "Inestable"
When I was listening to jrimurmur, I started thinking about Medio Mutante's fantastic 2008 EP, Inestable, which was in regular rotation on my laptop for years. We hear the title track in the first episode of Beatique. You can listen to the whole thing on Spotify.
Paula E. Sheppard, Slava Tsukerman, Brenda I Hutchinson, Clive Smith "Me and My Rhythm Box"
Taken from the soundtrack for 1982 cult sci-fi/horror/club kid film Liquid Sky, "Me and My Rhythm Box" features actress Paula E. Sheppard on vocals and really foreshadows much of the minimal, dark synth music that came about in the '00s and '10s. You can hear the whole soundtrack on Spotify. The movie is essential viewing, but it doesn't look like it's streaming in the U.S. right now. However, I did see it on the shelf at Videotheque in South Pasadena recently, so if you're in L.A., go there and rent it. 
Set Two:
The Cramps, Mark James, Peewee Ferris "Goo Goo Muck (Disco Muck Extended Mix)"
This disco remix of The Cramps' classic cut "Goo Goo Muck" really took me by surprise when I heard it earlier this week. In fact, I already wrote about it, so go read that post.
TGV "Fools Gold"
If you read my post about the five Depeche Mode songs that I love to play in my DJ sets, then you might recall that I started playing "Fools" of another song that I heard in a Miss Kittin mix. Anyhow, this is that song. It's available on Bandcamp.
Depeche Mode "Nodisco"
"Nodisco," from Depeche Mode's debut album Speak and Spell, is on the list of my five favorite Depeche Mode songs for DJ gigs, so go read that post.
Tom Cat "Black Jack" (Curses Edit)
I came across Curses' edit of "Black Jack," Tom Cat's 1988 Italo disco single on Fatale Recall 1-2 from French label Ritmo Fatale. Check out the label's Bandcamp shop because it's packed with a lot of great tracks, including edits and remixes.
Nuovo Testamento "Heartbeat"
I love "Heartbeat," the latest from Nuovo Testamento, so much that I almost immediately dropped it into my set at Dolce Vita in early December. It's from the group's forthcoming album, Love Lines, which is available for pre-order now, but doesn't street until March.
Editors, Jennifer Cardini, Damon Jee "Karma Climb (Jennifer Cardini & Damon Jee Remix)"
Editors were/are one of my favorite bands to come out of the '00s indie wave and Jennifer Cardini is one of my favorite DJs, so this collaboration was a must-play for me. Get it on the deluxe version of EBM available on Bandcamp. 
Pale Blue "Dive (Rebolledo´s 'Distanced Disconnected Limited Edition' Mix)"
I'm always excited to hear new music from Pale Blue and "Dive," out on Crosstown Rebels, does not disappointment. This remix from Rebolledo is sublime.
Primal Scream "Space Blues #2"
Found on Primal Scream's sorely underrated 2002 album, Evil Heat, "Space Blues #2" features Martin Duffy, the band's longtime keyboardist, on vocals. Sadly, Duffy, who had also played with Felt and The Charlatans, died on December 18. 
The background music in the show came from Piero Umiliani. Both "White Sand" and "Desert Island" appear on the album Il Corpo.
Catch Los Angeles-based DJ Liz O. at one of her upcoming gigs.