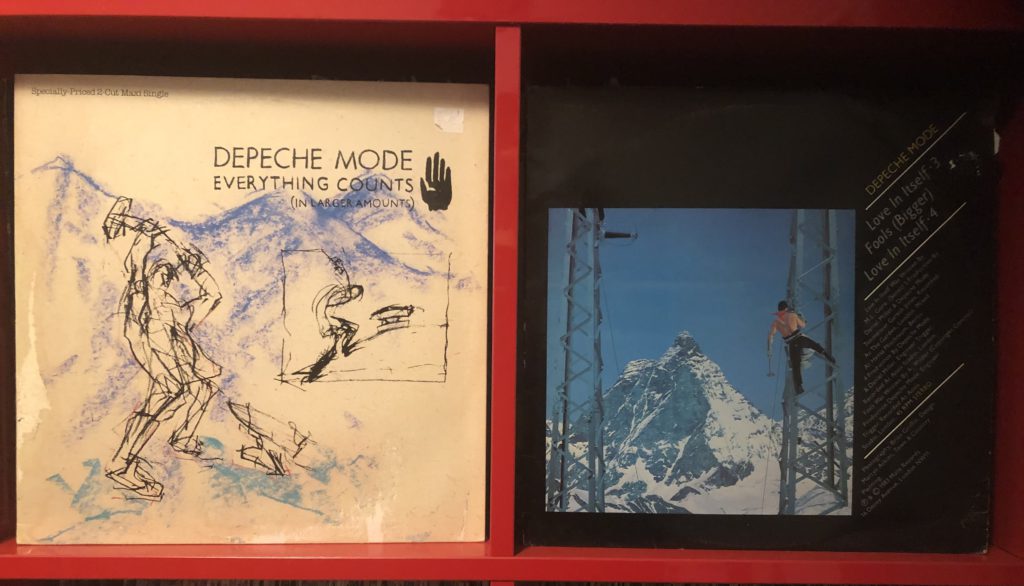 There's one band I've played more than any other in my DJ sets. That's Depeche Mode. The British synthpop pioneers have been a part of my gigs, often regardless of the vibe of the party, since I started DJing. I doubt this will ever change.
I've been a Depeche Mode fan since I was a kid, but there are a lot of bands that I've loved for most of my life and don't play nearly as often. It does help that L.A. has a lot of Depeche Mode fans. Outside of the clubs, the band frequently appears on request lists for weddings and birthday parties. But, that's also not really the reason for so much Depeche Mode play.
Really, the reason why I've played Depeche Mode in everything from goth to house sets is because of their wealth of material. From hit singles to album cuts, B-sides and a slew of remixes, there's a Depeche Mode song for most of the gigs I'm booked to play. (The exception, really, is if I'm focusing on music made prior to 1980.) While I've played a significant chunk of their catalog in my sets, these are my five favorite Depeche Mode songs for the dance floor.
"Fools"
Let's flashback to 2002 for a second. I'm a young DJ in L.A. playing every Miss Kittin-related track I can find. "Frank Sinatra" (Kittin and the Hacker), "Rippin' Kittin" (Golden Boy and Miss Kittin), "Silver Screen (Shower Scene)" and Röyksopp's remix of "What Does It Feel Like" (Felix da Housecat) are the big hits.
In the midst of this moment, I come across a copy of Muzik Magazine with a CD titled Electroclash: Massive 19 Track Mix from Miss Kittin. I buy it for the CD. There isn't much, if anything, "electroclash" about it. It's much more interesting, filled with melodic techno, some indie dance remixes and a few left field picks. I listen repeatedly because I'm convinced that, if I study these mixes and keep practicing, I will, someday be a decent DJ.
There's one song in this mix that catches my attention every time I listen. It sounds so familiar, yet I'm not sure why. I start looking for the track, called "Fools Gold," everywhere in L.A., but I can't find it. However, while going through my Depeche Mode records one day, I realize that I have the sample source. Even now, I can remember the excitement upon realizing that the synth line I loved so much was from "Fools."
I immediately start playing "Fools (Bigger)," the extended mix, at Transmission, my Wednesday night residency at the time, and bring it to guest gigs often. The song sparks conversation. I strike up a friendship with someone when I play it at Hang the DJs. We bond over our mutual love for Alan Wilder.
Because of this, I learn that "Fools" is a song that brings Depeche Mode fans together. For that reason, it will always be my favorite Depeche Mode song to play.
"My Secret Garden"
I dearly love A Broken Frame. Depeche Mode's second album documents a band in transition after the departure of Vince Clarke, who was their primary songwriter on Speak & Spell.
Critically misunderstood in its time, A Broken Frame holds some of the band's hidden gems, like "The Sun & The Rainfall" and "My Secret Garden." I've played both of those songs in my sets, but "My Secret Garden" appears more frequently and it's an example of how requests impact what I play.
I dropped "My Secret Garden" into my sets sporadically, usually on a goth night and typically early in the set. One night, maybe close to a decade ago now, someone mentioned hearing me play "My Secret Garden" previously and wondered if I could play it that night. I happened to have A Broken Frame in my crate, so I obliged. Then, I kept the album on hand for vinyl gigs.
Good, thoughtful requests mean a lot to me when I play. When I get those, they stick around in my sets for much longer than one night.
"Nodisco"
A lot of people request Depeche Mode. Typically, the requests are general. Often, I wish they were more specific. Really, I wish the requests were for "Nodisco."
I would play this gem from Depeche Mode's debut album at every indie/goth/darkwhatever gig if people asked for it. Seriously. I love it that much. But, I also have far too much music on me at gigs and need reminders.
"Nodisco" is a song that works well with multiple styles and eras of electronic music. It's a deep enough cut where you can play it with underground '80s synth tunes. It has an electro-punk energy that's similar to a lot of early '00s groups. (In fact, that's when I played "Nodisco" most often.) It also complements the Italo disco and hiNRG influences that are in the work of a lot of contemporary artists.
"Lilian"
When I first heard it, Playing the Angel became my favorite Depeche Mode album since Violator and "Lilian" was instantly my jam. It encapsulates what first drew me to the band as a 10-year-old weirdo and what has kept me around the fandom as a full-grown weirdo. "Lilian" broods, but it also makes me dance, so I'm going to play the shit out of it until everyone within earshot either hates me or joins me on the dance floor.
For years, I played "Lilian" in my sets, alternating between the album version and the Chab vocal remix. The song has always done well on the dance floor. But, as I was working on this list, I realized that I haven't dropped "Lilian" in a very long time. In fact, the last time I played it at a club was likely prior to the COVID shutdown. This is terrible oversight on my part, club pals, and will be corrected as soon as possible.
"Everything Counts"
When it comes to Depeche Mode's big hits, the one that I play most often is "Everything Counts." At least, that's been the case for several years now. There's a reason why I play it so often too.
Back in December of 2019, I wrote an essay for Audiofemme about how I played this Depeche Mode classic more often as it became harder and harder to get by in Los Angeles. COVID-19 hit not too long after I wrote that essay and, in the nearly three years since, the "grabbing hands" just seem to get grabbier by the day. Meanwhile, "Everything Counts" remains the Depeche Mode song that I play most often. This will likely be the case for the foreseeable future.
Catch Los Angeles-based DJ Liz O. at one of her upcoming gigs.