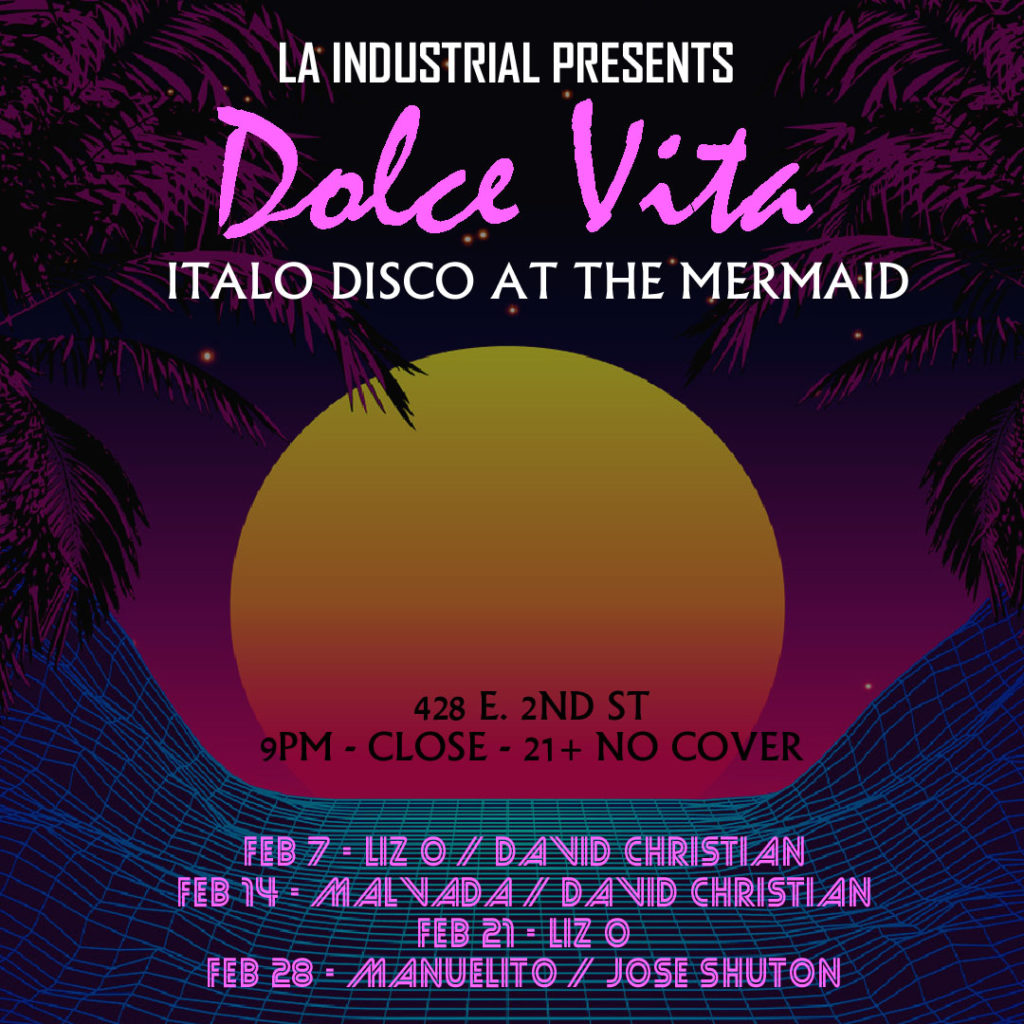 Last Tuesday, I played a last minute, fill-in set at Dolce Vita and recorded the full two-hours that I played. Then I chopped the set down to a more reasonable one hour and ten minutes, which you can now hear on Mixcloud. 
I'll be back at Dolce Vita on Tuesday, February 21 to play from 9 p.m. until last call. There's no cover and it's 21+. Hope to see you there. 
Presented by L.A. Industrial, Dolce Vita brings Italo disco to The Mermaid every Tuesday night. Find The Mermaid at 428 E. 2nd Street, Los Angeles, CA 90012. Follow @lalovesindustrial for more party details. For details on my own gigs, follow @DJ_Liz_O on Instagram and/or TikTok. Or, just check back here. 
Here's the full track listing:
Soulya ID "The Day You'll Get Somebody"
Valerie Star "Loving You (Extended Vocal Valerie Mix)"
Italoconnection, Francesca Diprima "Since You Went Away feat. Francesca Diprima (Extended Version)"
Kano "I Need Love"
Paul Parker "Target RBW edit"
Lifelike, Alex Rossi "Italo Amore (Musumeci Edit)"
Patrick Cowley "They Came at Night"
Goblin "Tenebre"
Skatt Brothers "Walk the Night"
Q, The Reflex "The Voice of Q (The Reflex Revision)"
My Mine "Hypnotic Tango (Remix Extended Player)"
The Flirts "Passion Remix"
DJ Steven Andrew "Native Beat"
Tom Cat "Black Jack (Curses Remix)"
Pet Shop Boys "West End Girls (Original Bobby Orlando Mix)"
Purple Disco Machine "Dished (Male Stripper) (Extended Mix)"
Magazine 60 "Don Quichotte (Gay Marvine Edit)"
Cerrone "Supernature (Ethan Wood Remix)"
Amanda Lear "Tomorrow (Archi Deejay Remix)"