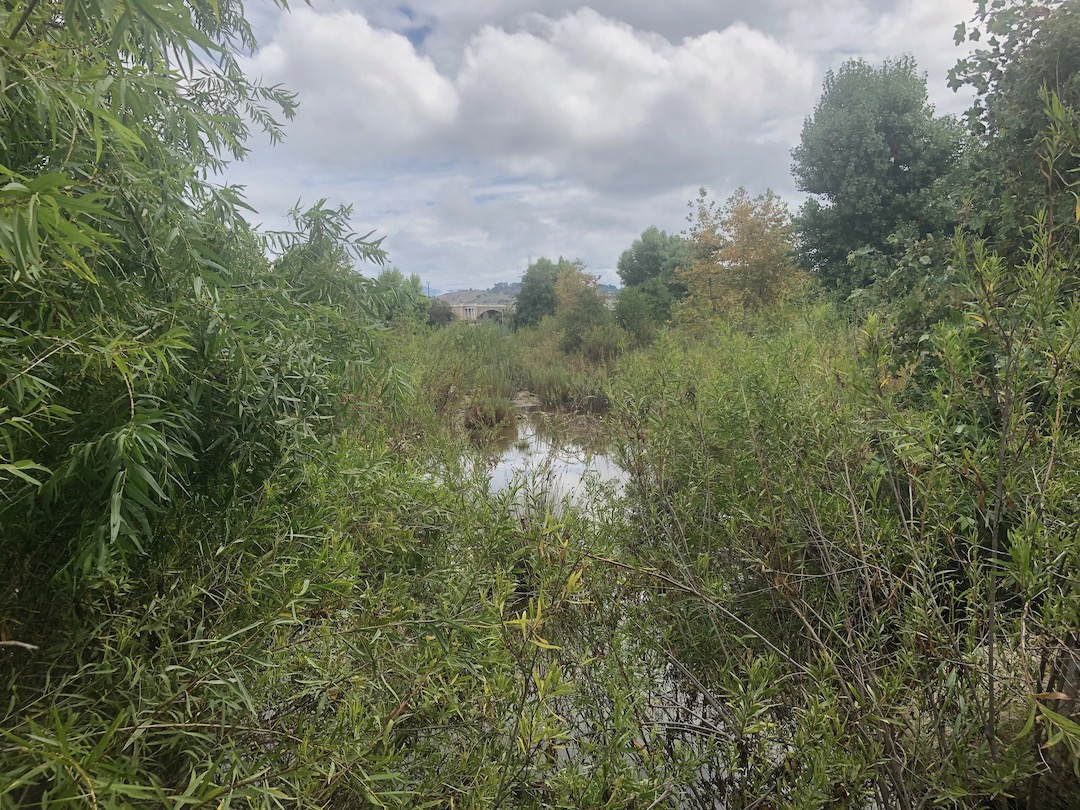 Less than halfway through the mile-long track that runs the periphery of L.A. State Historic Park, I realize that today's outfit is entirely inappropriate for the weather. I pulled over a KXLU hoodie that I've probably had since I was a DJ at the college radio station because there was a chance of more rain in the morning, but that chance looked slim-to-none by 10:30 a.m., so I wasn't about to walk around with an umbrella. A hoodie was a good just-in-case alternative, I thought before leaving the apartment, failing to remember that it's August, not January, and it's muggy af outside.
I'm sweating more than I should be for something even less intense than a power walk, a lot more. I'm actually disgusted with myself and my inability to acclimate to a summer where the heat has been far from dry. I don't know how to dress, let alone deal with moderately curly hair that's prone to frizz, in this weather. It's a culture shock— like that time I spent a Labor Day Weekend in Atlanta baffled by warm rain and people calling every woman "ma'am"— except that I'm at home.
Chaos grabs attention. So, in the days leading up to storm that hit Southern California on August 20, doom threads dominated Twitter or X or whatever it's called today. Hurricane Hilary headlines trended, but, perhaps some people didn't bother to actually read the articles with forecasts that were bad, particularly for those in the mountains and the desert, but not apocalyptic. Or maybe they did read the articles and decided that freaking out people is better for clout than being reasonable.
But, if there's something I learned over the past few years, it's that there's a disconnect between what's happening online and what's going on outside. The night before the storm was far from quiet. I stopped by the Grand Star, where goth Club Disintegration was happening on the first floor and Tune in Tokyo's new city pop and futurefunk bash Shibuya Starlight was upstairs. Both parties were poppin' fairly early in the night. Plus, the Dodgers moved their Sunday game to a Saturday doubleheader and The Chainsmokers played at L.A. State Historic Park, so the neighborhood was perhaps a little busier than normal.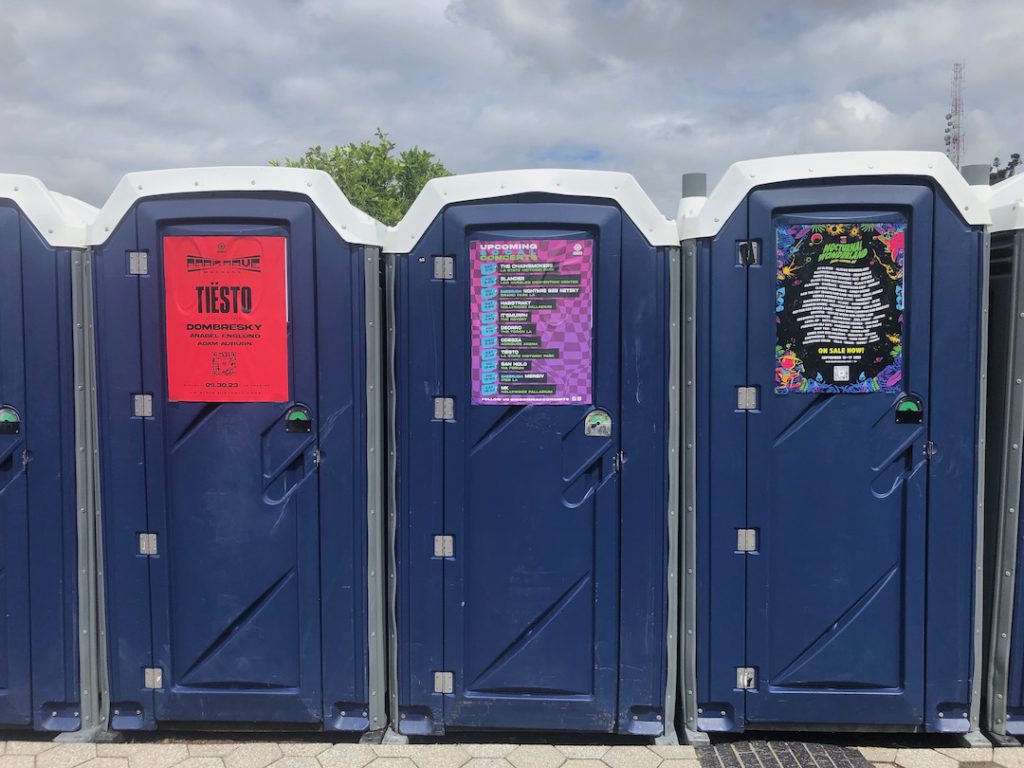 On Monday morning, the remnants of The Chainsmokers show are still visible throughout the park. Posters advertising Nocturnal Wonderland, an upcoming Tiësto show and other Insomniac events hang on doors throughout the temporary port-a-potty corridor. Poles and barricades sit gathered together waiting to be removed from the site. I snap some photos.
"Taking pictures of the mess?" one man remarks as I hover over a large puddle.
"Yeah," I answer with a laugh, "it's kind of weird for August."
He agrees. I tell him that at least the drought is over for now, or so I read earlier in the morning.
One of the things that happens when you hype up the masses for a worst-case-scenario that doesn't happen is you end up with a lot of people who simply won't believe a word that comes out of your mouth. That's the moral of "The Boy Who Cried Wolf," not that people ever seem to remember the lessons learned in pre-school. This does a real disservice when you're talking about crucial issues like climate change, which anyone who doesn't have a vested interest fossil fuels or corporate-driven pollution should be able to say without hesitation is real.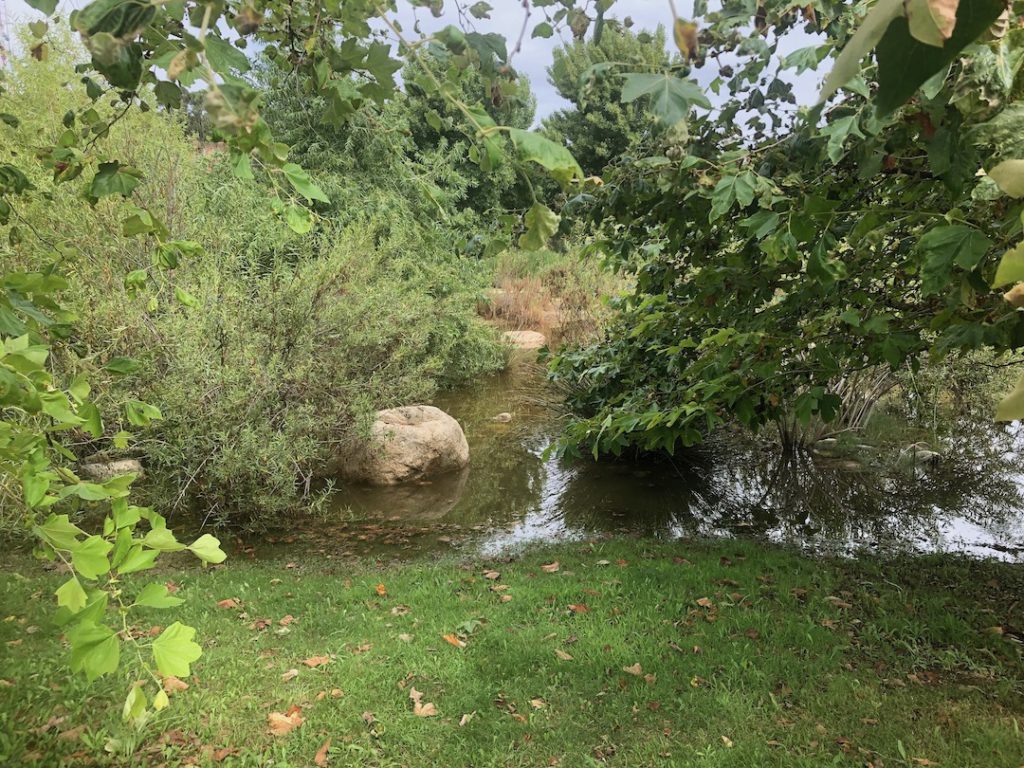 The storm situation differed across Southern California, but it was a non-event in my little pocket of Los Angeles. During multiple storms last winter, the winds blew much harder and the rain pounded against the roof for longer stretches of time. What stood out to me about Sunday was the smell. I couldn't quite place it, but it didn't have the same clean, crisp scent of winter rain. It was dank, a little mildewy, like how I would image the odor of a swamp or Dagobah.
But, the most excitement came when the sofa where I had parked my ass to binge on more Dark Shadows began to roll thanks to a 5.1 earthquake near Ojai that hit right as the girl with atrocious taste in men was about to marry Rosemary's adult baby. I don't react all that strongly to earthquakes, probably the result of growing up in Northridge and becoming desensitized to them after IDK how many aftershocks in 1994. Still, I definitely felt Sunday's shake. What timing!
The track at L.A. State Historic Park is drying quickly as I walk its course. Puddles are few and far between, they don't appear to impede the joggers and walkers out this late morning. Out on the soggy grass, people play with their dogs, exercise and socialize.
Near the monarch butterfly habitat, pools of water have formed amidst the rocks. That's by design, this area is carved out to collect rainwater. Still, that doesn't happen in August because storms at this time of year in L.A. are not normal. We sometimes get them around Halloween or Thanksgiving or Christmas, but the big storms tend to be a January/February thing here.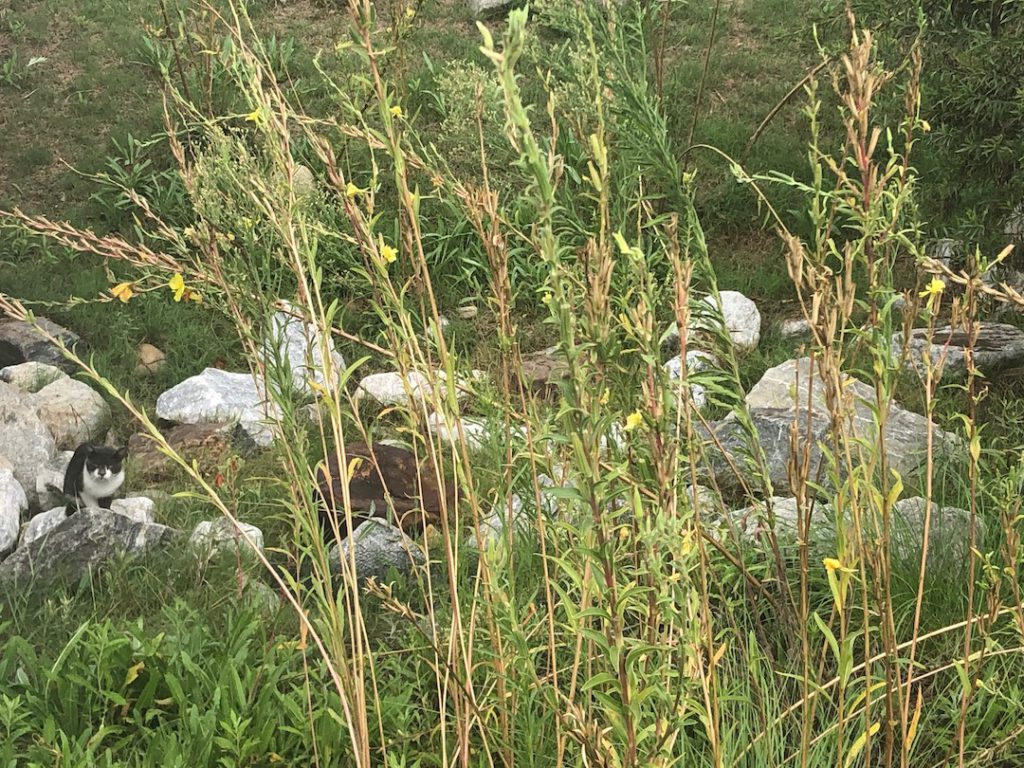 I'm not a science or nature journalist, but because I write about culture, asking experts questions about science and nature is part of the job. So, I've talked to a lot of people about urban nature, community science programs, conservation and climate. On my park walk, I recall a quote from Rebecca Johnson at California Academy of Sciences in San Francisco. "Climate change might not look like an apocalyptic wasteland," she told me in an interview for Shondaland. She mentioned it in reference to finding different species out in familiar haunts, but I was thinking about it in terms of seeing rainwater in a place where it would be normal at a different time of year. Point being, I think there's a tendency to focus on disasters at the expense of the smaller changes that might indicate something isn't right.
Beyond that bed of rainwater, though, there's not that much evidence of the storm left. Out on Broadway, some leaves are pressed onto the sidewalk and the street hasn't completely dried. But, the tourists who speak to each other in French or German stroll across Chinatown in shorts and sneakers. The locals sift through produce set up on the sidewalk. Everything is normal, except for this persistent humidity. Maybe everything isn't normal.
Check out Los Angeles-based DJ and writer Liz O. at one of her upcoming gigs.