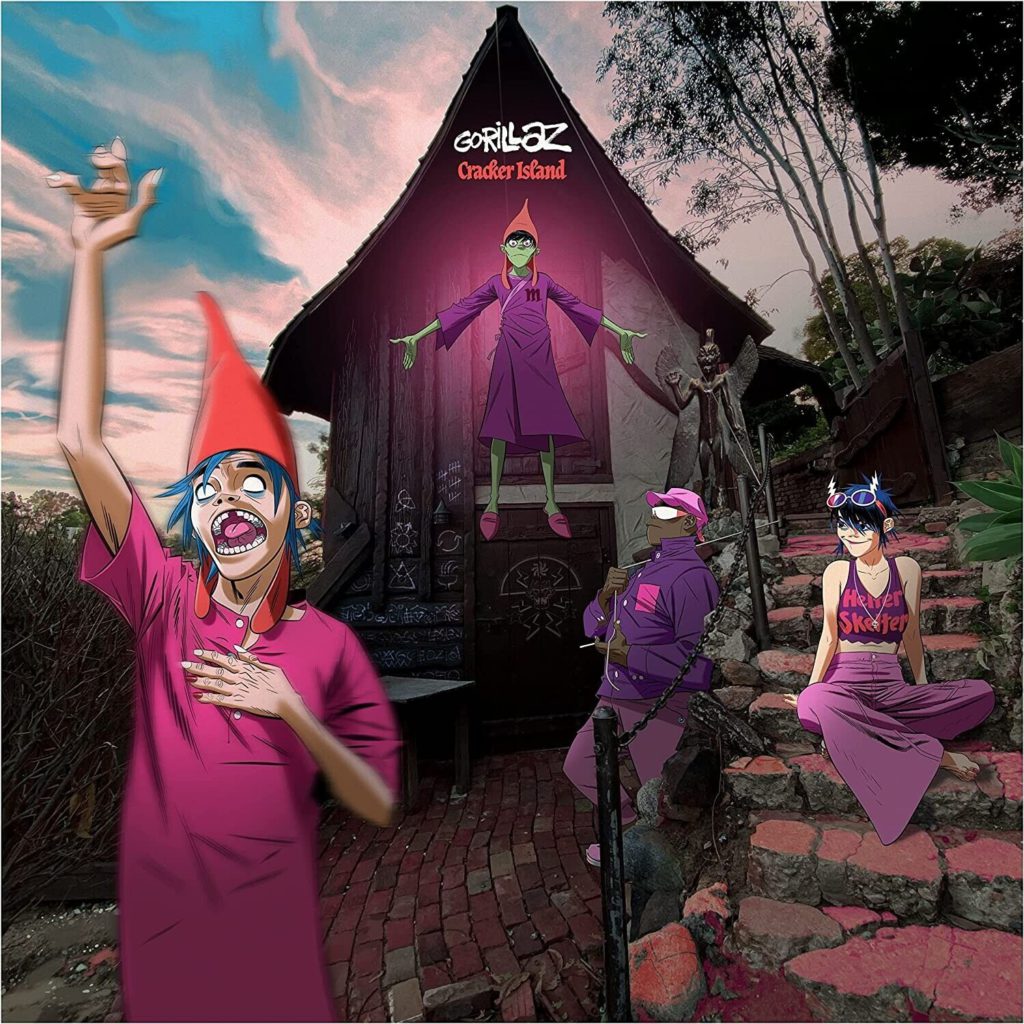 It's probably pointless to write about Cracker Island, the latest album from Gorillaz, almost a month after it was released. It's already been heavily reviewed. It's a Billboard chart hit. If you're into the long-running collaboration between Damon Albarn, Jamie Hewlett and a revolving cast of star musicians and producers, you probably already have Cracker Island. 
Still, I'm going to write a couple paragraphs about Cracker Island here just in case you missed it. After all, it is very easy for the albums you want to hear to get lost in the algorithms. 
Gorillaz is a group that I 100% associate with the clubs. Somewhere in the boxes of stuff I never throw out, I likely have some of the swag from a record release party at Bang! in the early '00s. I still remember the feeling of the large, Saturday night crowd at Bang! going wild for "Clint Eastwood" and "19-2000" when those were brand new tunes.  I can't even tell you how many times I've played the DFA remix of "Dare" since it was released. In fact, it's one of the handful of songs that I don't think I ever retired.  "Feels Good, Inc.," "Stylo," and, my personal favorite, "On Melancholy Hill," are all club songs. Those first three Gorillaz albums are my favorites (with Plastic Beach taking the top spot on my list) and Cracker Island is really the first album from the group that sucked me in as deeply as those did. 
Cracker Island is Gorillaz L.A. album, wherein the fictional band heads out West to become cult leaders only to find out that their Silver Lake neighbors are all in cults too. This, dear reader, is not as much of a stereotype of the city as you might believe it to be. Cults are a part of my hometown's very colorful history. Plus, cults as a metaphor for the way present day technology has impacted society, which Albarn discusses a bit in his interview with The Fader, is quite apt.
Conceptually, Cracker Island is intriguing and it plays out with a compelling narrative and visual element. Then there are the songs, which you certainly don't need to hear in order or as a whole piece. For DJs, there's enough variety here where you can work Gorillaz into virtually any kind of vibe you're trying to cultivate. "Silent Running" has a strong, early evening groove. "Skinny Ape" should work in a rock set. You could even satisfy the inevitable Bad Bunny requests with "Tormenta."
I'm more drawn to the album tracks than the singles on Cracker Island. As of right now, my personal favorites are "Oil," which features Stevie Nicks, and "Tarantula." It's pretty likely that you'll hear either one of those in my sets very, very soon. 
Tl;dr Get Cracker Island. If you aren't already dancing to the new Gorillaz album, you will be soon.
Check out Los Angeles-based DJ Liz O. at one of her upcoming gigs.