The first song I heard inside Beastie Boys Exhibit at Beyond the Streets and Control Gallery was "Goo Goo Muck," The Cramps' weirdo classic that recently went viral via Netflix. I don't know what the song had to do with the exhibition. In fact, save for the very few actual Beastie Boys' songs that played over the course of a half-hour or so, I don't know what any of the music had to do with the show. It was playlist that sounded as if it were generated by an algorithm rather than a human.
An average human might have the good sense to say, "Hey, this is a Beastie Boys exhibition, we should probably make a playlist of their songs." A music nerd would say, "Hey, this is a Beastie Boys exhibition, let's make a playlist of all the songs sampled on Paul's Boutique." An algorithm decides that based on the demographics of this audience, Beastie Boys' biggest hits will play alongside some '90s alternative and hip-hop, plus that song from Wednesday.
You might think it's a little extra that I'm opening a piece about a gallery show with complaints about the music, but Beastie Boys Exhibit is actually about music. Or, at least, it should be about music, but maybe that's an outdated take. Maybe the show is, like so much of 21st century culture, about taking a few selfies to prove you were there while standing in line to buy stuff.
Beastie Boys Exhibit, which runs through January 29, is presented by Beyond the Streets, whose 2018 exhibition of the same name was a mammoth exploration of street art past and present, and corporate concert promoter Goldenvoice. It's a free exhibition, with tickets you reserve via quasi Ticketmaster competitor AXS. (If you keep track of these things, AXS is part of the same company that owns Goldenvoice.)
At least on AXS' website, Beastie Boys Exhibit is touted as "immersive," which it is not, although that probably doesn't matter since no one seems to remember what immersive actually means anymore. Its curation is described as "museum-style," which could refer to the display cases, but little else.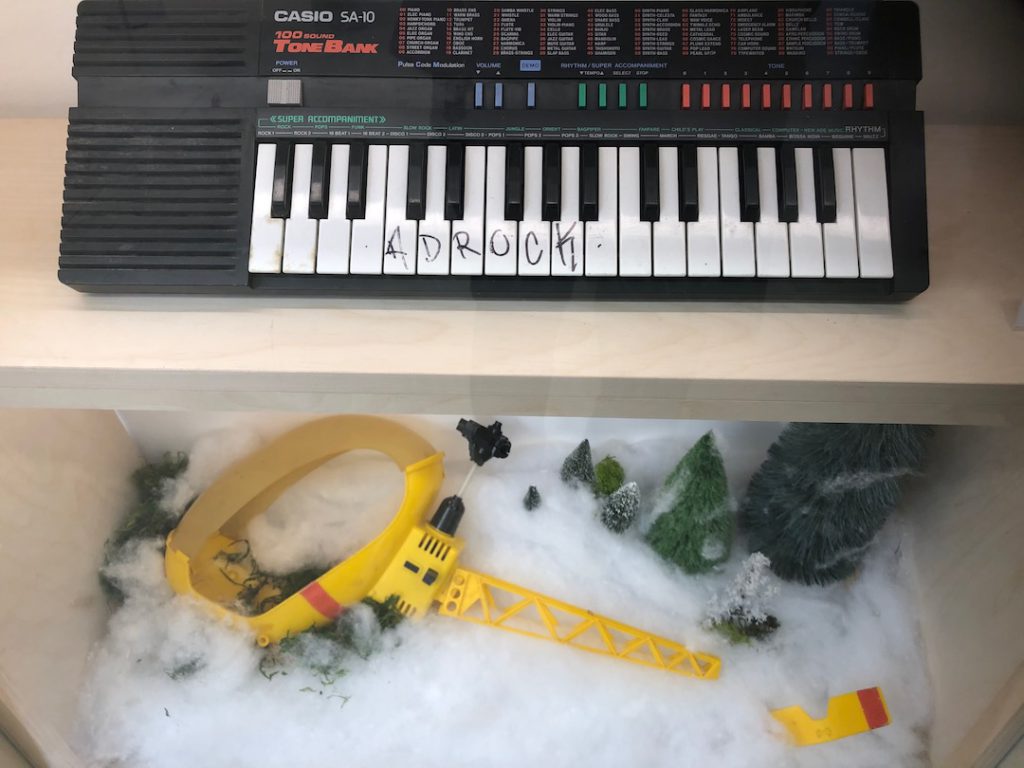 Seeing Beastie Boys Exhibit was high on my to-do list. I've been a Beastie Boys fan since performing to "Brass Monkey" in my first childhood dance recital. Plus, Beyond the Streets' 2018 namesake show, which I wrote about at the time for Good, did a wonderful job of covering the breadth of street art.
But, the experience proved to be disappointing for more than just the music playing inside the gallery. My problem with Beastie Boys Exhibit mirrors a lot of my problems with life in the 2020s. There's a ton of content and little-to-no context for it.
The collection on display includes everything from show flyers to merchandise to handwritten lyrics that are arranged in a chronological timeline of the band. It's cool stuff, but there's not much explaining why it's there. That kind of context is an essential component for any exhibition. It's particularly important when talking about Beastie Boys.
Beastie Boys' work was extremely referential. Paul's Boutique became a landmark album for both the amount of samples that it incorporates and the wide variety of them. The band's most iconic videos were homages 1970s crime television shows ("Sabotage") and kaiju films ("Intergalactic").
Moreover, Beastie Boys were also a band that gave shoutouts to the artists they liked, whether that's by name-checking Cymande and Lakeside in a Soul Train appearance or championing artists via the record label, and short-lived magazine, Grand Royal. Seeing virtually no details about their influences and scant information on their collaborators leaves a lot of holes in the Beastie Boys' story.
I visited on a weekday at 11 a.m., at which time there were a lot of other people queueing up for the exhibition. When the gallery opened, people entered single file and most stayed in a line that snaked through the space towards the gift shop. I dropped out of the line and wandered around, viewing the displays out of order. Continually, though, I glanced at that indoor line and wondered why it existed. It's an exhibition, not Comic-Con. It's not like you're going to get a limited edition Funko for following the Beastie Boys timeline in order.
Of course, the exhibition ended at the gift shop, as most do, which was filled with Beastie Boys books and zine collections and t-shirts, along with other items. That's when my disappointment hit hard. Beastie Boys Exhibit was an opportunity to buy some admittedly cool items, but not to learn much about the band. That's a shame because Beastie Boys were a gateway to multiple styles of music, as well as genre film and television, independent media and more. To not dig into this is a real missed opportunity to engage folks in a story that crosses eras, genres and disciplines.
Catch Los Angeles-based DJ Liz O. at one of her upcoming gigs.