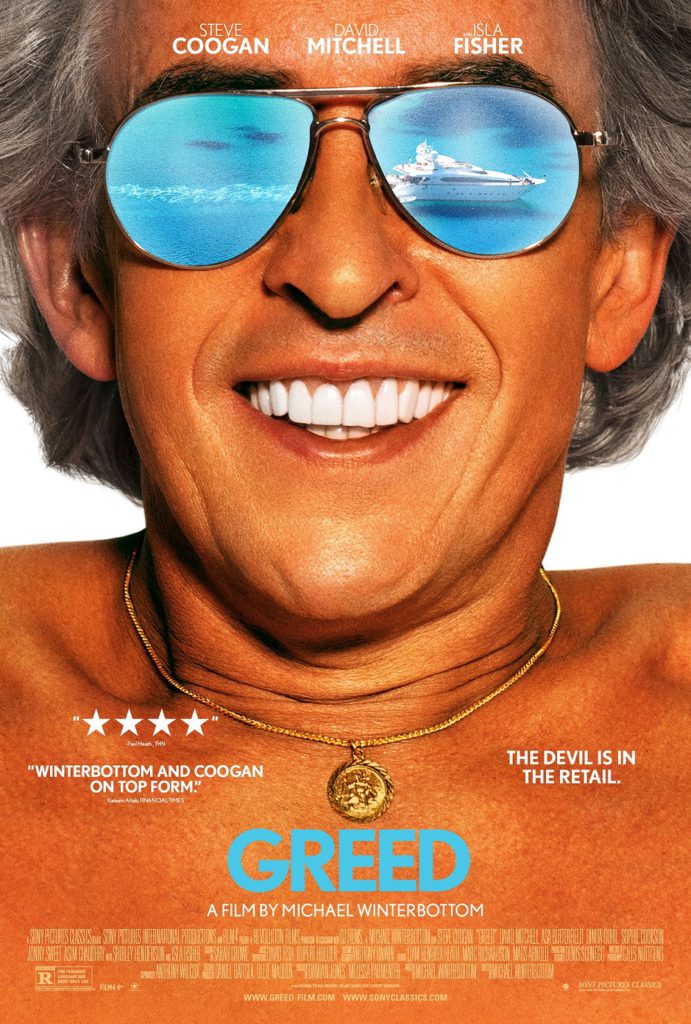 Before The White Lotus, Glass Onion and The Menu eviscerated the ultra-wealthy, there was Greed. Released right around the start of the pandemic, Greed is the story of a billionaire's 60th birthday party-gone-awry directed by Michael Winterbottom and starring Steve Coogan as the toothy asshole behind a high street empire. It's tagged as a satire and, in some ways, it is, but the movie is so grounded in the realities of the 21st century global economy that I don't think that's quite the right classification. It's a little too prescient to be a satire and perhaps that, plus its unfortunate early 2020 release date, is why its Rotten Tomatoes score belie how good this movie is.
I didn't know that Greed existed before last Friday, when I was scanning the Steve Coogan section at Vidéothèque and thought, I bet his billionaire character is a bigger jackass than Alan Partridge, we'll definitely have to watch this. In fact, this was a correct assumption. Alan Partridge, the character for which Coogan is best known, is a tactless nitwit who fumbles his way through life. Sir Richard McCreadie makes a fortune by screwing over poor people and the ways in which he does that are hallmarks of 21st century corporate greed.
McCreadie, the main character in Greed, closely resembles Philip Green, who, at the time of the movie's release was the chairman of Arcadia Group, whose holdings included Topshop. There are loads of similarities between the real person and fictional character, from how they avoided taxes to the moves they made to obtain and horde obscene amounts of money. But, there are a many more people like this in the world.
Greed focuses its story on a fast fashion empire for good reasons. McCreadie makes his money by taking production overseas to independent factories where he lowballs the owners so that they will force their skilled workers to make clothing at a much faster pace for much less money that they should. Then, when McCreadie is called out for sweatshop labor, he can shrug it off because, technically, he doesn't own the factories.
This is a common tactic, even in the U.S., which I learned about when I was covering SB-62, California's attempt to remedy the situation, for Los Angeles Magazine. In 2021, California finally passed protections for garment workers that both ended piece rate compensation and would hold brands liable for unpaid wages. (For more information on issues facing garment workers here in L.A., check out The Garment Worker Center.)
What's wild about the movie is how it ends where, in the aftermath of McCreadie's well-deserved demise, his son proclaims that the company is going to get bigger and make fashion faster than H&M and Zara. IRL, fashion took a bizarre turn that mirrors this movie. As you know, the pandemic, which shut down much of the world after the movie's release, struck a major blow to brick-and-mortar retailers. Amongst those impacted was Arcadia Group, which went into administration near the end of 2020. But, what's now known as "ultra fast fashion," very online, microtrend-centric brands like Fashion Nova, ASOS and Shein, were on the rise. Ultimately, ASOS bought Arcadia Group.
Greed seems wild, but it's not if you know that journalists and activists have been talking about the problems with fast fashion for years. (The impact of fast fashion on both people and the planet is a big reason why I mostly rely on hand-me-downs and secondhand shops.)
And it's not limited to fashion. Virtually every industry is somehow affected by big businesses that are built by layering one legal scam on top of the other in addition to persistent, usually successful, efforts to pay people less for working more. (For those of you who either work in the creative fields or are just fans of creative work, I recommend reading Chokepoint Capitalism, which covers a lot of the related issues in these areas.)
I don't know if the solutions to these problems will take shape anytime soon. I don't know if there are enough people out there who will admit that all this is a problem, let alone care enough to make a stink about it. But, there is one movie that point-blank addresses the Greed in fashion retail, complete with statistics at the end of the film, so maybe give it a watch when you have the chance.
Check out Los Angeles-based DJ Liz O. at one of her upcoming gigs.