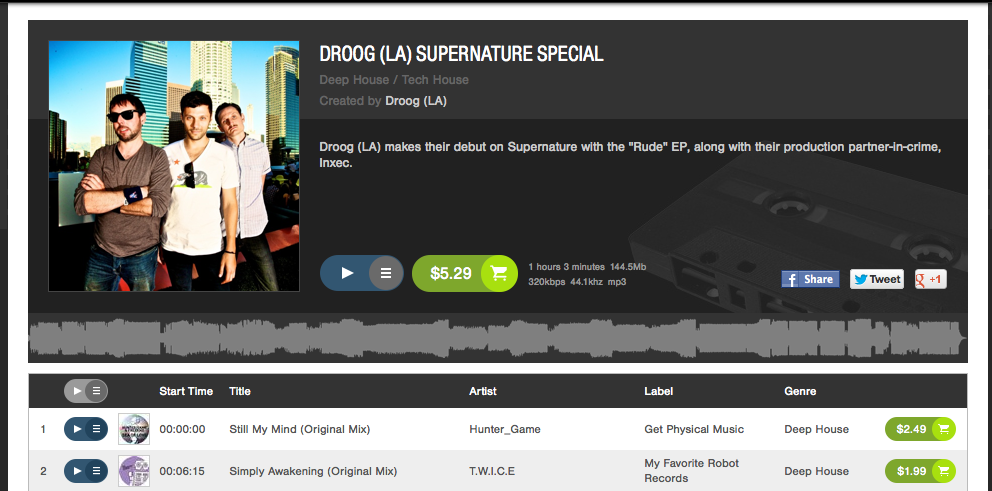 A few month ago, Beatport offered a new program that allows DJs to create mixes based on songs available through the digital music store and actually make some money off of it. As DJ Tech Tools reported last June, DJs get 10% of the money earned from Mixes compilations. The rest goes to the labels and performance rights organizations. This is a really cool project.
Even cooler, though, is that Droog announced the release of their first Mixes effort this morning. Clocking in at just over an hour, this set features tracks from their own label, Culprit, as well as other luminaries in the dance world. You can get it for $5.29 on Beatport.
Droog are Andrei Osyka, Brett Griffin and Justin Sloe. With their DJ sets, releases, record label and parties, they have been instrumental in making L.A.'s dance music scene awesome. (Check out the feature I wrote on them for L.A. Weekly back in 2009.) They just collaborated with Inxec for the track "Rude," which you can also find now on Beatport. L.A. people, you can check them out on the roof of the Standard downtown on October 7 for the next installment of their Culprit Sessions parties. Follow Droog on Facebook for more info.