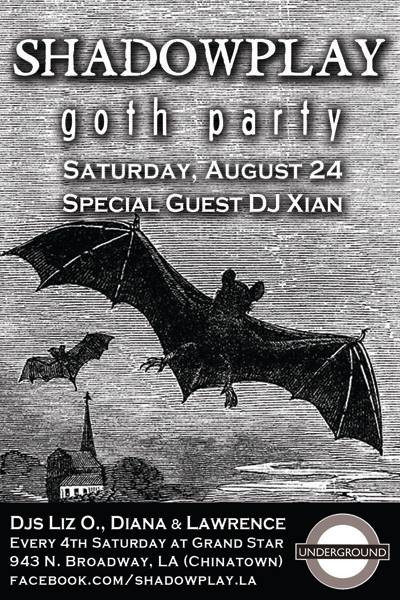 I have three DJ gigs this week. Here are the details.

Thursday, August 22
Club Berlin, Alpine Village
Thursday night, I'll be playing at Club Berlin, a new, weekly event with a focus on new wave, indie dance, etc. The party is at Alpine Village in Torrance. It's a fun venue and a really great way for those of you in the South Bay to get out and dance on a weeknight. The theme is Marie Antoinette. If you come in costume, it's free. Otherwise, the cover is $5. More info on Facebook.
Friday, August 23
Club Underground, Grand Star
I'll be behind the decks at Underground on Friday night. No theme this week, but I will have lots of awesome records to spin. If you're more into Britpop, indie, etc., this is the place to go. RSVP on Facebook for free entry before 10 p.m., $5 cover therafter. It's $8 all night if you don't RSVP. More on Facebook.
Saturday, August 24
Shadowplay, Grand Star
It's time for our monthly goth party this Saturday night. This month, special guest DJ Xian will join residents Larry, Diana and I behind the decks. I'm always excited about this party because we're getting such an awesome mix of people who love dancing to bands like Bauhaus, Legendary Pink Dots, etc. If you love the spooky tunes, make sure you're here. RSVP on Facebook for free entry before 10:30 p.m. The cover is $8. More info on Facebook.