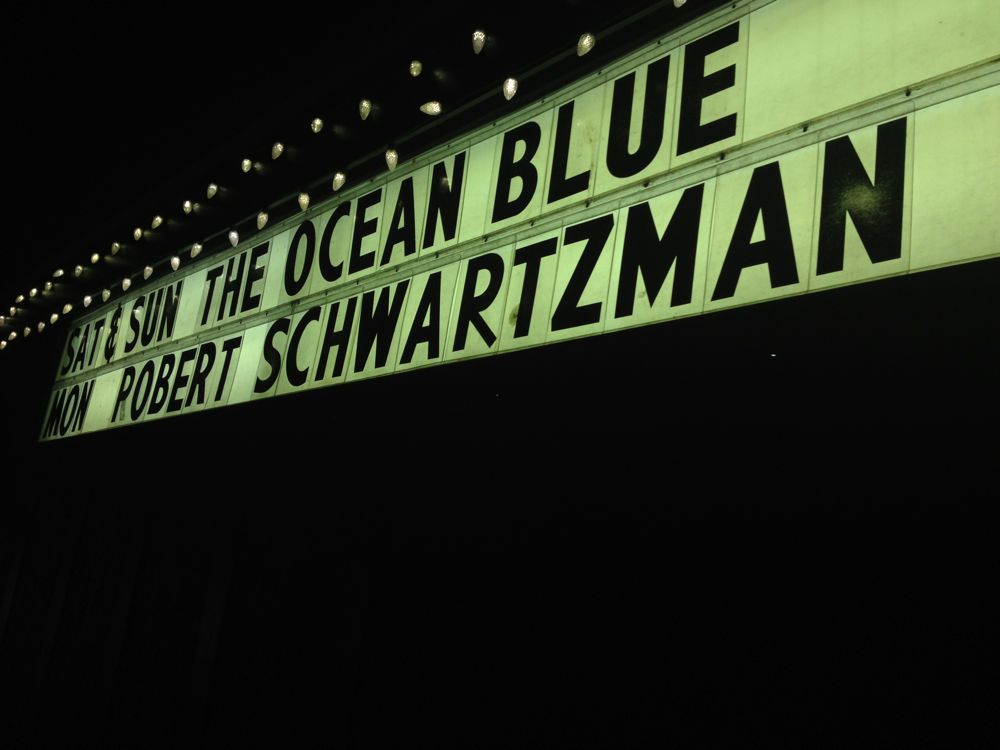 Every now and then, I get a bug to catch some band that I didn't get to see back in the day.  That's what we did last night. I went with my husband, Carlos, and my buddy, Roo, to go see The Ocean Blue. It was the final engagement of the band's two-night stint at Satellite, a Silver Lake club that we used to know as Spaceland.
The Ocean Blue were pretty well-known amongst alternative radio listeners around the cusp of the 1980s and 1990s, before grunge was a thing. They had some hits on KROQ out here in Los Angeles, songs like "Drifting Falling" and "Between Something and Nothing."  Back when those tunes were all the rage, I was a few years away from a driver's license, so there were no Ocean Blue concerts on my calendar back then.

My reasons for going to see The Ocean Blue now weren't completely nostalgic. This wasn't a reunion tour. This isn't a band with a big breakup and hyped return. They just released music far less frequently. Ultramarine, the current album, is The Ocean Blue's first full-length since 2000. From what I heard of it, the album was good, very good. When I mentioned the show, Roo immediately said he wanted to go. He was quite The Ocean Blue fan too. Carlos wasn't really familiar with the band, but was willing to check them out. Turns out he enjoyed the show a lot.
Despite the non-nostalgic reasons for going to the show, I was so excited  that I tried to pull together my best '90s outfit: a red and black striped, long sleeve t-shirt (I think we can call it vintage Old Navy), a denim miniskirt (that would be vintage CK) and my 20-eye Docs, which are only a few years old. I should have carried a lunch box, but those are packed away at my mom's house.
We weren't the only people excited about the show. The Ocean Blue's Saturday night gig at Satellite sold out in advance of the show. I'm not sure if Sunday sold out or not, but it was pretty packed inside the venue. I also wasn't the only person wearing totally '90s horizontal stripes. More people were wearing flannel shirts though. I really can't get behind the flannel resurgence, but, then, I refused to wear those shirts back in the 1990s. There were a few band t-shirts spotted inside the venue, Jesus & Mary Chain and BMX Bandits caught my eye.
"Hey, that guy is here," Roo said to me over the music.
"Which guy?"
"The guy who wears the t-shirt of the band he's going to see to the show."
And there he was, a guy wearing a t-shirt dated for a long-gone Ocean Blue tour. Points to Roo for both his keen eye and his ability to reference the greatest college movie ever. (That's PCU, the movie that prompted me to go home and tell my parents, "Fine, I'll go to college.")
We headed over to the merch booth. I bought a CD copy of the "Sad Night, Where Is Morning?" single from the band's bassist, but I was too much of a dork to say, "Hey, could you sign this?" We grabbed some drinks. We found spots way in the back of the room. The club is small enough where we could still see the stage well, much better than the iPhone photos would indicate.
Props to Satellite for it's awesome air conditioner. It was actually cold in the back of the venue, despite the crowd. Also, the sound was great. There was none of that muddiness that we've come to expect from small club shows. The Ocean Blue was loud and clear. Never once were the vocals buried under the guitars.
I didn't keep track of the set list, mostly on account of my need to actually dance to the songs. They played new music. They played old music. The Ocean Blue hits– "Drifting Falling," "Sublime," "Vanity Fair," "Ballerina Out of Control" and "Between Something and Nothing"– were all represented. Roo screamed pretty loudly for "Ballerina" and, at some point, raised his virtual lighter in the air. I tried to capture a couple seconds of "Between Something and Nothing" on Vine, but I still haven't figured out how to use that app well. I tried to keep up my toe-tapping with the ever-increasing BPM at the end of "Vanity Fair." I think I lost the beat.
You can listen to Ultramarine and other albums from The Ocean Blue on Spotify. Check out the band's webstore for CDs and other merch.