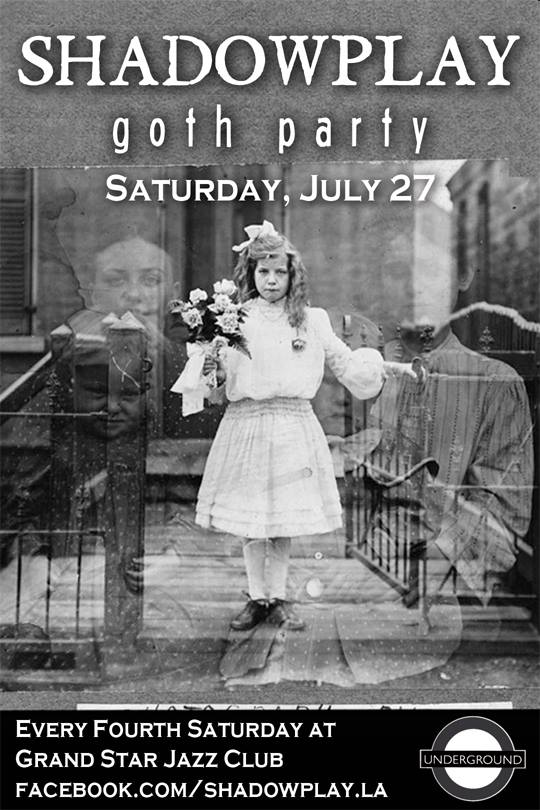 Every fourth Saturday of the month, my friends, Larry and Diana, and I throw a goth party at the Grand Star in Chinatown called Shadowplay. Since tomorrow night is said fourth Saturday of July, it's your chance to join us for some fun on the dance floor. We'll be bringing old school and new school spooky jams. All you have to do is show up. This is a 21+ event. The cover is $8. However, there are a few ways you can get in for free.

1. RSVP on Facebook and show up before 10:30 p.m.
2. Bring your ticket Peter Murphy ticket stub from either tonight's show (which I will be attending) or tomorrow night's show.
3. Bring your San Diego Comic-Con 2013 badge.
If you want to keep partying through to Monday morning, fear not. I'm playing Sunday as well. Get your end-of-the-weekend fix at All This Is That. This is a party at Little Joy hosted by my friend Hoseh. You might recognize him from Dublab and KXLU, where he spins some of the smartest tunes you'll hear on the radio and web. Hoseh and I are longtime friends. He actually hired me to DJ at KXLU when I was a college freshman. It's been a few years since we last played together, so I'm really excited about this set. Also, it's free. For more info, check out the Facebook invite.