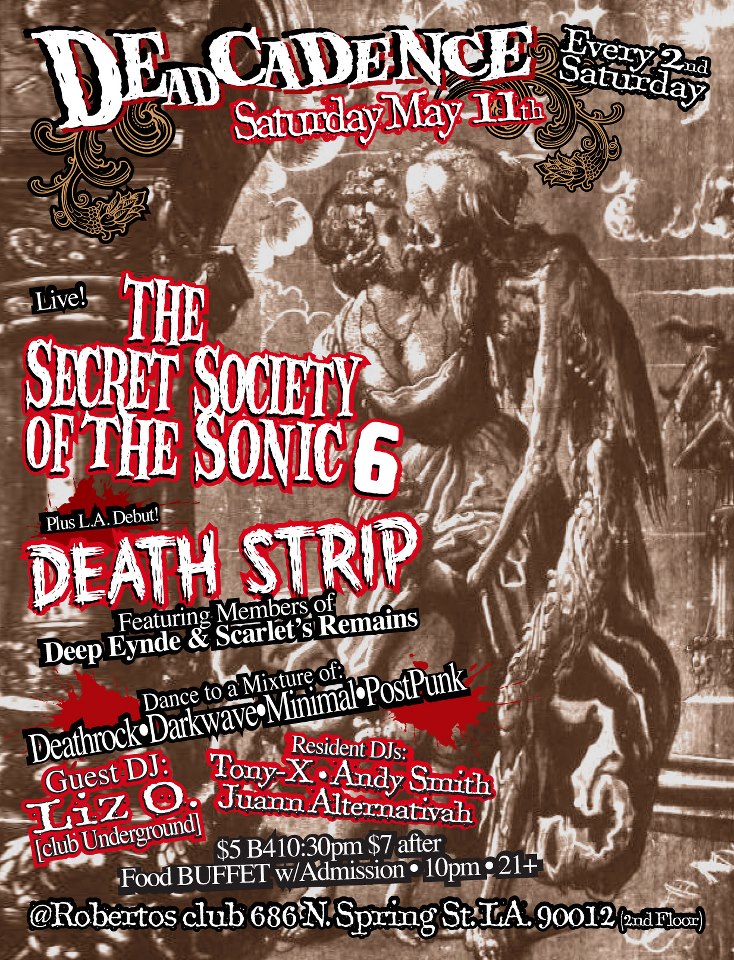 Previously, I mentioned that I have two DJ gigs this week. That's changed. Thursday night's Zerox party has been postponed. The new date is June 13. The venue, Le Cuevita, has not changed and I will still be the guest DJ that night. RSVP on Facebook to keep tabs on what will certainly be a fun party.
I am, however, still playing at Deadcadence on Saturday and am incredibly excited about this gig. I've been attending Deadcadence parties for a long time now and have a great admiration for the promoters. They are dedicated to booking interesting, underground talent. It's an honor to be playing with them.

Moreover, Saturday night marks the L.A. debut of Death Strip. I don't know much about this group, but it features members of The Deep Eynde and Scarlet's Remains, so it will be worth showing up early. I saw The Deep Eynde so many times during the late 1990s and early 2000s and really dug the band, so I'm quite curious about this project.

The Secret Society of the Sonic Six is a personal favorite of mine. They've been around the L.A. scene for years. In fact, I used to play one of their earlier tracks (totally spaced on the name of it) back when I was throwing a party called Transmission at the now-defunct club The Parlour. I've caught some of (((6)))'s earliest gigs and have seen them grow a lot over the years. They recently had a line-up change, so it will be interesting to see what they're doing right now.
Last year, I was at Blipsy's Barcade to celebrate the release of the band's EP, Pick Up. The kindly passed a copy my way and it is such an impressive effort. It's dark and electronic and maybe a little weird. If you have a chance to score yourself a copy, do it. You might become addicted to "Blame and Blood." I did. If you're a fan of artists like Cold Cave, ADULT. or the Wierd Records family, I suggest checking out the Secret Society of the Sonic Six. They have releases available through Bandcamp.
Saturday night's show is $5 before 10:30 p.m. and $7 thereafter. Death Strip is set to play at 10:45 and (((6))) is scheduled for a midnight performance. I'm not sure when I'll be spinning, so just show up early. I will be playing a vinyl set, most likely with an emphasis on goth, coldwave and minimal synth tracks.
RSVP for Deadcadence on Facebook.