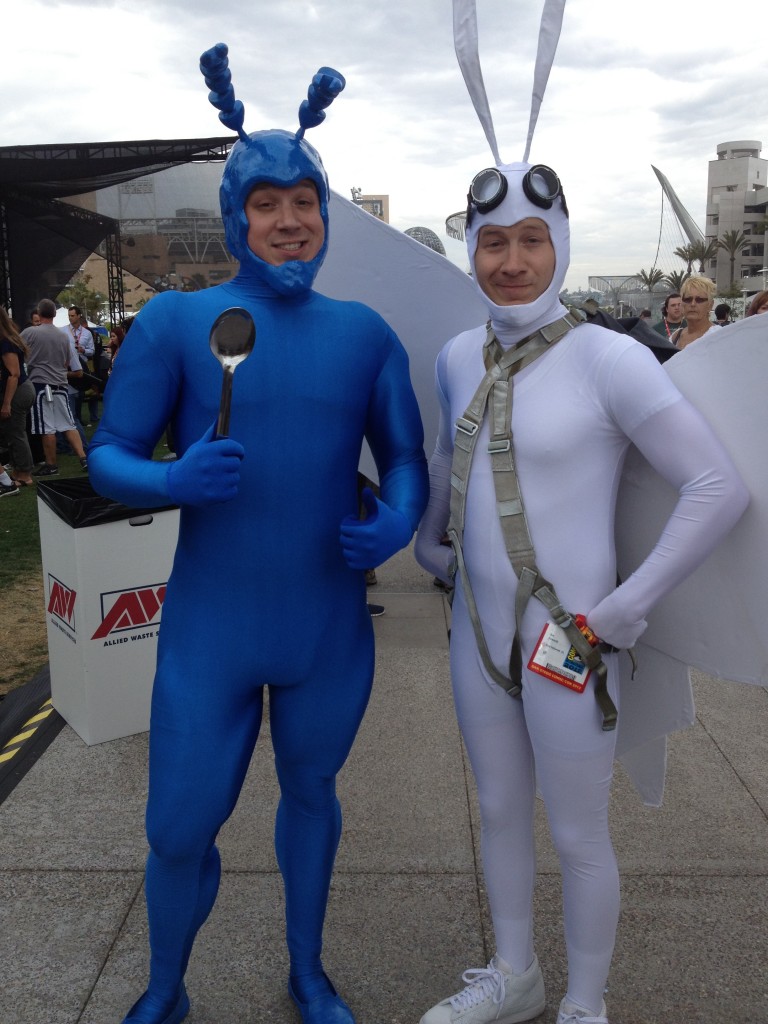 I'm not doing what I want with my career. I wanted to write, and while I'm definitely doing a lot of that, I'm also locked into one form of writing. I like working in non-fiction. I like writing about people who do awesome stuff. However, there's other things that I want to do. Journalism isn't everything, but, right now, it's everything that pays. So I put focus on that, perhaps at the expense of the comic book I should be writing and the other stories that are wandering through my mind. There has to be a balance. Maybe I'll find that here at Comic-Con.
My friends are a lot like me. We're working creative people, so we have heads filled with thousands of ideas, but we also have that hardened sense of reality where we know we aren't going to do everything we want. Thursday at Comic-Con, we decided to hit up some panels for that extra push to move forward.

Our first stop was  "How to Get News Coverage," which was basically a table filled with comics journalists talking about what you need to do to get them to pay attention to your work. This wasn't the right panel for me. For one thing, I am a journalist, so I know full well how annoying it is when people send you hi-res images that you didn't request. I wasn't looking for that kind of advice. I also wasn't in the mood to hear what everyone does wrong and what some people do right.
I was on a convention journalist panel at another convention a year or so ago. That day, I left the room feeling disheartened because the focus was on, "You have to do this" and "Don't do this." I kind of got the same feeling here. There's no one way to write or to promote yourself and your writing, you just have to do what works for you. Maybe the problem is journalists. We're very methodical. We write using fairly strict formats. You're not going to get the "Just do it" message from a journalist. Well, you might from me, but I obviously don't follow my own advice, so take that as you will.
We went to "Censorship and the Female Artist" after that, which was much more inspiring. The focus here was on art, with Camilla d'Errico and Olivia sharing their own censorship experiences. I'm not a visual artist. Pissing off people by painting uncovered boobs will never be part of my experience. Yet, it was wildly inspirational. I was hanging out with Shannon, as well as Giselle from Defective Geeks, who also happened to be one of my SDCC roommates, and we started talking about censorship and feminism. The conversations continued throughout the day and then, later that evening, Giselle and I stumbled on an idea for a great project we could do together. I think that's how convention panels should work. They should exist to get you and your friends talking until you have an idea.
Later on that day, I was hanging out with some pals behind Hall H, where we were checking out a display of Batmobiles. Nearby, there was a guy dressed as The Tick, posing with a spoon next to another guy dressed as Arthur. The cosplay was quite well done and prompted everyone in the vicinity to yell, "Spoon!" Everyone here recognized those costumes and remembered "Spoon!" Undoubtedly, for a certain generation, The Tick is a pop culture touchstone. It also started out as an independent comic. Seeing this reaction to something that wasn't designed to be mainstream was inspiring too. Sometimes people do get your weird ideas. Sometimes. Maybe that's a bigger lesson than anything heard in a panel room.