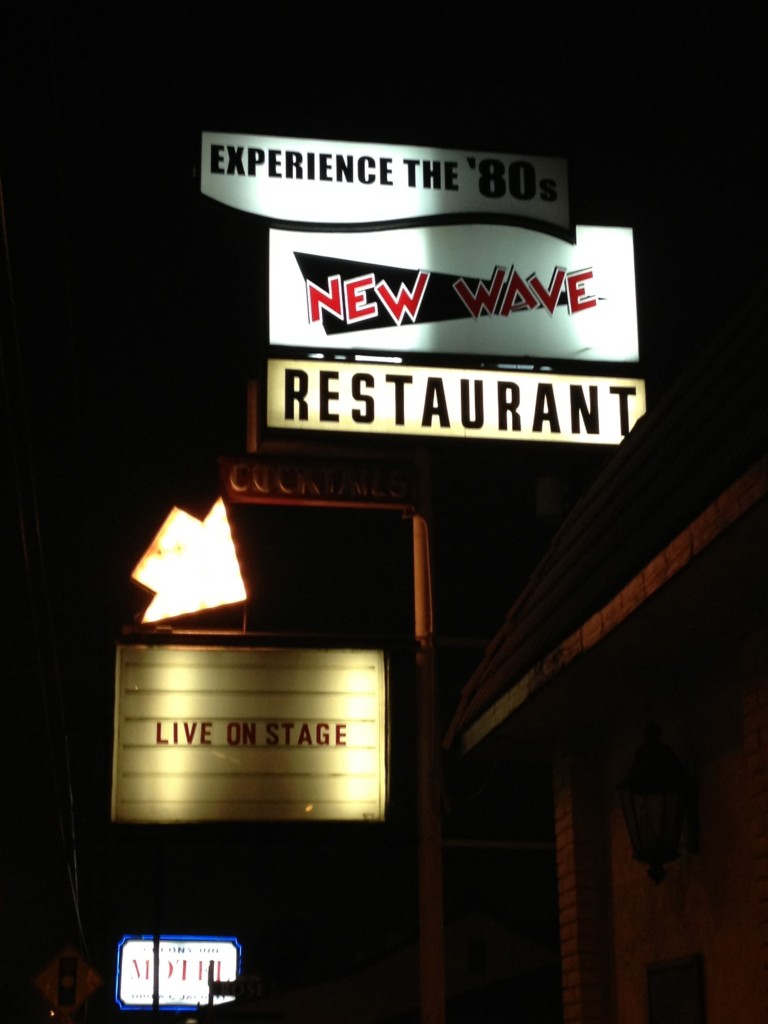 Anthony sings like Elvis Costello. I've known him for about 13 years, but I didn't know this until my old friend jumped on the stage of the New Wave Restaurant & Bar (yes, that's the name) for New Wave Karaoke (yes, that's what it's called) and bust into "Radio Radio." When he's done, I tell him that I never knew his secret talent. He's perplexed. Certainly, I should have seen him do this before tonight. It's one of his karaoke jams. What he doesn't realize is that, for the past how many years, I have been using any and all excuses to get out of karaoke nights.
I have two problems with karaoke. One is that my voice is terrible. I've alternately described it as Claudine Longet with a cold and a waif slowly succumbing to consumption. The second issue is that I am not tone deaf, not in the slightest. I am completely aware of the fact that I can't hit those notes.
Self-awareness is a horrible thing, like being trapped in a lucid nightmare. I used to pray that I could be a little delusional, just enough to get rid of the anxiety. That never happened. And now I'm in a bar somewhere off the 91 where a When in Rome set list and signed drumsticks beam from the wall, where the ladies room is lined with Duran Duran posters. I'm eating a Wham Burger and drinking a Depeche Mode. I can't remember what's in the drink aside from vodka and whatever it is that turns cocktails blue. My boyfriend, Carlos, remarks that the drink tastes like a "blue Icee." He's right. I don't remember what flavor the blue Icee is. I'm not sure any of us do, but it tastes like that cocktail.

We drove down here with my good friend Flora and met up with two of the Defective Geeks, my dear Comic-Con roommates Giselle and Dianne, as well as Anthony. None of us particularly wanted to do karaoke. We're all shaking nervously. But now that Anthony has braved the stage, it's hard for us to shy away from it.
I go out for a cigarette and think about every karaoke fail I've had. The time my friend and I sang "True" in his backyard and– I swear to God– a freak rainstorm started. That had to have been our fault. Then there was the time I tried "Christmas Wrapping," forgot the words, couldn't read the screen, realized my glasses were in my handbag at the table and ran off the stage. But, then there was that one time at Ground Control when I did "I Eat Cannibals," the Toto Coelo song, and it wasn't so bad. I could do that.
The guy who runs the karaoke party walks outside. He asks me if I'm going to do something. I mention "I Eat Cannibals." I also tell him that I suck at karaoke. He's nice and encouraging.
After he leaves, I remind myself of my age and that I have failed more times than someone could ever think possible for a person who still isn't totally old. I have failed in ways so profound that the memories haunt me whenever rooms fall silent. If I were to go up on that stage and make a complete ass out of myself in front of a small room full of people, it would mean nothing. I have done far worse.
I walk inside the bar, pass the Pac-Man and Ms. Pac-Man signs on the bathroom doors, pass the poster advertising a forthcoming Missing Persons concert. I sign up for karaoke. I tell the crew that they have permission to mock me as they see fit, so long as no footage ends up on YouTube.
The drum thumps. I hop to the beat of a new wave jam that, despite its relative obscurity in the U.S., always turns up on karaoke lists.
"I Eat Cannibals."
I try to camp this up as much as I can. I make my voice sound more little girly than normal. People are cheering. I think that people who aren't my friends are cheering. It's weird. I mess up on the bridge, mostly because I'm trying to spit out lines meant for more than one singer. It's okay. I finish on a high. There's applause.
I want to do it again. I pick another song. I wait my turn. I take the stage for the second time. The song starts. I'm maybe a verse into it.
I've learned a lot about myself here at the karaoke bar. The most important lesson, though, is that I've been singing the wrong lyrics to "A Town Called Malice" for decades. At this point, I'm not even sure that I've even been singing words. Maybe I've spent the bulk of my life doing the "ba ba ba ba ba ba ba" part during the whole song.
I'm a mess. The room is silent and I all I want to do is jump off the stage and run down Lakewood Blvd. until I land somewhere far from here. Somewhere where no one has heard of The Jam, where I could make up lyrics to their entire catalog and not be judged.
I could stop, but I don't. I'm not even sure what I'm singing. I'm forgetting even the parts of the song that I do know by heart. They lyrics are in front of me, but those are just a nervous blur of letters. What the fuck was I thinking?
I want to collapse when I finish, but I can't because Anthony is doing "Loveshack" and talked Flora and I into singing backup. Is it really back up when the girls are singing most of the song? Somehow, we got through this. We nailed that whole "Tin roof! Rusted!" part.
And then we went back for more. There are four of us girls here, we can totally do a Bangles song! Hey, let's do "Hazy Shade of Winter!"
That was rough. Maybe we should have figured out who was singing which part first.
Singing is a brutal art. You can know exactly where the note is and you can try to stretch your voice to reach it and still completely miss the mark. You can hit the note and still convey nothing to the crowd. It is something that I will never be able to do with any sort of real competency, but, maybe somewhere down the line, I'll be able to get through karaoke without panicking. I think I'll stick with Toto Coelo for the time being.