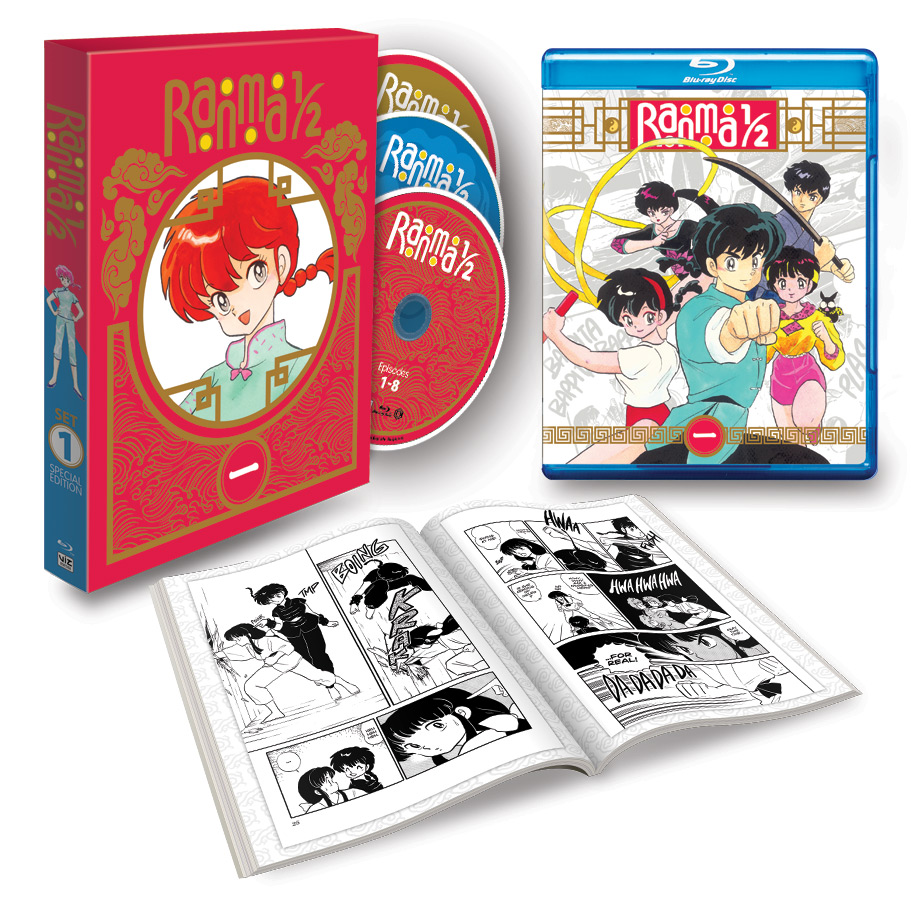 A favorite amongst anime fans, the comic misadventures of Ranma, a teenage boy who morphs into a girl when hit with cold water, and his friends is now available on DVD and Blu-Ray. Ranma 1/2 has appeared in subtitled form through Viz's website, as well as Neon Alley, since October.
The Ranma 1/2 Blu-Ray set features the first 23 episodes, both subbed and dubbed, appearing in the original order in which they ran in Japan. The show has been remastered in HD. It's packaged in a red and blue chipboard box with gold foil embellishments and is illustrated by Ranma 1/2 creator Rumiko Takahashi. There is extra content, including panel and interview footage. Plus, it includes a booklet with the episode guide and an excerpt of the recently remastered manga. This is the first of seven Ranma 1/2 sets that Viz Media plans to release. (The second set is scheduled for release in June and will be preceded by the next volume of the remastered manga, which now reads right-to-left and features an updated translation.)
An anime has to be pretty darn special to get a release like this. If you aren't already a Ranma 1/2 fan, you might be wondering why this is such a big deal. We'll try to explain that here.
Let's start with the creator. Rumiko Takahashi is a manga master with decades of hits under her belt. If you became a manga/anime fan in the early 21st century, then you probably recognize her as the creator of InuYasha, an epic time-travel tale that takes place between modern times and the Warring States era of Japanese history. Prior to that, Takahashi was already an established storyteller. In the late 1970s, she created Urusei Yatsura, a sci-fi, romantic comedy about a teenage boy and an alien. Ranma 1/2 launched close to a decade after that and, while it has a lot of romantic comedy elements as well, it's more of a supernatural tale.
In Ranma 1/2, the title character and his father, Genma, seek adventure as a means of continuing their martial arts studies. They travel to China, ready to fight along a series of mysterious springs. When they fall into the springs, they're cursed to change into those who previously died there. Cold water will turn Genma into a panda and Ranma into a girl. Upon returning to Japan, Genma comes into contact with an old friend and the two decide to betroth their children. Ranma is now engaged to Akane, herself a skilled martial artist who must literally fight off the boys when she goes to school everyday. The essential premise here is that you have two cursed people, plus two parents who want to marry off their kids and two kids who don't want to marry each other. Add to this a whole slew of quirky characters, from Akane's scheming sister to the high school Kendo star whose brains don't match his brawn, and you have a great comedy series.
Ranma 1/2 succeeds because there are multiple styles of comedy at work. The over-the-top battle scenes are slapstick gold. Ranma and Akane's initial aversion to each other is classic romantic comedy fodder. But, what drives the story forward are the well-developed characters. Ranma is competitive. Even when he's in girl form, he might brag that he's a hotter chick than Akane. Meanwhile, Akane is fed up with all the creepy attention that she gets from the local boys and that dictates her reactions, which may involve some serious ass-kicking. But, the series isn't just about them. By and large, the supporting characters are as complicated and well-developed as the protagonists.
"The characters are lovable, but they're not all good people," says Charlene Ingram. "It's funny to watch characters who aren't always perfect have their little trials and tribulations."
Ingram is the Senior Manager of Animation Marketing at Viz Media. She's also a longtime fan of Ranma 1/2. Ingram fell for the series at the end of high school and beginning of college. It was different from the comics she normally read, like Neil Gaiman's Sandman. "It was just happy and fun and effervescent," she says of Ranma 1/2.
"I never would have thought that I would start working on Ranma," she says. But, since Ingram has been handling this campaign, she has seen firsthand how the popularity of this series has expanded past those who caught it in the 1990s. Ingram has seen a lot of younger anime and manga fans enter the Ranma 1/2 fold. "Most of them weren't even alive when Ranma first came out," she says. "Kids in middle school and high school are just discovering Ranma and it's totally new to them."
That Ranma 1/2 is picking up a new generation of fans is part of what makes this series so special in the constantly-evolving world of anime, where titles can go out of print and be quickly forgotten. "You don't see that very often," says Ingram. "It's very, very rare that a series has such staying power."
I'm neither a middle school nor high school kid, but somehow managed to miss out on Ranma 1/2 until recently. InuYasha was one of my favorites back when I started to watch anime more regularly. Watching Ranma 1/2 now, it's hard not to draw the comparisons between the two shows. As Ranma and Akane's relationship grows, I can see the parallels between InuYasha and Kagome. Ingram notes that, with Takahashi's work, you can see the connections between the stories. "It's not always apparent when they're actively running," she says. "You see how they all fit with each other."
I asked a friend for his opinion on Ranma 1/2's staying power. Mike Ott is a web designer in Madison, Wisconsin. He's also a pretty big fan of the series. In fact, he has a tattoo of the character Shampoo  on his leg. Ott discovered the series in college, when a friend popped a cassette into the VCR. I asked him why he thought the series was still relevant. "I think it is still relevant because relationships are still relevant," Ott answers. "Friendships are still relevant." He notes that, while the look of Ranma 1/2, is reflective of the era in which is was made, it's what is beneath the surface that stands the test of time. "The themes, story and humor all find their own places in today's world," he says.