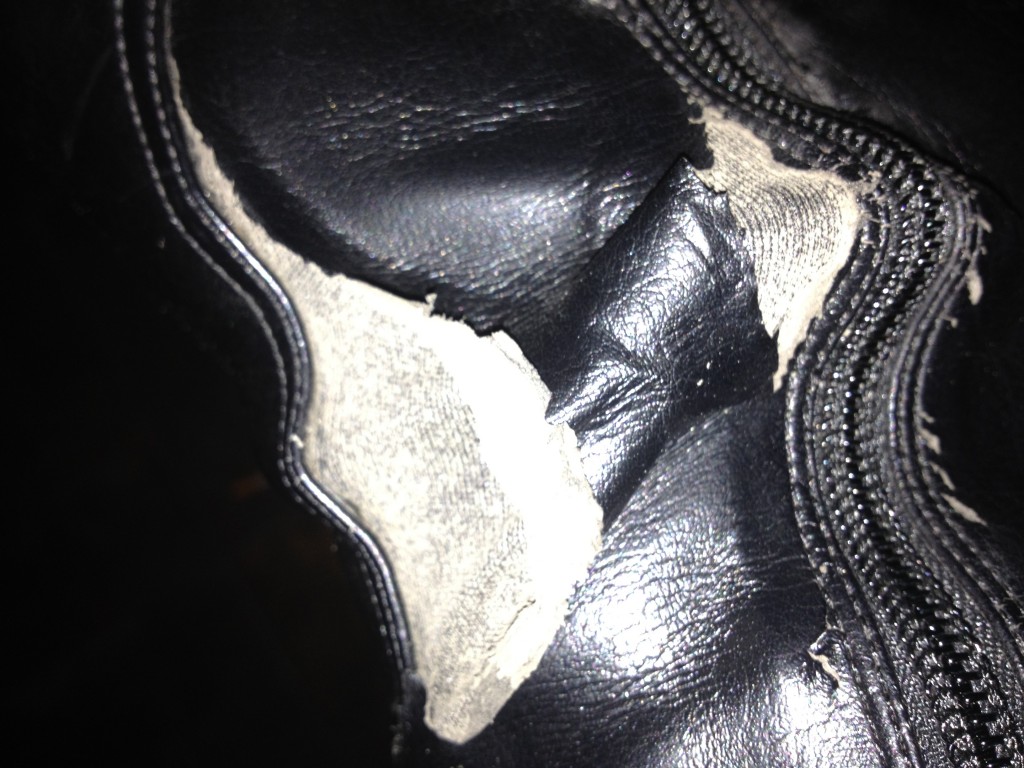 You know those how-to-dress articles where the fashionistas tell the regular ladies to wear heels with ankle length skirts to avoid looking squatty? I'm not immune to these things. So, when I got ready to party at Los Globos last night, I grabbed an ankle length gray skirt that I have probably had since the '90 and a pair of spiky-heeled, pointy toed boots that I bought right around the time the U.S. invaded Afghanistan.
I hadn't worn the shoes in years. In fact, I just came across them while cleaning out my closet last week. They looked like they were in good shape. They were not. A seam in the pleather ripped when I changed into them in the parking lot at Los Globos. However, I didn't not realize this– despite having Instagrammed a photo of said shoes– until I was inside the club. We were out on the patio. I looked down and realized that both shoes had ripped apart at the seams surrounding my ankle. There was still shoe there, but it wasn't holding my feet place the way you expect boots to do.
I couldn't give a crap about the shoes. They were old and cheap. I suppose it was bound to happen. But, did epic ankle support fail have to happen on the night where I intended to dance for hours? Oh, gods of the dance floor, sometimes you are unjustly cruel.

We were at Los Globos for a party presented by Futra and So Simple. Jimmy Edgar was headlining. Derek Michael was playing a live PA set and we hadn't seen him on the stage in a really long time. Dazz Moov (Futra) and WMX (So Simple) were also on the bill. This was going to be good.
And, as soon as Carlos and I got to Los Globos, we knew it was going to be a great night. Despite having abstained from the party scene for a while (not intentionally, just got busy with work), we still knew a hell of a lot of people there. Chris and Lynette from Bestial Mouths were there to support their bandmate WMX. Jaymie from Cindergarden brought out her LED hoola-hoop. We ran into [tlr] from NVR-NDR as well as Baseck. On top of that, I ran into a bunch of other old club friends who were hanging out upstairs at Los Globos for the Dum Dum Girls show.
When the music is good, and when I keep running into people I know and like, I want to hit the dance floor. I tried, but I couldn't. It was as though I was just standing on the skinny, three-inch heels with no shoe attach. My ankles swayed from side to side to side. I curled up in a booth and bobbed my head through out all the early sets.
When Derek hit the stage, Carlos and I decided to move to the floor. I tried to dance again and failed. Then I saw an art installation in the corner. Future Eyes are glasses that make the whole world look like a kaleidoscope. I curiously picked up a pair and placed them on my face. A glittery girl reached out her hand. I grabbed it and she led me to three steps. I had to walk up those steps myself, while wearing kaleidoscope glasses and broken shoes, with a cup of watered down diet Coke in my hand. I did it, carefully, maybe overly cautiously, and I turned around to face the club. The whole room sparkled so intensely that it seemed as though I was looking directly into a light. I couldn't see people or objects, just intense, glistening colors and overlapping diamond shapes. I walked down the steps carefully, pulled off the glasses triumphantly. I was wearing broken shoes. I'm an absolute clutz even in Chuck Taylors. Despite all that, I hadn't made an ass out of myself yet.
But, I had to sit down again. Then Jimmy Edgar hit the stage. He started out with a dark, rumbling track. I could stay seated no longer.  I tweeted, "Jimmy Edgar is on at Futra. I want to dance, but I foresee shoe-related doom."
Carlos was reading over my shoulder. "I don't think there will be any 'shoe-related doom,'" he said. We got up and started dancing, moving forward until we were right in front of the stage.  My calves were growing sore with each passing measure, but I kept going. Kick-snare-kick-snare-kick-snare-kick…
After about a half hour, I felt something weird in my ankle. It wasn't twisting, but if I kept going it might. It was already 1:30 by then, and we both had work in the morning, so Carlos and I took that as a cue to head home. He helped me back to the car as I took baby steps with bent knees. A thick, throbbing sensation ran through my feet and up to my knees. Ugh, why do I torture myself like this? I've been going to clubs for long enough that I should know better. Thank goodness, I had the Chucks in the car. Next time, I'm sticking those babies in my handbag.